Review: THE GREAT SOCIETY at Arena Stage - LBJ Comes Alive Again!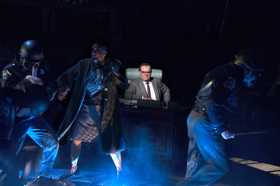 Thank you Arena Stage Artistic Director Molly Smith for bringing to the Washington Area the sequel to writer Robert Schenkkan's two part series on President Lyndon Baines Johnson. First there was the Tony Winning ALL THE WAY which dealt with Johnson ascending the presidency, THE GREAT SOCIETY picks up at Johnson's State of the Union message in 1965 after his massive election victory.
This play should be required viewing for all high school students. No books or lectures could reveal how President Johnson was able to push through his "Great Society" legislation that included passage of the Civil Rights Act, Voting Rights Act, Clean Air Act, Medicare, Medicaid, Food Stamps, Head Start, Social Security, Public Broadcasting, National Public Radio, and the National Endowment for the Arts. Is there any doubt why this era was called "The Great Society"?
Schenkkan's play runs until Johnson refuses to seek a second term in 1968. I remember watching his speech on television. The play covers much more territory than ALL THE WAY and Director Kyle Donnelly has reassembled many from that cast to great success. But since Donnelly has so much to cover, the action often seems like it is staccato style. Scenes change so quickly. The oval office moves from stage right to stage left,, to upstage and finally downstage one minute all done so effortlessly.
President Johnson's agenda must endure many complexities. While pushing through his social programs there is the nagging acceleration of the Vietnam War. If you have seen the film "The Post" you will be reminded of Secretary McNamara's irresponsible suggestions on Vietnam. Johnson seems absolutely helpless in his attempt to somehow win this tragic event. While this issue permeates the entire play, Johnson continues in his attempt to deal with the constant pressures of civil rights activism and violence across the country whether it was Watts, Detroit, or Alabama.
Vietnam protesters are everywhere. The killing of young soldiers is rising quickly (depicted through the use of clever projections around the theater). There are the leaders of Congress who he must deal with, there are politicians like Governor George Wallace (Cameron Folmar), FBI Director Herbert Hoover (Richmond Hoxie), Martin Luther King, Jr. (the powerful Bowman Wright) and other Black leaders, Chicago Mayor Richard Daley (Andrew Weems), Vice-President Hubert Humphrey (Lawrence Redmond), and Johnson nemeses, Senator Robert Kennedy (John Scherer). All of these individuals come to life thanks to terrific acting.
But the show rests on the back of Jack Willis who does a masterful job recreating his role as President Johnson. Willis does a yeoman's job replicating Johnson's conundrum he has about Vietnam which was Johnson's Achilles heel. Susan Rome plays the loving wife, Lady Bird Johnson.
Kudos to Set Designer Kate Edmunds, Costume Designer Nan Cibula-Jenkins, Lighting Designer Nancy Schertler, and Projection Designer Aaron Rhyne .
Once again I have found the Fichandler Theater problem is that it is a theater in the round. Due to this, when actors have their backs to the audience it is difficult to hear them. Maybe it would be better to only have musicals in this space.
I suggest a nice article by the Washington Post's Kristen Page-Kirby Feb. 16, 2018 p.18 about the great special effects used in the production.
Senator Lisa Murkowski (R-Alaska) was in attendance opening night and received the Arena Stage's American Voice Award for her advocacy of the arts and arts education.
There are post-show conversations Feb. 27 at 7:30 p.m. Feb. 28, at 12 noon, March 6 at 12 noon, and March 8, 2018.
Visit the Johnson Presidential Library in Austin, Texas.
THE GREAT SOCIETY runs until March 11. For tickets, call 202-488-3300 or visit www.arenastage.org.
cgshubow@broadwayworld.com