Review: If you AIN'T MISBEHAVIN' At Toby's, Why Not?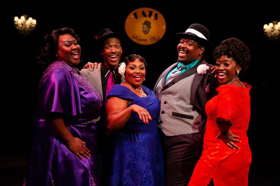 Are you looking for a rollicking good cabaret show and a hearty meal? Are you in the mood for a musical history lesson? How about both? Toby's in Columbia presents AIN'T MISBEHAVIN,' The Fats Waller Musical Show through November 4th, and you should sit right down and buy yourself a ticket.
The multi-tiered arrangement around the stage/buffet floor gives a good view everywhere, but somewhat tight seating. The buffet is, as usual, full of food items that tie into the show somehow. A cabbage dish contains some collard greens, there's a bean and corn medley and would you look at that, chicken and waffles. Everything is nicely seasoned without being overpowering or objectionable.
Tonight's special drink is pink and topped with a gummy strawberry. A note about the special drinks: they're always creamy and fluffy, avoid (barely) being TOO sweet, and not too heavy with alcohol, so you can have one with dinner and not feel guilty about driving home. My companion quite likes hers, but doesn't order a second one to be delivered at intermission. I request a Cosmo, and enjoy the generous pour of an enthusiastic barkeep.
This evening, our server won't appear in the show, as she is understudy for both Kelli and Kadejah, which we do not understand as an heroic undertaking until after Act I, at which time we are appropriately stunned at her courage and audacity.
Fats Waller, American jazz pianist, organist, composer, singer, and comedic entertainer, born May 21, 1904, kickstarted his career as an entertainer by learning piano at the age of six. He cut his first record at 18 and worked as a backup pianist through the early 1920s. Teaming up with lyricist Andy Razaf, Waller wrote scores for three late '20s Broadway musicals, one, a revue known as CONNIE'S HOT CHOCOLATES, which had a six month Broadway run, wherein Louis Armstrong made his Broadway debut in the pit orchestra. Not much remains of HOT CHOCOLATES other than the songs "Sweet Savannah Sue" and "Ain't Misbehavin'." The other two shows, Keep Shufflin' and Load of Coal have faded into such obscurity as to have no Wikipedia entries.
AIN'T MISBEHAVIN' is a 1978 Musical Revue of various Black artists, created by Murray Horwitz and Richard Maltby, Jr., who also directed the original production, with music by various composers and lyricists, as arranged and orchestrated by Luther Henderson. It is named for the Fats Waller song. Each of the songs in the show was either written or performed by Fats Waller at some point in his career. There's no dialogue, just a series of songs, ostensibly replicating the vibe of night-clubs in Harlem.
Director Monique Midgette gives us in her notes a brief backstory on the Harlem Renaissance, and stages the show in a way that neglects no segment of the audience. Yes, it's Toby's and they've been doing theatre in the round for some time now, but it's still an impressive accomplishment every time.
Music Director and leader of the live mini-orchestra is the incomparable Ross Scott Rawlings. In a show that features fifteen songs in Act I and another fifteen in Act II, Rawlings faces a mighty job. He is obviously well-suited to the challenge, as evidenced by the superior performances of each cast member, individually, in teams, and collectively.
When I last enjoyed Kadejah One' at Toby's (as Medda Larkin in NEWSIES), I suspected her talents were sincerely underused. Her performance in AIN'T MISBEHAVIN' puts paid to that notion. She plays her wonderful voice like a jazzy trumpet and makes you feel every single note. Kelli Blackwell's expressive face and evocative gestures enhance all of her rich vocals. When she sings "Squeeze Me," she squeezes emotion out of each phrase and breath, and continues in that vein the rest of the night.
With special permission, Equity actor Tobias Young appears, not explicitly as Fats Waller himself, but 'in the spirit of,' and inhabits that soulful comic musician's personality, while almost acting as the host of the evening, letting the spotlight shine on his associates, displaying his own tour de force talent without overshadowing the vibrance of the others, who are by NO means a backup quartet.
Kanysha Williams, in addition to having an impressive voice, is a terrific dancer, with physical riffs that could have danced right off a 1930's movie screen. Choreographer Shalyce Hemby does fine work on this show, taking advantage of lively historic steps and incorporating them, or extrapolating from them. At her disposal also is agile Brian Jeffrey, who has snappy delivery, wicked dance moves and a smooth sultry solo in "The Viper's Drag."
At Intermission, our wonderful, invisible live Musicians are introduced. If we see them, we'll never know; they're tucked out of sight for this and all Toby's productions. Tony Neenan and Jay Ellis on Trumpet and Trombone respectively are particularly worthy of praise.
Lynn Joslin's lighting and effects design includes both fog and haze (which themselves are supporting elements of layered atmospheric lighting) and, even better, actual footage of Fats Waller as projections on the versatile Toby's wall-mounted screens. In fact, the projections are carefully curated to create a sense of a temporal arc from Prohibition to the Civil Rights movement. Whether Director Monique Midgette or Lighting Designer Lynn Joslin deserves credit for that choice, all praise to the appropriate parties, and well done.
Scenic Designer David Hopkins gives us modular elements that create environments without weighing down the production. The giant chandelier, mini-chandeliers and sconces are perfect for a suggestive atmosphere, and tables and chairs provide a base from which movement emanates rather than serving as a static on-set anchor.
Costuming is period-suggestive rather than flat-out accurate, utilizing instead the array of wonderful, washable, hard-wearing fabrics we have at our disposal nowadays. It's sometimes sparkly, as in "Spreadin' Rhythm Around," sometimes sparse as in "The Viper's Drag" (The Reefer Song), always supporting the performer and song. This outcome is rather a wonder considering the 'flow' of the show spans forty or fifty years, and the costumes, sometimes augmented with accessories, look just right the entire time.
Standout numbers? Challenging- they're all so good, but I'll venture to call "The Viper's Drag" a show-stopper. Additionally, my special favorites include "How Ya Baby," "When The Nylons Bloom Again," "Off Time," "Your Feet's Too Big," "Find Out What They Like," and "Black and Blue," which is stunning in its simplicity.
You may imagine you don't know any Fats Waller. You may wonder if the music of Fats Waller is relevant anymore. You may ponder whether you should take time to see this production. I assure you, please, you do, it is, and you should.
AIN'T MISBEHAVIN' plays at Toby's through November 4th. Toby's Dinner Theatre is in Columbia, Maryland, easily accessed from 29 Southbound, with plenty of free parking all around the building.
The show runs one and a half hours, including a 20 minute intermission.
Toby's Dinner Theatre of Columbia
5900 Symphony Woods Road
Columbia, MD 21044
For additional information including pricing, buffet menu and directions, visit www.tobysdinnertheatre.com.
For tickets, phone the box office at 410-730-8311, 301-596-6161 or 1-800-88-TOBYS 10 am - 9 pm. Doors open at 6pm Tuesday through Saturday evenings, with dinner from 6:30-7:20 for an 8 pm showtime. Wednesday and Sunday Matinees, the buffet is 10:30-11:50 am for a 12:30 pm show. Sunday evening supper is at 5:30 pm, with a 7 pm showtime.
Photo Credit: Jerri Tidwell Photography