Student Blogger: Kat Mokrynski
MOST POPULAR ARTICLES
LAST 30 DAYS
Student Blog: Was There Ever A Greater Tabloid Tale?
Posted: Jun. 13, 2022


LAST 365 DAYS
BWW Review: STRANGER SINGS! is a Loving Interpretation
Posted: Aug. 11, 2021


Student Blog: The Ghoul Boys Are Back! - 5 Reasons to Watch the Final Season of BUZZFEED UNSOLVED: SUPERNATURAL
Posted: Oct. 13, 2021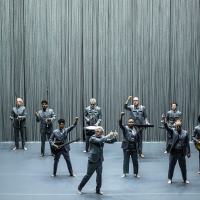 Student Blog: How Did I Get Here?
Posted: Mar. 23, 2022


Student Blog: Keeping Up with A Comet - An Interview with Alex Wyse and Ben Fankhauser
Posted: Oct. 25, 2021


Student Blog: I'm the Queen of the Castle
Posted: Sep. 7, 2021


Student Blog: Was There Ever A Greater Tabloid Tale?

June 13, 2022

Diana has been on my mind for many years. In fact, I actually wrote about it in quite a few of my earlier articles, constantly stating that it would be the first show that I wanted to see once Broadway reopened. If only I knew just how much of an impact this show would have on my life.
---
Student Blog: "See You at the Parks!"

May 4, 2022

Recently, I had the chance to speak with David about his experience in the theatre world, his off-Broadway directorial debut, and, of course, Disney! From Happy Meal toys to college professors, read on to learn more about how David became the person they are today and how he is contributing to both the theatre world and the Disney community.
---
Student Blog: "Comedy Comes from Truth and Honesty"

April 29, 2022

Since theatre has returned to New York City, I have seen many different shows. I've been to musicals, plays, and even interactive shows. But nothing can compare to one of the modern classic plays, The Play That Goes Wrong. I've been lucky enough to see it twice over the past two months, and even knowing all of the twists and turns, the second performance ended up being just as entertaining, if not more, than the first! Recently, I had the opportunity to interview Chris Lanceley, who plays "Jonathan" in the off-Broadway production of The Play That Goes Wrong at New World Stages.
---
Student Blog: How Did I Get Here?

April 5, 2022

It all started in November of 2021 when one of my friends was visiting New York City for the first time. Being the theatre fan I am, I insisted that we saw a Broadway show together. He suggested a show called David Byrne's American Utopia. "Sounds good to me," I responded, "but quick question - Who's David Byrne?"
---
---
Student Blog: An Up-Close Look at Broadway Up Close

February 28, 2022

This past month, I had the opportunity to speak with Tim Dolan, the owner of Broadway Up Close, a company of storytellers who share stories to help visitors get a closer look at the world of Broadway. There are three different components that make up Broadway Up Close - Tours, gifts, and workshops. The tours are given both in-person and virtually, going over a range of different topics related to Broadway.
---
Student Blog: Victoria Fragnito's SCAR TISSUE is a Simple Yet Powerful Play

February 1, 2022

Scar Tissue is a play that revolves around two roommates, Jessica (playwright Victoria Fragnito) and Sam (Rita McCann), each going through their own struggles in dealing with toxic relationships from their pasts. Jessica is attempting to break free from the memories of a man she dated in college, Luke (Nick Ritacco), a man who haunts her current relationship with Jack (Brandon Ford Green). Sam, on the other hand, is struggling with her relationship with her sister, Hannah (Jillian Vitko), who abandoned her in a time of need. When both women have to face their pasts head-on, truths are revealed and realities are shattered, threatening the relationship between the two roommates.
---
Student Blog: Drinking with The Bard

January 28, 2022

Walking into 'The Gallery' at the Green Fig truly makes you feel like you're entering some kind of secret society. I won't go into much detail but be prepared to be wowed! Once you're inside, a cast member gives you a shot and escorts you to your seat as other actors interact with the audience, asking questions and making jokes. The venue has a very 'speakeasy vibe,' perfect for a drinking club with a Shakespeare problem. Before seeing the show, I got to interview Lisa Klages, the Associate Director and Production Manager, as well as Nate Betancourt, the drunk actor at that night's performance
---
Student Blog: An Interview with Costume Industry Coalition and Showstoppers' Brian Blythe

December 27, 2021

In early December, I had a chance to speak with Brian Blythe, one of the creators of the Costume Industry Coalition and the Showstoppers exhibit that ran until December 5th in Times Square. We reflected on the creation of Showstoppers and how the costume industry has been impacted by the pandemic, as well as what theatre fans can do to help the industry recover.. Enjoy!
---
Student Blog: A Week with the Star

December 1, 2021

Over the past week, I've had the incredible opportunity to cover the Macy's Thanksgiving Day Parade for BroadwayWorld's Student Blog Center. As a part of this process I attended performance rehearsals, the balloon inflation, and of course, the parade itself! Read on to find out more about what it's like to spend a week with the Macy's Thanksgiving Day Parade.
---
Student Blog: Keeping Up with A Comet - An Interview with Alex Wyse and Ben Fankhauser

October 25, 2021

Alex Wyse and Ben Fankhauser have joined forces to write and star in A Commercial Jingle for Regina Comet, a new musical off-Broadway. The show is "is everything you want the first new musical premiering in NYC to be: whip-smart and stupid funny, packed with songs as catchy as a jingle." I had the opportunity to see Regina Comet this past weekend and had such a fun time!
---
Student Blog: Yeah, But Not Right Now

October 15, 2021

Back in September, I saw an announcement on social media that AJ Holmes (apologies, Broadway's AJ Holmes) would be performing a solo show at the SoHo Playhouse. As an admirer of AJ's work who had some time to kill after class one night, I decided to pay the show a visit. After all, the show's blurb claimed that I was going to be hearing about 'the worst, most embarrassing, humiliating, potentially irredeemable parts' of someone I had been a fan of for many years - Who wouldn't want to see something like that? But as I took the subway down to the theater, I couldn't help but wonder what AJ was going to talk about. What had he done? Would I still admire him after the show had ended? Who exactly was AJ Holmes?
---
Student Blog: The Ghoul Boys Are Back! - 5 Reasons to Watch the Final Season of BUZZFEED UNSOLVED: SUPERNATURAL

October 13, 2021

Ryan Bergara and Shane Madej will be starring in the final season of BuzzFeed Unsolved: Supernatural, premiering this Friday on the BuzzFeed Unsolved Network's YouTube Channel. Need some convincing to join the boys on "one last nightmarish odyssey"? Here are my top 5 reasons to look forward to the final season of BuzzFeed Unsolved: Supernatural!
---
Student Blog: Creating 'Picky Eaters' - A Show on BuzzFeed's Cocoa Butter

October 1, 2021

Would you consider yourself a picky eater? I definitely would! Even though I'm always down to try a new food, it is rare for me to find something that I really enjoy and would consider ordering or cooking again. But luckily for all us picky eaters out there, BuzzFeed has a show made just for us.
---
Student Blog: I'm the Queen of the Castle

September 7, 2021

For the past few years I have had a tradition of driving out to Manheim, Pennsylvania, to spend a day at the Pennsylvania Renaissance Faire. It's been a way for me to forget about the stresses of everyday life during some crazy times. But now that I'm living in New York, I decided it was time to give a new Renaissance Faire a try.
---
Student Blog: Creating the Upside Down - An Interview with STRANGER SINGS' Director Nick Flatto

August 30, 2021

A few weeks ago, I had the chance to attend Stranger Sings! The Parody Musical and review it for BroadwayWorld. Recently, I also had the chance to speak with Nick Flatto, the director of Stranger Sings. We talked about the show, the effects of the pandemic, and even TikTok. So without further ado, let's get into it!
---
BWW Review: STRANGER SINGS! is a Loving (Though Sometimes Flawed) Interpretation

August 11, 2021

Stranger Sings! The Parody Musical tells the story of the beloved Netflix show through song and dance, poking fun at all of the 1980s tropes that take place in the small town of Hawkins, Indiana, where nothing strange ever happens. For those unfamiliar with Stranger Things, the first season focuses on a group of nerdy boys searching for their friend, Will, who has gone missing. With a small cast of 9 and very little set pieces, the show takes a minimalist approach and focuses on the characters themselves, with each being parodied as a stereotype from the television show.
---
Student Blog: Back to Broadway

August 11, 2021

Pass Over was an absolute rollercoaster of a play. I went from laughing to crying, crying to sitting in shock, and sitting in shock to trembling in fear throughout the 85 minutes. The play is described as having the two main characters, Moses and Kitch, 'talk smack, pass the time, and hope that maybe today will be different,' but no small summary can describe what you will be seeing on that stage. While the play appears to take place in New York City, it also takes place on a plantation and in the land of Ancient Egypt, with all of the time periods colliding in one setting.
---
Student Blog: Welcome Home

July 27, 2021

You never could have convinced me that the first Broadway show that I would see as a resident of New York would be Springsteen on Broadway. Bruce Springsteen? The guy my dad's obsessed with? Sure, I like some of his songs, but why would I go to a solo show that's 140 minutes long with no intermission? But I wanted to do something nice for my dad's birthday and was so desperate to be back in a Broadway seat that I would've seen anything. To be honest, I probably would have paid full price for Spider-Man: Turn Off the Dark if I had to keep going without live theatre for much longer.
---
Student Blog: Be Merry!

July 6, 2021

"Why, then the world's my oyster, which I with sword will open" (Merry Wives of Windsor, Act 2 Scene 2)
---