Student Blog: Creating the Upside Down - An Interview with STRANGER SINGS' Director Nick Flatto
An Interview with Nick Flatto of Stranger Sings!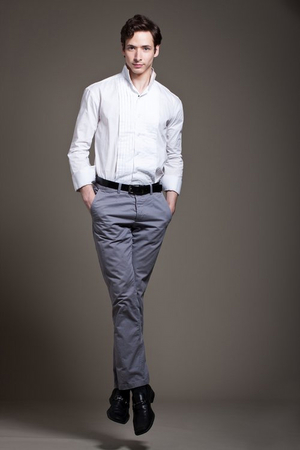 A few weeks ago, I had the chance to attend Stranger Sings! The Parody Musical and review it for BroadwayWorld. Recently, I also had the chance to speak with Nick Flatto, the director of Stranger Sings. We talked about the show, the effects of the pandemic, and even TikTok. So without further ado, let's get into it!
Kat: So how did you get involved with the Stranger Sings project?
Nick: We've been doing this for three years. The writer Jonathan Hogue, created this show as voice memos in his phone and hired an orchestrator/arranger, Michael Kaish, to build it into what it is today. One of the actors in the show that I worked with in a production of South Pacific up at Cape Playhouse knew I was assistant directing and introduced me to the writer. And that was the beginning of what we're doing. I realized that as a performer I was tired of working on one character arc - my version of Hamlet, but the full story at hand. I think that's what I really connect with in directing. You're building the whole show instead of one role. So that's been a lot of joy for me.
Kat: As a director, what is your role as part of the show as a whole?
Nick: Directing is an all-encompassing term that varies based on what projects you're working on and what your unique technique is. I was very lucky to learn from directors like Gordon Greenberg who not only directed by working with actors and presenting the blocking, but who ultimately created a laboratory for the material. I'm very passionate and lucky to be a part of an original work - We can't believe we are the first original musical post-pandemic. To take a risk on a brand-new show after what we've been through was invigorating, but came with a lot of obstacles. So as the director, I'm answering 250 questions an hour - Every department and every actor has different questions and I am steering that ship. We had two and a half, three weeks to put this up and it was a whirlwind. What's been really rewarding about this project is creating opportunities for others, giving an opportunity to bring the cast and design team on board to shine. It brings me more fulfillment than I've ever found as a performer and it took me time to realize that. That makes it all worthwhile. We've also found that this material has brought on the best of the best. Everyone in our family has fallen in love with this show and realizes that it's really something special. That's why we do theater - for the community and to be a part of something bigger than ourselves that's not about each individual, but what we are proud to be presenting on that stage and bringing to our audiences.
Kat: What have been some challenges in adapting such a popular television show to the stage?
Nick: It's tricky. Stranger Things was the number one most streamed TV show in history until The Mandalorian hit Disney+. The followers are tricky to appease because they just love the material so much and they are very protective of it. We believe we've done a great job of honoring the material and only heightening it. What's unique about our show unlike other parodies out there is we are taking a sometimes scary, sci-fi tv show and flipping it on its head to find the comedy. We have all these nuggets from Season Two and Season Three and satisfy a lot of lost plot lines that were missed in the show. I think the key with parody is finding the balance between the jokes and laughter that we all need right now with the heart of a traditional book musical. My job was to find the truth to connect to when our stock characters are hovering above reality.
Kat: Speaking of the pandemic, how did creating the show during this time change from the usual director's standpoint?
Nick: We have so many factors to work through. We want to make sure the maskless actors are safe. They all had to be vaccinated, the crew and team had to be vaccinated because we needed this safe space to work in. We test the cast every week. I think this pandemic has not only taught us priorities, and what's important to us as individuals, but also respect. You have to respect everyone's take on this pandemic, and what they need. There were so many tears in the audition and rehearsal room. We're singing live for the first time - It's been a long, long, 16 months. I always say that we lost our jobs like everyone else. But this industry is separate from any other industry. It's not only our jobs, but our identities. And that was very difficult. I think that we all had doubts and fears - Who are we? You have to be a person - A full person. As a performer, as a director, if you're not coming into the room with life experience, you can't find truth on stage. If you're consumed with credits, national tours, and what's next, then you're not bringing in the acting that lives freely on stage and has truth on stage. And this time forced us to find our full selves. So I think actors moving forward will have a vastly different perspective after going through what we did. And that's exciting for the industry and stories to come.
Kat: With social media, how has it had an impact on people coming to see the show? How has awareness changed from literal word of mouth to social media?
Nick: Social media is imperative. With TikTok, between three weeks to a month of joining, we have twelve thousand followers which excites us. A lot of musicals are happening there, like Ratatouille and Bridgerton. And that's a great market to connect to because these are real fans and it's immediate. We also advertised on Facebook and Instagram, and a lot of our audience members found us through social media. We hired a social media manager, as well as a PR team to really manage all of this. With the pandemic, we were kind of forced to be more online. I just waited to be in "the room" again and used my creativity in other ways. I think the pandemic taught us that everything should be recorded. We made sure to record our show because people want it on demand. We were very lucky to record our original cast album last week, which was just so incredible. We wanted to record this superb cast as a tool to get the brand out as well. You have to be a little crazy in this business and take these risks when you see opportunity. And this stage is all about brand awareness. So having the recording of the show, having the album come out, these are all tools to get our material to audiences outside of New York.
Kat: Have you had any memorable reactions from audience members online or in person?
Nick: There's something for everyone in the show even if you haven't seen Stranger Things - the 80s nostalgia, the musical theatre references, it's all there for you. And the response we're getting is "My cheeks hurt - I was grinning so long" or "I've never seen Stranger Things, but I loved it!" The book just doesn't stop with jokes hitting you. Laughter is the best medicine especially with what we've been dealing with. I am loving to hear responses that are monologues of things like "Have you thought about Edinburgh? You've got to bring it to Edinburgh!" Some people are like, "How do I invest?" That says so much more to us than the usual "that was great I liked the lights bye", you know, it's "Can we have drinks? We've got to talk about this for two hours."
Kat: Some quick rapid-fire questions! Favorite character.
Nick: I have to say Will [Played by Adele Simms]. I just think Will is the "Other" - He's the token victim as we say in the show. In the opening number, we get to see Will's passion for life and then he's sucked into another dimension. We're looking for Will the whole time, and then Barb steals the show. She's always the fan favorite. Savannah-Lee Mumford [The actress who plays Barb] has been my dear friend for these past three years. She's incredible. But I think a lot of people in the gay community potentially connect with Will, with this character that feels "other" in the show and in Indiana.
Kat: Favorite scene?
Nick: I actually love the second scene with Joyce and Hopper. It's so early in the show, but we say who we are. We're over the top, Caroline Huerta [the actress playing Joyce] plays to the audience and she lets us in with her genius comedic timing. She's running back and forth and shaking frenetically with her cigarettes. And then we break into song with Hopper, played with by the equally hysterical Jason Chacon. That was the first acting scene I blocked, it was just the two of them and myself in a room and we got to play and build this together. One of my biggest goals as a director is to create a space where actors can feel safe enough to try new things and play. We worked through many versions of the scene to find the best one that plays to entrance and exit applause some nights.
Kat: A favorite song?
Nick: I mean, I have to go with "Barb's Turn." It's the 11 o'clock number and brings the house down. We're getting mid-show standing ovations for her. But this is really what this shows about. We watch the show, we love the show, but we took to the internet trying to bring Barb back and give her this moment. We have so many musical theatre references infused in the scene. And Savannah-Lee just brings it every night. It's my favorite moment.
Nick: Electric, hilarious, and truly original. Yes, it's based on Stranger Things, but we've really flipped it on its head and brought so much to the table. So it's been an emotional journey for me with an original musical coming back from the pandemic. These are some of my closest friends and we're building a world together. I'll never forget this time; it's been really special.
A huge thank you to Nick Flatto for the interview!
Stranger Sings! The Parody Musical is running at the Players Theatre on MacDougal Street through September 5th. To purchase tickets, please visit the following link: https://ci.ovationtix.com/277/production/1058179