Richa Das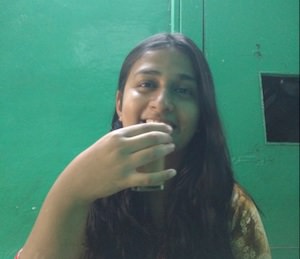 Hi I am Richa, theatre makes me jubilant and reminds me that mere existence is a cause big enough to celebrate especially in a country like India, where there is no passing moment in which you aren't contributing to something beyond yourself. Join me as I show you what builds the dust and glory that shrouds theatre performers and creators, here in Delhi and Mumbai.

MOST POPULAR ARTICLES
LAST 30 DAYS
LAST 365 DAYS
BWW Review: STREETCAR NAMED DESIRE at Jeff Goldberg Studio

June 30, 2018

An adaptation of Tennessee Williams' Streetcar Named Deire
---
BWW Feature: TALEEM THEATRE WORKSHOP by Vayam Performing Arts Society

June 8, 2018

Vayam-the Performing Arts Society begins with its 5th edition of 'Taaleem' this June. Taaleem is a platform for all theatre aspirants who want to live their passion for theatre.
---
BWW Review: FRESH THOUGHTS WITH KUNAL KAMRA at Canvas Laugh Club

March 28, 2018

From fresh to radical to hysterical, everything about Kunal Kamra's thoughts is different from what we have been exposed to in Indian comedy so far.
---
BWW Review: LAST OVER at Delhi Theatre Festival

March 23, 2018

Veterans Rakesh Bedi and Ananth Mahdevan lead this well-written Abhishek Patnaik comedy "Last Over", one of the many selected plays put up in the esteemed Delhi Theatre Festival.
---
BWW Review: GEORGE'S MARVELLOUS MEDICINE by Birmingham Stage Company at Sirifort Auditorium

February 12, 2018

'George's Marvellous Medicine' and once again one could all but marvel at the storyteller. The play is championed by its excellent use of the modern technically equipped stage in addition to effective background score, building a darkness that fit the characters just like Dahl does it.
---
BWW Review: Feroz Abbas Khan's MUGHAL-E-AZAM at JLN Stadium

February 6, 2018

Not enough people have bothered about Indian movies enough to revisit them and create visual spectacles out of them in other mediums. Growing up in this almost dystopian temporariness of televised art, it was refreshing and all the more exciting to sit through three hours of extraordinary story telling that Feroz Abbas Khan's Mughal-E-Azam the play engaged in. The experience is loaded with generous music, the purest of Urdu writing, remarkable production value and most importantly, an overwhelming ensemble of actors and dancers that bring India's most remembered cinematic episode live on stage.
---
BWW Review: THE WHITE SARI in New Delhi

January 29, 2018

The five meter long Indian drape has across epochs defined several aspects of an Indian woman's existence. 'The White Sari' is a tremendous and if I may say a very colorful attempt at understanding the several shades of cultural control over women.
---
BWW Review: MILLION DOLLAR QUARTET at NCPA- The Best of Broadway Comes to Mumbai

December 26, 2017

The mesmerising NCPA venue, the holiday season, the best of rock and roll and Broadway put together- surely makes for a million dollar quartet. This Christmas, Mumbai was host to a touring Broadway production of the Million Dollar Quartet, written and created by Colin Escott, Floyd Mutrux and Ian Talbot. India's fascination for the west and its long withstanding history of rock and roll were optimized to the maximum as full house weekends and roaring crowds embraced the musical.
---
BWW Review: MALGUDI KE GAON SE at Akshara Theatre

December 22, 2017

Our fascination for R K Narayan and his world of innocence is never ending and it is precisely this nostalgia that brings out the best of 'Malgudi Ke Gaon Se'. Rahul Saini's Malgudi is resplendent with the same old charming characters from a colonial India, fighting and finding easy resolutions for their daily hassles.
---
BWW Review: ZIKRA at Akshara Theatre - A Brilliant Poetic Indian Dance Drama

December 13, 2017

An ambitous poetic dance drama brought out by Vayam Performing Arts Society in New Delhi, India. The play sketches out the trials and tribulations of the good old artist, confined in the shroud of a capitalist world that cannot decipher his artistic pursuits.
---