Patrick Honoré
Patrick Honoré runs the magazine Broadwayguy.com and has been a musical theater critic for 15 years, sarting as the French Musical Corespondant for the paper edition of Musical Stages in London, which led to his writing for Musical Theatre in Review, its digital follow-up.  He is the French corespondant for the German magazine Musicals, the only remaining paper magazine devoted to musical theater.  And he has also written reviews on Broadway and London musicals for Musicalavenue.fr in French.  He joined the Broadway World team two years ago.
Patrick Honoré is also a cabaret performer in Paris, London, and New York.  He has taught jazz and theatre dance in his company Guys and Dolls, which he created in 1996.
Patrick fell in love with musical theater when he was 13 years old, and has since been visiting London monthly and New York biannually, which explains his encyclopedical knowledge of the genre's history.  His tastes favor the Golden Age style of musical, and his favorite composers are Jerry Herman, Kander and Ebb, Cy Coleman, and Stephen Sondheim, whose songs he regularly performs in Parisian cafés.
MOST POPULAR ARTICLES
LAST 365 DAYS
BWW Review: VICTOR CUNO'S BROADWAY CABARET at Th??tre des Voyageurs
Posted: May. 24, 2021


BWW Review: SINGIN IN THE RAIN at Op?ra Massy
Posted: Jun. 26, 2021


BWW Review: STORIES at Casino De Paris
Posted: Nov. 8, 2020


BWW Review: MAN OF LA MANCHA at Ch?telet
Posted: Jun. 12, 2021


BWW Interview: Ann Reinking of CHICAGO at Th?atre Mogador
Posted: May. 26, 2021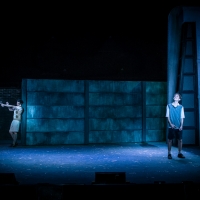 BWW Review: BLOOD BROTHERS at Chateau de Karreveld
Posted: Aug. 17, 2021


BWW Review: BLOOD BROTHERS at Chateau de Karreveld

August 17, 2021

After a cancelled season, Bruxellons! Festival briefly decided to go ahead with what for francophones will be a delicious discovery of a show, despite production uncertainties and a lack of support from the Belgian government. How brave! We have to be thankful to them for the bold choice of presenting a British musical which, in spite of being the third longest running in London, right after Phantom and Les Miz, is totally unknown in the French-speaking world.
---
BWW Review: SINGIN IN THE RAIN at Opéra Massy

June 26, 2021

After several delays due to the pandemic, it was good to be back at the Massy Opéra, one of France's premiere musical theater venues now, after Cabaret and Into the Woods, this time for two performances (June 24th and 25th) of a brand-new Arts Lyrica production of Singin' in the Rain, spoken in French and sung in English.
---
BWW Review: MAN OF LA MANCHA at Châtelet

June 12, 2021

For only four performances the past two weekends, the Châtelet in Paris was alive again with the sound of musicals we've been missing so much here. Boasting 2300 performances, and no less than four revivals on Broadway, Man of La Mancha ranks among the most performed musicals around the world. The book is by Dale Wasserman, based on his own teleplay on the fictional life of Don Quixote and that of his creator Cervantes, a very melodic score by Mitch Leigh, his first musical effort and his only big success, and lyrics by Joe Darion, which gave us at least two standards, the title song and "The Impossible Dream", the latter recorded not only by Jacques Brel but by Johnny Halliday and Julien Clerc.
---
BWW Interview: Ann Reinking of CHICAGO at Théatre Mogador

May 26, 2021

In 2018 Ann Reinking came to Paris to train the cast for the French-language version of Chicago. I had the pleasure of chatting with her.
---
BWW Review: VICTOR CUNO'S BROADWAY CABARET at Théâtre des Voyageurs

May 24, 2021

All through lockdown, many French musical theater performers have been lucky enough to be able to go on developing their craft, tapping their troubles away with master teacher Victor Cuno, who in turn took the opportunity to use their talents to create a new show, simply called Victor Cuno's Broadway Cabaret, showcasing many triple threats who took advantage of their time off from theater commitments to rehearse at Swing Tap Studio near Bastille in Paris. Beginning with a showstopping new version of 'Anything Goes', musical arrangement and choreography by Cuno himself. A delightful special event for the Maison de la Radio's '42ème rue fait son show' was performed last December, and Cuno decided to expand this success into a full show.
---
BWW Review: STORIES at Casino De Paris
November 8, 2020
---
BWW Review: AROUND THE WORLD IN 80 DAYS at Théâtre Mogador

February 18, 2020

The team that just brought us The Adventures of Tom Sawyers, which had two runs, last season are already back at Théâtre Magador with a new musical: Around the World in 80 Days.
---
BWW Review: THE PAJAMA GAME at Opéra De Rennes

February 10, 2020

After the concert version of West Side Story and an extensive tour of the musical Bells Are Ringing, director Jean Lacornerie and musical director Gérard Lecointe have chosen to collaborate again, delivering to the French public a comparatively little known musical of the 50s, The Pajama Game, which, outside being the work of the dream team Jerome Robbins directing, George Abbott writing the book, and Bob Fosse choreographing on Broadway for the very first time, stands as perhaps the only musical dealing with unions and labor conflicts. The least we can say is that this choice couldn't be more on point given the political context of France today, with major strikes going on in sync with the show, which began its run at Théâtre de la Croix-Rousse in Lyon, followed by an extensive tour at the Théâtre de la Renaissance, also in the Lyon area, and now for a three-day run at the gorgeous Opéra de Rennes, where I caught a sold out performance on February 1st.
---
BWW Review: AN AMERICAN IN PARIS at Châtelet

December 8, 2019

An American in Paris is back in Paris.
---
BWW Review: FUNNY GIRL at Théâtre Marigny
November 17, 2019
---
BWW Review: ELECTRO SYPMPHONIC PROJECT: LAURENT COUSON at La Seine Musicale

October 23, 2019

Teaming up with DJs Tom Fire, Benoit Lugue, and Charles Schillings, Laurent Couson has come up a delightful concoction, Electro Symphonic Project.
---
BWW Review: GHOST at Mogador

October 7, 2019

After an exciting season of Chicago, Mogador is introducing Parisian audiences to one of the very best musical adaptations, if not one of the most successful, of a famous movie: the much-loved Ghost from popular 90s American cinema.
---
BWW Review: KISS OF THE SPIDER WOMAN at Fakkel Theater

September 10, 2019

From August 30 to September 15, Inteam Production is presenting the Belgian premiere of Kander & Ebb's masterpiece Kiss of the Spider Woman, based on the novel by Manuel Puig and the award-winning movie version in 1985.
---
BWW Review: HUCKELBERRY FINN at Théâtre De La Huchette

July 30, 2019

After the Trophy winners La Poupée Sanglante and Comedians!, to mention but a couple, Franck Desmedt has brought another jewel the tiny but cosy Thétre de la Huchette.
---
BWW Review: MY FAIR LADY at Festival Bruxellons

July 29, 2019

After successful productions of The Sound of Music, Evita, and Sunset Boulevard the three past summers, Festival Bruxellons! is this year presenting Frederick Loewe's and Alan Jay Lerner's musical masterpiece My Fair Lady in a new brilliant French adaptation by Stéphane Laporte, in collaboration with Jack Cooper and Simon Paco, both of whom, as they did Evita and Sunset, directed.
---
BWW Review: MICHEL FOR EVER at Théâtre De Poche

July 15, 2019

A year after his critically acclaimed Berlin Kabarett in the same Theatre de Poche in the Montparnasse neighborhood, Stephane Druet and his partner in crime Daphne Tesson are paying a well deserved tribute to their idol: The great Michel Legrand.
---
BWW Review: MARLENE DIETRICH: THE BLUE ANGEL'S SLEEPLESS NIGHTS at Théâtre Du Nord Ouest

July 12, 2019

During her inaugural speech for a square named in honor of Marlene Dietrich in the posh 16th arrondissement in 2003, Ms. Beate Klarsfeld said, 'Though she's yet to be recognized as such, Marlene Dietrich is truly the female celebrity who dominated the 20th century in the domains of anti-hitlerian politics, the cinematic arts, and women's liberation. In all these areas, she was a driving force. What is the stuff of legend? Is it destiny or just life?'
---
BWW Review: LA BOULE ROUGE at Théâtre Des Variétés

July 12, 2019

In 1920s Paris, aristocrats, artists, veterans, businessmen, workers, and peasants all gather for drinks and music at The Baron's Tavern. But business is still not good enough for the pair of owners, who plan to close up shop soon and leave the city. Their star singer, and one's former mistress, is sought after by many of the customers, including Charles, a wealthy heir and only child. To help the tavern, whose eclectic clientele is so greatly attached, avoid shutting down and to help her boss seduce the coveted singer, Charles's maid comes up with the idea of transforming it into a big cabaret. But this will require a huge investment. Despite initial resistance from his father, who is reluctant to provide financing, Charles manages to pull the plan off, hiring dancers, musicians, and staff for performances . . . every night.
---
BWW Review: LA TOUR DE 300 MÈTRES at Théâtre Des Mathurins

April 22, 2019

After several showcases, including one in the actual Eiffel Tower, La Tour de 300 metres, an original musical with books and lyrics by Marc Deren, finally has an extended run at the Theatre des Mathurins. The cast of 7, carried by the magic fingers of musical director extraordinaire John Florencio, takes us on a journey back to the turn of the 19th century with much authenticity and charm.
---
BWW Review: GUYS AND DOLLS at Théâtre Marigny

March 28, 2019

After Michel Le Grand's Donkeyskin, which gave the genius composer one more chance to see his immortal music on the stage and the intimate Sondheim review Marry Me a Little in the Studio, Theatre Marigny and Jean-Luc Choplin are now getting into the real thing by putting on a full production of classic musical with a entirely British creative team and cast playing and singing in English with subtitles. Though Theatre Marigny is much smaller than the Chatelet, similar productions there such as Kiss Me Kate and the Sondheim cycle were scheduled for only few weekd runs, An American in Paris was a Broadway tryout, so it easily sold out its two-month run, thanks in no small part to visitors from abroad. My Fair Lady, 42nd Street, and Singing in the Rain had already played in Paris before, although in French or on tour but were already part of the general public consciousness as movie favourites. Guys and Dolls, on the other hand, which has never been seen in Paris before or not even on tour, has an intrinsically American subject matter and only a now hardly watchable movie version, only known among French cinephiles as the only musical in which Marlon Brando appeared, teaming up with Frank Sinatra.
---