Review: COQUELICOT at Théatre de la Contrescarpe
The intimate, funny, poetic one-woman show runs through the end of March.
French actress, singer, and dancer, Prisca Demarez, mainly known for her roles in the French adaptations of Avenue Q and Cats, as well as the French original Oliver Twist (for which she received the Musical Comedy Trophy for Best Female Performer in 2017), made fruitful use of her time in lockdown during the initial stages of Covid to create an autobiographical show, part standup routine and part solo concert, called Coquelicot (French for poppy flower), which debuted earlier this month at the Théatre de la Contrescarpe in the Latin Quarter of Paris. This natural born performer's anguished time in social isolation instilled in her an urgent desire to share her experience with a more-than-sympathetic live audience.
The sense of the show's motto-I'm not a cut rose you can let slowly wilt in a vase, I'm a poppy!-is echoed in her opening number "Don't Rain on My Parade," whose meaning she thankfully explains to the French-speaking audience. Similarly, poppies can thrive anywhere, but if you pick one, it quickly withers away and dies. Prisca is indeed alive and kicking, just as was Barbra, playing Fanny Brice, when she abruptly decided to leave the Ziegfeld Follies tour to pursue her happiness in Funny Girl.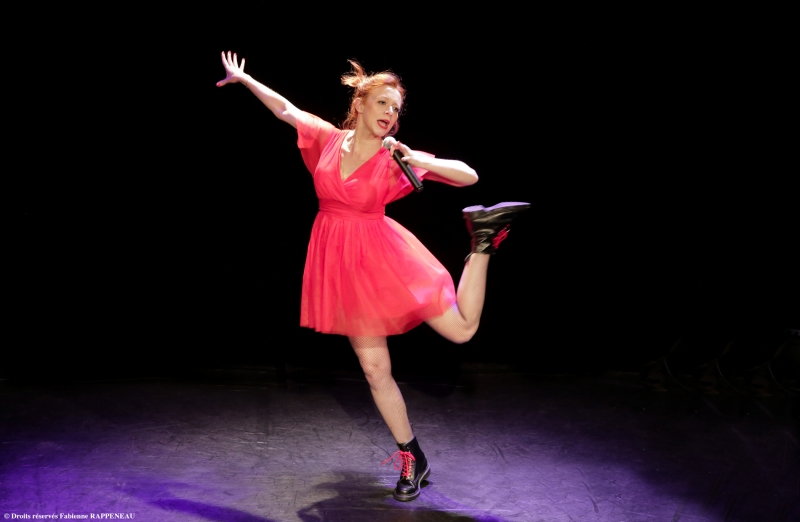 Prisca's next visits to Broadway are a showstopping recreation of her part of Lucy The Slut with "Special" from the French adaptation of Avenue Q at Bobino in 2012, followed by "Mein Herr" and the title song from the French version of Sam Mende's Cabaret, in which Prisca was one of the girls at the Folies Bergère.
Also included in the show are all the milstone-marking songs on Prisca's career path as an artists: "La Tordue" from Sol en cirque, "Mourir sur scène" by the French icon Dalida, "Un Peu plus haut, un peu plus loin" by the Québecoise Ginette Reno, and, to finish her act, "Voilà" by the young French star Barbara Pravi, but this time with Prisca's own lyrics.
Between songs, Prisca shares her intimate and poetic thoughts on life, loneliness, self-discovery and love, building a bond with an audience who could relate well, having also been starved of live performances throughout the lockdowns. But she's also very funny, improvising hilarious bits and affably bantering with audience. As she alternates between Brechtian and Stanislavskian registers, she creates a unique theater-going experience, combining laughs with tears, joy with sadness, and hard realism with the sublime.
It wouldn't be an easy task to put on a show all about yourself by yourself. Fortunately, Prisca benefits from the help of director Franck Vincent, lighting designer Arnaud le Dû, costume designer Sylvain Rigault, and most of all her pianist and musical director Shay Alon (composer of Oliver Twist, in which Prisca played Nancy), with whom she has great repartee.
Prisca is well-known among theater aficionados in France, but this multi-talented triple-threat deserves acclaim from a wider audience, as she commands the stage like a Broadway great. If you're in Paris, don't miss Coquelicot, playing until the end of March.