Review: Campbell and Prior are a DREAM LOVER Come True in Story of Real-Life Legend at Arts Centre Melbourne
The era of the jukebox musical seems to be here to stay, and Australia its fertile ground to spring from: the Beautiful story of Carole King, the adaptation of Whitney's Houston's catalogue into The Bodyguard, mega-hit Jersey Boys, and of course Dream Lover comprising the instantly recognisable sounds but widely-forgotten story - and legacy - of the multi-talented Bobby Darin. Easy thought it might feel to relegate this musical to the contemporaries of its time, Dream Lover's powerful messages of obstacles overcome, dreams fulfilled and sacrifices for success connect to every audience member. Darin's life, adapted for the stage by Frank Howson, Simon Phillips and Carolyn Burns based on an original concept by Frank and John Michael Howson, seems too dramatic to be real, and this larger-than-life production tames that line between truth and fantasy brilliantly.
Walden Robert Cassotto's start to life did not indicate his soon-to-be-legendary status; having suffered several bouts of rheumatic fever that damaged his heart, he conquered illness and an underprivileged upbringing to become a multi-instrumentalist under the loving support of the woman he thought was his mother who was in fact his grandmother, and the woman he thought to be his sister who was his birth mother. This secret was kept from him until his early thirties. The decision to name himself Bobby Darin came just prior to his success in songwriting, originally for superstar Connie Francis with whom he ignited a romance. Torn apart by Francis' father's ambition, Darin's dream of working in films was realised and he met future wife Sandra Dee, with whom he would go on to have a son, Dodd. Darin's striving for success pushed his health past its limits, and he eventually succumbed to complications during surgery to repair damaged heart valves and died at the age of 37.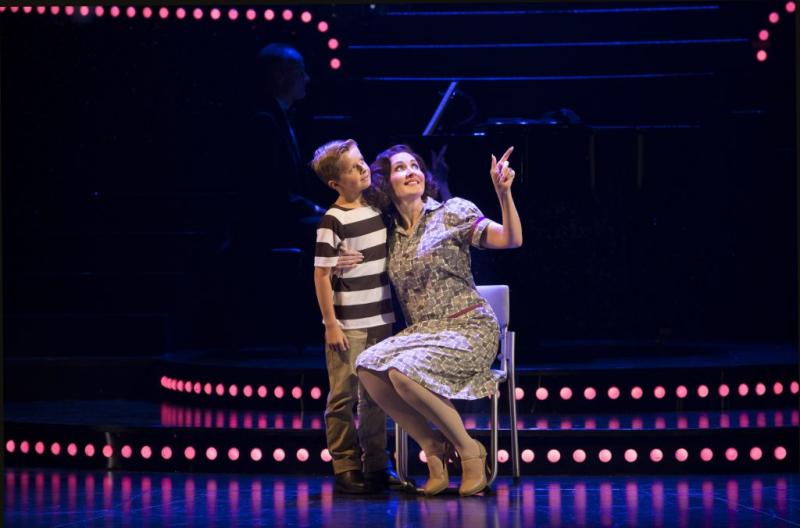 The treatment of this incredible story is charming and tender, and performances are pure gold. David Campbell has spoken openly about his affinity with Darin, and his talent in the title role swells and shines with an energy that builds to breathtaking peaks in moments like 'Who Can I Turn To?' and 'My Mammy'. Campbell is so at home in the role, a purist might be concerned for any Vivien Leigh-type enmeshment, where he as much suits the exuberance of Cassotto's youth as the jaded fading aging of Darin's decline seamlessly despite little notable change to his appearance - it's all in his portrayal. The role of Darin's mother Polly might be considered small, but the uncontainable talent of Marina Prior creates a presence of love and wisdom that holds throughout the production - even as she doubles up as Sandra Dee's mother who is polar opposite to Polly's warmth. Prior is on song as ever, perfectly delivering two sincere portrayals of maternal instincts applied for both good and bad. Rising star Hannah Fredricksen's vocal chops made her a gold-star Sandra Dee to beguile and belove Campbell's Darin, and it's a shame the script does not afford more time to respect Dee's personal tragedies, though Fredricksen made stern statements in her performance to make these stand out above the persistent musical number agenda of the show.
Rodney Dobson was charming from the get-go as "Uncle" Charlie, bearing the role of uncomplicated hero with humility and authenticity. Martin Crewes' playing of Steve Blauner is similarly great fun to watch, providing comedic respite from the chaos of a production tightly-packed. Marney McQueen as Darin's sister Nina is at risk of being severely underrated and thrown in with McQueen's spangled reputation for great caricature, but her performance of 'More' sets the second act on a completely different level, without which the audience may not have been able to key into Campbell's emotional trajectory, and so cannot be underestimated for its merit in the show. Throw in the work of some standout ensemble members, a Young Bobby/Dodd of as much charm and talent as Campbell himself and an out of this world 18-piece band led by Richard Montgomery and you've got yourself half a show!
The rest, you leave to countless other experts to design, build, and operate this slick production. Brian Thomson's set speaks to every big-band visual a vast majority of the audience grew up watching, and this reviewer grew up watching on retro DVDs. It seems a stroke of genius to apply contexts, comings and goings over the top of this big-club set-up with furnishings to indicate the dominance of stardom over Darin's life; always in the background, calling him back into its glitz and gusto. Tim Chappel's costumes brilliantly maximise every era and creates the stark contrasts required to keep the timeline moving visibly for the audience in a swift and song-and-dance-worthy manner. Add to this the eye-catching and contemporary interpretation in Andrew Hallsworth's choreography and Paul Jackson's primetime lighting design, Dream Lover is polished, pure entertainment.
Congratulations to director Simon Phillips for a truly smooth ride that will set another gem in his crown as Australian artistic legend status of his own. Dream Lover is more than a musical that will take you back, it's a musical that will remind you what calls us to get up and move forward.
Dream Lover plays in Melbourne until March. Info and tickets here.
Images by Brian Geach.