BWW Review: CRIME AND PUNISHMENT at Penfold Theatre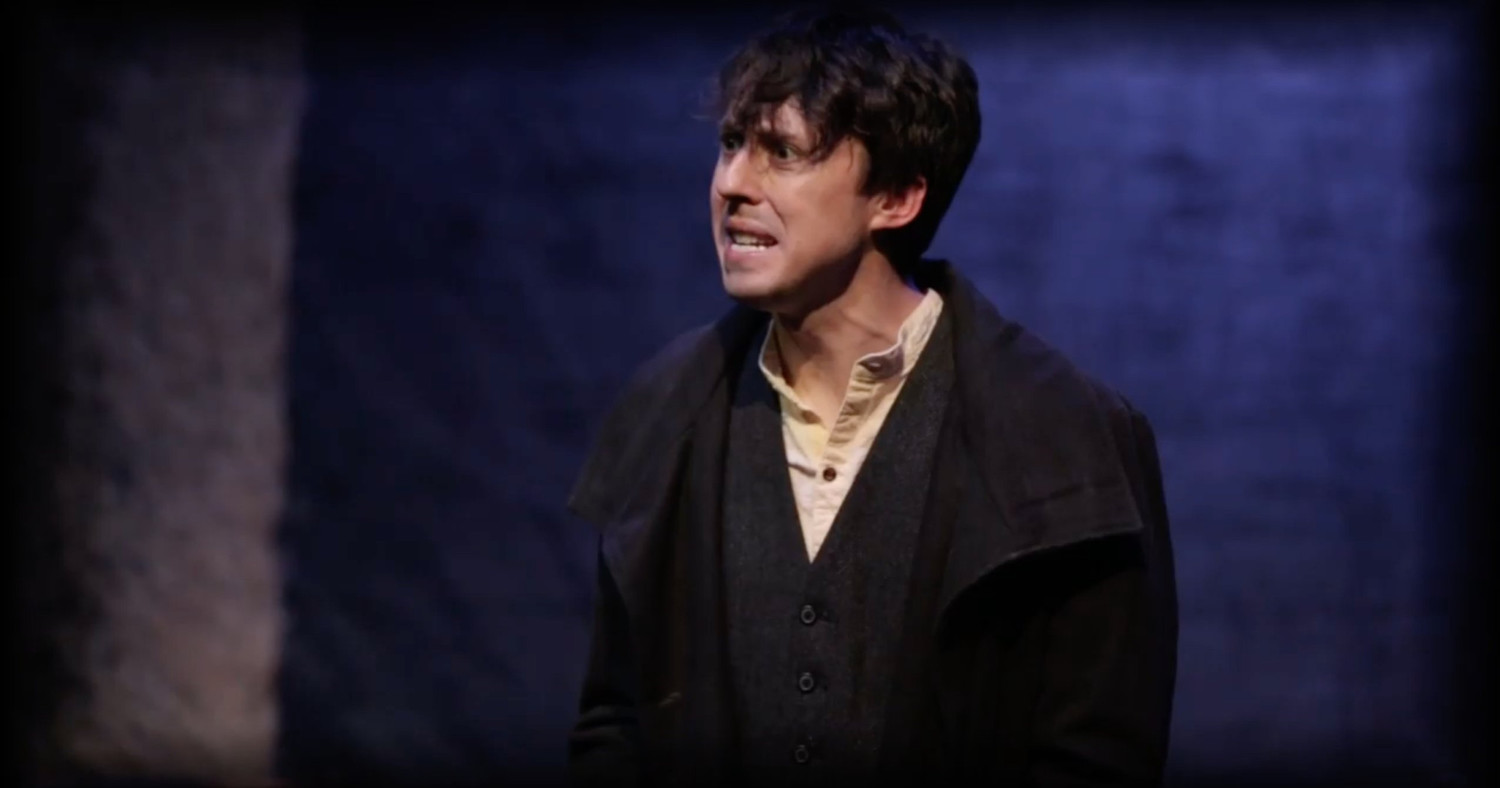 The Penfold Theatre Company's production of CRIME AND PUNISHEMENT -- adapted by Marilyn Campbell and Curt Columbus from the novel of the same name by Dostoevsky -- was a tense night at the theatre that was unlike anything I have ever experienced. The production let the audience witness *SPOILER ALERT* the mental break of a normal man and how it caused the murder of two women.
CRIME AND PUNISHMENT is a memory play for the point of view of Raskolnikov (Ryan Crowder), an impoverished ex-law student who is descending into madness due to committing a double homicide. His memories are triggered by conversations with inspector Porfiry (J. Ben Wolfe) that unfold the events that led up to the murder and eventual confession.
The set design by Ia Ensterä was simple but well done. Three doors were used to represent the different rooms for the two actors coming in and out of the space. The use of a scrim that was paired with the lighting design by Rachel Atkinson did a fantastic job at showing the gruesome murders in a way that was truly frightening.
Director Jeremy Lee Cudd keeps Crowder's Raskolnikov contained to a marble patterned, deep red rectangle on the floor, and The only time he left that space was to commit the murders. It was a stunning manifestation of how the character was both trapped in his own guilt and was - as he put it "wading in blood". It was decisions like this by Cudd that kept the audience on edge as Raskolnikov was coming to terms with what he had done. Cudd also had stunning moments for Wolfe and Chelsea Manasseri, who played all of the female roles, where they would disappear through the open sections of the walls to add to the elusive quality of Raskolnikov's memories.
Crowder gave an exceptional performance as Raskolnikov. He was sympathetic while still being unhinged, and there was a moment where he was pleading with the audience to try and understand his tortured point of view that was extremely impactful. Crowder embodied the conflict that his character was feeling and it was clear that he was trying to convince himself that his bloody actions came from a genuine place of wanting to be extraordinary and to make the world a better place.

Wolfe's performance as Inspector Porfiry was magnetic, he was able to balance being kindhearted while playing Raskolnikov like a fiddle. Wolfe was able to cut through the dread with well-placed moments of levity with his very subtle comedic timing. In a show that was at times unsettling, Wolfe had a moment that was incredibly unnerving in Raskolnikov's guilt-fueled nightmare.
Manasseri gave an immense warmth and kindness to most of her characters, her Sonia was sweet and held herself with a quiet dignity. Her interpretation of the ill-fated pawnbroker was cutting and demanding, which helped the audience understand why Raskolnikov killed her.
The MVP of this show however was the sound design by Lowell Bartholomee. In moments where Raskolnikov is becoming overwhelmed and unhinged, there would be a low sound that would grow louder and louder as the scene would reach its climax. Having these rumblings on a low volume throughout certain scenes lead to uneasiness that would permeate the scenes and keep the audience on edge.
CRIME AND PUNISHMENT at Penfold Theatre Company was a dive into the mind of a killer that was truly extraordinary that encourages its audience to look inward. I highly recommend you to not miss out on this deep cutting piece.
---
CRIME AND PUNISHMENT adapted by Marilyn Campbell and Curt Columbus is produced by The Penfold Theatre Company and is running from March 21st to April 6th. Runtime is 90 minutes with no intermission. Showtime is at 8:00 p.m. Wednesday-Saturday and 5:00 p.m. on Sundays. The show takes place at the Ground Floor Theatre (979 Springdale Road #122, Austin, TX 78702). Purchase tickets online.