WAITRESS Will Go Pink For Third Year In Honor of Breast Cancer Awareness Month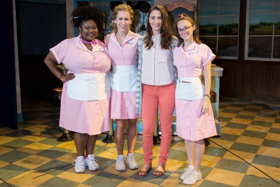 The producers of the Broadway hit Waitress announced today that for the third year running they will be supporting the Susan G. Komen Greater NYC during Breast Cancer Awareness Month, this October.
The show made history last year when the iconic blue Waitress uniforms went from blue to pink - which they will do again this year for the second time.
Now in its third year, the #WaitressPieChallenge is designed to draw attention and generate support for local breast cancer programs and national research to find the cures. The 2016 Pie Challenge and 2017 Pie Challenge were both huge successes, so it's back and bigger than ever. Here's how to help:
Record a video of yourself accepting the Waitress Pie Challenge. On camera, take a pie to the face.
Nominate 3 new people to participate and donate to Susan G. Komen Greater New York City.
Donate to Komen Greater NYC at komennyc.org/piechallenge
Upload the video to social media. Use the hashtag #WaitressPieChallenge and tag @WaitressMusical and @komennyc.
For more details on how to join the challenge, see the video below!
Prizeo will also run a campaign in which the lucky winner gets a walk-on role in the Broadway production. Details will be available at prizeo.com/WaitressBCAM.The Prizeo grand prize includes:
· Onstage appearance during the show
· Joining the full cast in their bows
· Vocal rehearsal with a member of the Waitress music team and onstage rehearsal
· Costume fitting with the Waitress wardrobe department
· 1 VIP seat to Waitress for your guest
· The chance to watch the show from the wings and front of house when you are not onstage
· Backstage tour and photos after the performance
· A signed Waitress playbill
A portion of proceeds from the sale of the limited edition "Kick Cancer Cannoli Pies" sold at the show will be donated the Susan G. Komen Greater NYC. 100% of the proceeds from the sale of the exclusive Waitress Ribbon pin will go to Komen Greater NYC.
Proceeds will help fund grants to provide life-saving services, things like transportation to treatment, mammograms, and legal services for medically underserved women and families in the greater NYC community. Proceeds will also help fund research to find the cures.
Waitress's partners at the Sofitel Hotel (45 W 44th Street) are also offering a Waitress-themed cocktail and dessert with a portion of proceeds to benefit Susan G. Komen Greater NYC during October. https://www.sofitel-new-york.com/
Waitress tells the story of Jenna, an expert pie maker in a small town, who dreams of a way out of her loveless marriage with her husband Earl. A baking contest in a nearby county and the town's new doctor may offer her a chance at a new life, while her fellow Waitresses offer their own recipes to happiness. But Jenna must find the courage and strength within herself to rebuild her life. This new American musical celebrates friendship, motherhood, and the magic of a well-made pie.
Waitress opened April 24, 2016 at Broadway's Brooks Atkinson Theatre. Based upon the 2007 motion picture written by Adrienne Shelly, Waitress is the first Broadway musical in history to have four women in the four top creative team spots, with a book by Jessie Nelson, a score by six-time Grammy Award-nominated singer-songwriter Sara Bareilles, choreography by Lorin Latarro and direction by Tony Award-winner Diane Paulus.
The smash hit musical now offers $40 general rush tickets for every performance, available in-person daily at the Brooks Atkinson box office. A limited number of rush tickets are available on the day of the performance only. First come, first served. The box office opens at 10am Tuesdays-Saturdays and at Noon on Sundays. Rush tickets are limited to two (2) per person and can be purchased with cash or credit.
Waitress currently stars Nicolette Robinson as Jenna, Benny Elledge (Cal), NaTasha Yvette Williams (Becky), Adam Shapiro (Ogie), Drew Gehling (Dr. Pomatter), Katie Lowes (Dawn), Ben Thompson (Earl), Mariam Bedigan and London Skye Gilliam (Lulu), Tyrone Davis, Jr., Matt DeAngelis, Law Terrell Dunford, Molly Hager, Jessie Hooker-Bailey, Anastacia McCleskey, Stephanie Torns and Dan Tracy.
Now in its third smash year on Broadway, Waitress is also on a North American tour. Tickets for the Broadway production are available at Ticketmaster at 877-250-2929, online at Ticketmaster.com or at the Brooks Atkinson Theatre box office, 256 West 47th Street.