Click Here for More Articles on JESUS CHRIST SUPERSTAR LIVE
VIDEO: BWW Looks Back at John Legend's 'Superstar' Career!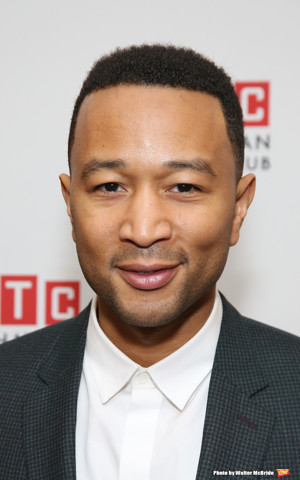 As BWW previously reported today, Oscar, Golden Globe, Tony and 10-time Grammy Award winner John Legend has been cast as Jesus Christ in NBC's special event JESUS CHRIST SUPERSTAR LIVE IN CONCERT, to be aired Easter Sunday, April 1.
"John Legend is a superstar," said Tim Rice, lyricist of "Jesus Christ Superstar." "As a performer, his voice is infectious and effortless. As an actor, he is believable and honest. I'm thrilled he will be able to share his portrayal of Jesus with the world."
"I'm thrilled to join the cast of this production of 'Jesus Christ Superstar Live in Concert!,'" Legend said. "It's such a powerful, meaningful musical and I'm humbled to be part of this performance. We've already formed an incredible team, and, as we finish casting, I'm certain we will put together some of the greatest talents around to do this work justice."
In anticipation of his upcoming gig, BWW is taking a look back at Legend's prolific career and greatest hits!
---
"All of Me"
Arguably his biggest hit, Legend croons in a ballad dedicated to his wife Chrissy Teigen, who stars in the music video.
---
"God Only Knows" ft. Cynthia Erivo
Two of our favorite Tony winners teamed up to sing this beautiful rendition of this classic Beach Boys song. The smooth vocals will instantly make your day. Take a listen below!
---
"Glory" with Common
This Academy-Award winning song, from the film SELMA, proves Legend to be a prolific song writer and dynamic performer. The song even includes a line about Jesus Christ (Foreshadowing?) And this emotional performance at THE ACADEMY AWARDS left no dry eye in the audience, including Chris Pine who dropped his iconic single tear. Try not to get the chills as you watch the performance below.
---
"Start A Fire" - LA LA LAND
Proving himself to be not only a great singer but a solid actor, Legend gave a supporting turn in the critically-acclaimed movie musical LA LA LAND. We are so excited for him to bring the acting and singing chops, demonstrated in this clip, to JESUS CHRIST SUPERSTAR!
---
"Beauty and The Beast" with Ariana Grande
We were so excited to hear that John Legend would be singing the iconic Disney theme song for the revival of BEAUTY AND THE BEAST. His performance is obviously amazing, but we love how he always supports musical-theater based projects, from this to LA LA LAND to Cynthia Erivo and now to JESUS CHRIST SUPERSTAR.
---
Major Throwback - "Ordinary People"
Legend's 2006 song won him a Grammy Award, claiming his title for Emerging Artist to Watch. And the rest is history. See how his whole career started below!
---
Photo Credit: Walter McBride / WM Photos