Click Here to Visit the College Center

Blogs are the opinions of the authors and do not necessarily reflect the opinions of BroadwayWorld. BroadwayWorld believes in providing a platform for open and constructive conversation.

Student Blog: What I'm Looking Forward to in 2022
Here's to 2022! This year, I, and hopefully others, will be working towards making this a better world and keeping each other safe. Happy New Year!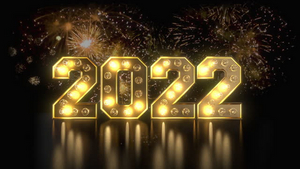 Happy 2022 everyone! In my last article, I wrote about my favorite moments from 2021, and towards the end, I included some of the things I'm excited about for 2022. In this article, I am going to be diving in-depth into some of the things I talked about and also some things I forgot to mention in that article.
The return of live theater is something I think we are all very excited about for 2022. While many shows made their return in 2021, there are many openings still to happen, on Broadway and around the world. While shows are currently being postponed or canceled due to the rise in Coronavirus cases, we can only hope that by the end of 2022 we will see pre-pandemic levels of theater engagement.
Personally, I cannot wait to see the revival of Funny Girl. I've never been the biggest fan of the show itself, but I love Beanie Feldstein and I think she's going to blow our minds as Fanny Brice.
Another Broadway show I'm interested in seeing is The Little Prince. From what I've heard about it, The Little Prince is part-musical, part-dance piece, part-gymnastics and that makes me want to buy a ticket to the first preview. I'm glad that experimental or non-traditional theater pieces are given space on Broadway. While we can all respect the classics, there's something special about creating something that is just different.
Another new work that recently announced its Broadway transfer is A Strange Loop. I studied this musical last semester in an American Musical Theatre class and since then I have been waiting for it to come back to New York. It's received rave reviews from everyone and I really hope it has a nice, long stay on Broadway.
There's also many musicals that experienced workshops or tryouts before the pandemic, including Almost Famous, and we're all waiting on news of what the future looks like for those shows. Nationwide tours are picking up again which means the joy of theatre gets to be spread to so many other people. Tour companies are highly underrated but so incredible and tours have such a special jobs of being able to take these shows on the road to people who would not be able to see them in New York.
Last night, theater kids won at the Golden Globes, which is hopefully a sign of good things to come in the future for movie musicals. West Side Story won multiple acting awards and Best Motion Picture- Musical or Comedy and Andrew Garfield won Best Actor in A Motion Picture- Musical or Comedy for his incredible work in Tick, Tick...Boom!. Obviously the ongoing pandemic could change release dates, but it seems likely for there to be some movie musicals released this year, including 13, Cyrano, Matilda, and Disenchanted.
The new live-action The Little Mermaid finished filming last summer, so there is a possibility we will see photos or trailers for that during the year. The highly-anticipated Wicked movie announced the casting for Glinda and Elphaba (Arianna Grande and Cynthia Erivo, respectively) and they are set to start production this summer. I, along with everyone else, am anxious to hear the rest of the casting news and maybe get to see some photos of sets,costumes, and more. There are also so many movie musicals that are in the works, with some having recent updates and others not. The live-action Snow White recently put out a casting call for young Snow Whites while we haven't heard much from the new Little Shop of Horrors movie. As we make our way through the pandemic, I hope that we get updates on these movie musicals.
In personal news, 2022 is shaping up to be an emotional rollercoaster of a year. In a few weeks, I start the 2nd semester of my junior year and saying that scares me because I am not ready to be a senior. In just a few months, I'm going to be a senior in college and that's exciting but also terrifying because I am not ready to be an adult. It's crazy to think that by the end of this year, I'll be registered for my last semester of college. I'm still trying to figure out what's going to happen after college and what my world is going to look like then, but I'm grateful for my friends, professors, and mentors around me who will guide me down the right path. I'm trying to not think too much about the future because I am afraid of the unknown and I'm working very hard on focusing on the right now.
Already this year, I've had the utmost pleasure of seeing the revival of Caroline, Or Change, which I had plans to see almost two years ago and got to see during it's last week. I was so blown away by everything but mostly Cassie Levy and Samantha Williams who just were the brightest stars. It was a very special start to hopefully a year full of theatre.
So, here's to 2022! This year, I, and hopefully others, will be working towards making this a better world and keeping each other safe. Happy New Year!