Click Here to Visit the College Center

Blogs are the opinions of the authors and do not necessarily reflect the opinions of BroadwayWorld. BroadwayWorld believes in providing a platform for open and constructive conversation.

Student Blog: The Pandemic Through the Eyes of a Producer
Taras Nahirniak, producer of a touring group in the midwest area, tells us how the pandemic has affected his organization but also him personally.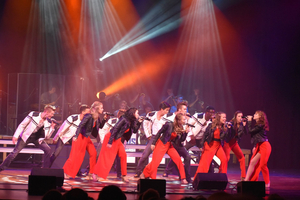 The Pandemic Through the Eyes of a Producer
Taras Nahirniak is an incredibly successful producer, musician, performer, teacher who started out like most of us did, behind the piano. I've had the pleasure of knowing and learning from Taras for the past three years through an organization called the Kids From Wisconsin. Taras is the Producer and Chief Orchestrator of this organization, one that has been providing a safe space for talented and ambitious young performers throughout Wisconsin for over 50 years. The Kids From Wisconsin is a touring performing group made up of 22 singer/dancers and a 14 piece live band that's been bringing audiences energy, joy, timeless music, beautiful harmonies and advanced choreography since 1969. I have been a Kids From Wisconsin singer/dancer for the past two years as well as an understudy the year prior. The Kids From Wisconsin usually start rehearsals around the first week of June and then continue rehearsing for two weeks before opening night. Then, the Kids start traveling around Wisconsin. Because of COVID however, our season was cancelled before rehearsals could even start last year. Taras has been involved with the group since 1989, starting out as rehearsal pianist, moving to assistant choral director after a few years, then being promoted to choral director and now finding himself Producer. Taras has devoted so much time, energy, and talent into making the Kids From Wisconsin production the best it can be. Before he began at the Kids organization, Taras worked hard toward a music influenced career.
After being influenced and motivated by his sister to start music lessons, Taras's mother enrolled him in piano lessons, from there on fueling his love and dedication to music. Taras said he learned how to express feeling and emotion in his musicianship at a very young age, from a nun who taught him the basics behind the keyed instrument. A technician was his second teacher, enlightening his understanding of technical music terms and expression. "I remember many times hearing him (my piano teacher) tsk over my shoulder when things weren't going well," said Nahirniak. After investing most of his young life in piano, he found a love for percussion. He then marched with percussion driven organizations like the Madison Scouts Drum and Bugle Corps and quickly found himself arranging music for the mallet section at the young age of 14. "I began with transcribing recordings and transposing G bugle parts, dividing them up amongst mallet instruments. Later I treated the mallet instruments more like an oversized piano. It was my first real experience in arranging," said Taras. Because Taras grew up focused and driven by his love and understanding of music, it was no surprise that in college he studied percussion and piano at UW-Madison here in Wisconsin. It was then, in college, where he discovered a show choir group called the Wisconsin Singers. Very similar to the performing style of the Kids From Wisconsin, Taras was able to learn from Mac Huff, a leading arranger for Hal Leonard, one of the most popular music publishing and distribution companies. "I learned a lot from him (Mac Huff) - about pacing, transitions, chord structure," all valuable tools used in music arrangement as well as musical production. After graduating from UW-Madison, Taras started composing and arranging for show choirs, marching bands, and drum corps around the US, UK, and Japan. Then Taras found himself involved with the Kids From Wisconsin. At the Kids From Wisconsin, Taras has been in charge of auditioning and casting talented performers across the state of Wisconsin every year, arranging the medleys for each new show, and supporting the troupe of 36 young adults through a vigorous summer of performing. Because the 2020 summer of performing was postponed because of the pandemic, Taras as well as others on the creative staff worked together to allow us as performers to continue learning music, dancing, and creating lifelong connections with our fellow performers. Since September 2020, Taras has been holding weekly virtual vocal rehearsals for all 22 singer/dancers every Sunday night at 8:00. Usually auditions for Kids are held at the end of February and rehearsals start in May. However, because the 2020 troupe was invited back for this upcoming summer 2021, the staff decided that it would be beneficial for the performers to not only continue learning the music of the show all year long, but to use this year to understand the organization as a whole and how things will run this summer. I've been curious not only as a writer but as one of those 22 singer/dancers to hear how this adjustment has been for Taras. "Because we don't get together until June 18th, it's still up in the air how vocally beneficial these rehearsals have been (because microphones are not on during rehearsal), but knowing that we have some of the most talented musicians in Wisconsin, I'm confident that we will be ahead of the game when we begin again," said Taras. Along with Kerry Hart-Bieneman, choral director of Kids From Wisconsin, Taras has made recordings for us to listen to while learning new music which allows us to read along with the sheet music and go back on certain difficult parts for more clarity. As a Kids performer, I can tell you it has been sad not to be able to learn new music in-person while hearing my fellow singers, however, Taras has made the learning experience a lot easier, supplying us with song recordings, thorough sheet music of the medleys, and an open space to ask questions at our zoom rehearsals.
Back in August of 2020, Taras sat down with the creative team and discussed the plan for this coming summer of 2021. They wanted to use this extra time in quarantine to push the organization to its highest potential, upgrading audio and lighting equipment, growing their appearance on social media through Facebook and Instagram and reaching out to past and possible new audiences and getting them excited for the upcoming tour. Last May, the entire troupe, 22 singer/dancers and 14 band members, came together to virtually record our opening number from summer 2020, "Live in Living Color" from the Broadway hit, Catch Me If You Can. This was a wonderful way to get us as performers as well as audience members excited for this coming tour in the summer of 2021. Taras and the creative staff at Kids really took a disappointing and sad situation and brought as much light and goodness out of it as they could. During this time, Taras was able to relook and re-evaluate the flow of not only a singular Kids production but of the organization as a whole. "In the past, the singer/dancers and band were typically featured separately. Our plan is to integrate them much more, both musically and even with the stage setup. When it comes to long-term goals, we are looking into how we can expand our footprint beyond the borders of Wisconsin, as well as performing outside of the summer months." So many exciting changes are approaching the Kids From Wisconsin organization. Be sure to check out their website for more information.
Outside of the Kids organization, Taras lives his life with music at the center. Taras's wife, Lori Nahirniak is a talented musician as well as music teacher. The couple have been working together and collaborating for 35 years, whether they're directing musicals, arranging show choirs or running summer camps. Together Lori and Taras have three children, each making music a large part of their life just like their parents. All three children have been involved with Kids From Wisconsin either as singer/dancers or behind the scenes working on the technical side of producing a show. "Imagine your kids growing up and you get to direct and watch each of them grow as performers in musicals or work with them as they performed in their show choir," said the proud father, Taras. His oldest son, Mykhailo, works as a lighting specialist and also writes and teaches marching band drum lines all across Wisconsin, after producing lighting for the Kids From Wisconsin for multiple years. Taras's daughter, Tatyana is currently in the First National Tour of Disney's Frozen, but because of the pandemic obviously that is on hold for the moment. Tatyana was also previously "Ella" in the second national tour of Rodgers and Hammerstein's Cinderella. Taras's youngest son, Andryi, is soon graduating from UW-Stevens Point and plans to move out to NYC to pursue theatre. After growing up in such a musically motivated household, it's not a surprise that all three of Taras's children have chosen to pursue music in one way or another.
While waiting for the Kids From Wisconsin tour to start up again mid-June, Taras has been devoting his time to being music director for a Lutheran church here in Wisconsin, arranging medleys for the Kids show and also performing individually and showcasing his original talents, ones he uses to make the Kids show iconic, a show that audiences have been loving for over 50 years. Before the pandemic, Taras performed as a dueling piano player, singing and playing piano at the same time, not an easy task as I'm sure many of you reading this know. Since the pandemic started, Taras has transitioned those in-person dueling piano sessions into virtual sessions on Facebook where people can tune in, send in requests, and enjoy live music while interacting with the performers through Facebook comments and reactions. If you're free on Friday nights, be sure to check Taras out here.
Getting to learn from Taras has been one of the most rewarding experiences of my career. Being in Kids has helped strengthen my vocal and dance technique, it's given me incredible relationships that will last a lifetime, as well as an appreciation for organizations like Kids that give young performers a platform to share their love for performing as well as music. Even through such an uncertain time, especially for performers, the Kids From Wisconsin organization has allowed my fellow performers and I to keep learning, to keep growing and to keep investing in something we all love and appreciate, performing. "To me - music is like breathing - it would feel unnatural to not be involved and surrounded by it. This year has been extremely difficult for us all. To a certain extent, we've been able to see what life would be like if music were taken away from us. It was gut-wrenching having to tell the Kids From Wisconsin troupe that their season was lost, but we forge ahead," said Taras. Keep making music, keep performing, do whatever you can to make your voice heard and to share your talents with the world. Music will get us through this, just believe in its power.