Click Here to Visit the College Center

Blogs are the opinions of the authors and do not necessarily reflect the opinions of BroadwayWorld. BroadwayWorld believes in providing a platform for open and constructive conversation.

Student Blog: Parents, Be Glad Your Child Wants a Theatre Degree
As daunting as it seems, a theatre degree is actually quite invaluable.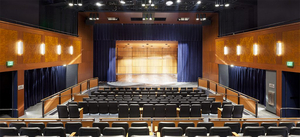 Let's face it- most parents aren't too pleased when their child says they want to pursue theatre in college. The usual concerns arise: will you have a job? What if you never "make it?" What "backup plan" do you have? How will you make your own money? And while these are valid concerns, there is much more to a theatre degree, whether it be performance or production, than meets the eye. Theatre degrees (and the process of pursuing them) are helpful in a myriad of ways, and those are not all based on Stanislavsky and stage combat.
First and foremost, just knowing that your child is willing to pursue a theatre degree goes to show their passion and willingness to enter a field that will be very difficult. Kids hear it all the time- theatre is a hard field to work in, theatre is serious and cutthroat, etc. Believe it or not, they are aware of what they're getting themselves into, and the fact that they're willing to go for it anyway shows their deep passion, which is something a lot of 17-year-olds don't necessarily have. This intense work ethic, along with the ability to budget time and money in order to do what they love, is a quality that will never fail someone in the long run.
Another major aspect of pursuing or having a theatre degree is the skill of communication and networking as well as self-marketing. In the theatre industry, networking is key, and forming connections with people is invaluable to landing jobs and starting projects. Theatre students are taught this very early on, and they are able to market themselves on social media so that industry professionals notice them and are willing to reach out. From there, it's advised to ask for a one-on-one meeting of some kind, which can serve as an informal interview for the theatre student. Whether or not a student continues to go after a theatre career post-graduation, they have learned these networking and self-marketing skills that will put them that much further ahead in any field. Additionally, the collaborative skills that come from theatre make them a valuable group worker who will pull their weight, which is something that many employers look for today regardless of the field.
Lastly, having a theatre degree does not mean it's going to be some pipeline to either "Broadway success" or "straight-up failure." Theatrical success is by no means defined by a Broadway appearance. Regional theatres as well as off-Broadway or off-off-Broadway theatres provide plenty of job opportunities for writers, directors, designers, and actors alike, and those smaller venues are where original works usually get their start. The theatre industry can also go hand in hand with the television and film world, which opens even more doors for anyone with a theatre degree. So while the words "I want to study theatre in college" may seem daunting to a parent, these should actually be taken as a sign that your child is hardworking, mentally strong, and ready to navigate their future, no matter what lies ahead.