Click Here to Visit the College Center

Blogs are the opinions of the authors and do not necessarily reflect the opinions of BroadwayWorld. BroadwayWorld believes in providing a platform for open and constructive conversation.

Student Blog: Letting the day in.
Less planned, more freedom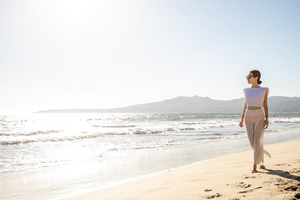 May 2021.
Letting the day in.
Less planned, more freedom.
Hello! How you've been? I am so happy to be in this journey and I am so thankful with you for reading me and sharing these minutes with me during these months.
Every day is looking brighter and warmer in every sense and we all can feel it.
When I wrote my first blogs back in January, I talked about how important was to embrace uncertainty. Accepting that we don't get to know or plan everything, makes everything lighter. Today, everything is clearer now, we get to come back in person as a community, with all the safe measurements. It is so shocking and wonderful how we are having more certainty, hope and relief.
I get that there are a lot of uncertain things still, tell me, I am figuring it out day by day if I'll be able to go back to Canada to my final musical before graduation or not, because of some government permits that have to be approved, and I am a human and there are days where I feel sad and anxious, but being able to have the support of my teachers, friends and family makes me feel embraced. I am so thankful to have this, but the most important thing that makes me feel in total peace is knowing that I am with myself during this process, that me not knowing everything is okay.
"Less planned, more freedom" is something that resonated with me recently and I wanted to share this with you.
Before pandemic, we had almost everything planned, which musicals, where to audition, how everything worked. That gives us stability but it sets us in a tunnel vision. Now, with the world stopping and everything transforming, specially this artistic, theatrical industry we get to take this "tunnel view" off, and innovate and see that there are infinite possibilities.
Today, we are letting the day in, we are innovating, adapting and looking for different alternatives.
Pandemic has been challenging, hard and radical, but light is coming in, we are able to enjoy more than ever and in another level everything; Live concerts, going out for a walk with friends, in person rehearsals and some live performances.
We don't know what our lives will look like in 2 months, not even in a week because we have learnt that everything changes from one moment to another, but with this light that is coming in we are able to take advantage of everything, enjoy and most importantly, take care of each other.
Let's walk together embracing changes, letting the light in and embracing life.
-Claudia Quintero, a Mexican and passionate girl.