Click Here to Visit the College Center

Blogs are the opinions of the authors and do not necessarily reflect the opinions of BroadwayWorld. BroadwayWorld believes in providing a platform for open and constructive conversation.

Student Blog: God, It's Brutal Out Here
Olivia Rodrigo's "Sour" and the constant feeling of rejection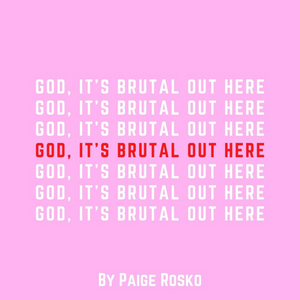 Olivia Rodrigo recently put out her debut album "sour", containing iconic bops like "drivers license", "deja vu", and "good 4 u". The main theme of the album is the feeling of never being good enough and being left behind. I think every person can relate to these feelings but artists really have these feelings when it comes to their careers. During my time working and making theater, I've learned that rejection is something constant and you are never going to stop comparing yourself to others. It's not a good feeling, but it comes with the industry. During this article, I'm going to go through some of the most relatable lyrics from "sour" and how they connect to my work as an artist.
"And I see everyone gettin' all the things I want/ I'm happy for them, but then again, I'm not" (jealousy, jealousy)
This lyric from the song "jealousy, jealousy" is representative of how I feel about seeing my other friends or classmates succeed. I am happy that they're doing what they want and they're making a life for themselves, but I want to be as successful as them. Watching people post online about much work they're doing and how much they're loving it makes me jealous and upset. I know that something online is not what it always seems but it still hurts. I do want the people around me to succeed and create beautiful art, but it always feels like other people are succeeding more than I am.
"Ego crush is so severe/ God, it's brutal out here" (brutal)
Going into college, I felt like I was on top of the world and I thought I was such an iconic artist. The ego crush I had when going into class and seeing people doing art that I thought was better than mine. Over time, I've rediscovered myself as an artist and I've regained that ego that I had at first. Maybe it's not as big, but it's still there. I thought the theater world was brutal before I began college and began really working in theater, but now I realize how brutal the theater world is. There are so many people climbing and fighting their way to the top and some people are ready to fight for what they want. This brutality of the industry is never-ending and it's something I'm taking time to get used to.
"Nothing's forever, nothing is as good as it seems" (hope ur ok)
Even though I love theater and I love working in theater, nothing is as good as it seems. The absolute joy that comes with working in theater is also accompanied by the pain and constant sting of rejection. Even if I constantly post about the shows I'm working on and the things I'm enjoying, there are so many hidden feelings behind all of that. Also, nothing is forever. Jobs don't last forever and the exhilaration of working always ends. While we can continuing working and trying to get jobs, nothing in this industry stays the same.
Now, this seems like a very negative article but these are just the bitter truths of theater. This is the industry I love and the industry I plan to work in for the rest of my life, but it's hard and brutal. This is the bitter truth and there's nothing that can be done about it. We just all need to learn to deal with the rejection, no matter how hard it seems.