Student Blog: Choppie's Rating System
I always rate upcoming movies, especially adaptations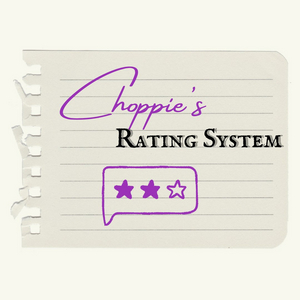 I think we can all agree that whenever there is an announcement of a new adaptation, we all have our criticisms of the adaptation and hopes for the production. I have created a full proof rating system for all adaptations because it allows me to focus my irritation into purposeful and realistic cons of an adaptation.
The system goes as follows:
Every adaptation starts off at 100 points purely for being a concept and in appreciation of the acknowledgement of the production.
Then as one discovers more and more about the movie, from cast to creative choices, you can deduct points. The addition of points can only be done once the movie has come out, even if there are pros that come to light prior to the release of the adaptation.
After the adaptation has been released and you have successfully made it through either the trauma or joy, you can add points and even deduct more points.
By the end of this process, you will have your rating for said adaptation.
The points aren't major, it works on a very small two, three and five structure.
The deduction points goes as follows:
5 points per shameful action towards a character or a song.
2 points if there was a change that isn't essential to the plot but takes away from the original piece of work.
The addition points goes as follows:
5 points for overall plot and execution
3 points per good portrayal of a character.
2 points if a song addition is good and adds to the plot.
Now that you are informed of the way of the Choppie Rating System, behold, my rating of the Dear Evan Hansen movie so far:
(as of the 16th of September 2021)
In my personal opinion, this production casted for clout rather than perfect casting. There are five actors, who I feel were wrongly chosen to represent their characters:
Ben Platt (no offence) but I do feel as if there is an age for everything and unfortunately, it has come and gone. The have you seen Grease argument does not work because we are in the 21st century with countless young and talented actors, we know better than they did in the late-70s.
Kaitlyn Dever (I have heard she is the highlight of the movie) I honestly don't think this is her genre but hey kudos to her for exploring and going for it. However, I do believe this is more of a stunt cast than anything else.
Julianne Moore, Heidi isn't even the red head. I know there are wigs but come on.
Amandla Stenberg, this is where I will probably lose people... but it is a major pet peeve, pronouncing words incorrectly. Her name is Amandla, a word meaning power in the Nguni languages. However, much like apartheid, it is pronounced incorrectly. She pronounces it A-man-d-la, whereas it is Aman-dla. But hey, it is her name but it is my rating system and we all like and dislike people. I may just be pettier than most.
Lastly, no offence Amy Adams but why couldn't the creative team look into more Broadway-experienced actors. I don't hate this choice but I will forever stand by my hatred for stunt casting.
In total that is already a full minus 25.
Then I do not understand the change from Larry being the father to being the stepfather. Making that another five points being deducted.
Sending the total to minus 30.
The removal of Anybody Have a Map, that song is so essential to the plot and it gives such an emotive view on the lives of the main characters through the mothers' point of view.
Disappear, it LITERALLY says in the song "no one deserves to disappear".
Good for You, essential to the storyline of Evan's guilt. So pivotal to his character.
Another 15 points deducted.
Finally, the removal of Break in a Glove, I love this song but I can see how it would be removed. There isn't much need for it.
Subtract another 2 points.
My current rating for this adaption is sitting at 53 points.
I really hope that the movie will prove me wrong and I am always excited for new Pasek and Paul creations. I have full faith in Steven Levenson.
---
Shop BroadwayWorld

Shop this season's new musicals! Get dressed up for a night at the theatre, or just a night at home, with merch from some of Broadway's biggest hits including SOME LIKE IT HOT, KIMBERLY AKIMBO, and more!
---
Related Stories