Click Here to Visit the College Center

Blogs are the opinions of the authors and do not necessarily reflect the opinions of BroadwayWorld. BroadwayWorld believes in providing a platform for open and constructive conversation.

Student Blog: Bye Bye UCI
A letter to my freshman self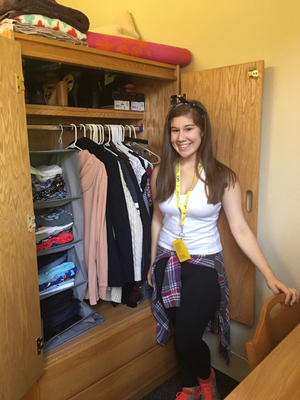 Dear freshman Claire,
Happy move-in day! I know you're filled with an abundance of emotions and because high school wasn't exactly ideal, you want these next four years to be everything and I promise you they will be. I know you're staring in the mirror right now picking out all your flaws and you will change your outfit at least four more times before you go out to your first hall meeting. You're stressing about the first impression you will make and saying a little prayer that you won't say or do something stupid and that you'll make at least one friend tonight. Little do you know that tonight you will meet some of the most meaningful people in your life that will change you for the better and teach you many valuable lessons.
A handful of these people will become your closest friends, while others will fade with time, and a few will leave without so much as a goodbye. But even when those friendships do disappear, remember that not everyone is meant to be in our lives forever, and the time you do spend together is still worth all the while. These are the people you will have most of your adventures with (and also create all kinds of drama with)! You will be tested in more ways than I can tell you, but even when you're knee deep in drama and through your darkest days when you are sure that there's no way that you'll come out the other side still friends, you always do.
Everything happens for a reason, there is always a lesson to be learned, and nothing is ever all wine and roses. Many tears will be shed, breakdowns will happen at 2am, and there will be nights you lie in bed asking yourself will I ever get through this. Your friends will disappoint you on more than one occasion and you'll feel mislead and even stupid at times. You will grapple with new feelings that are suddenly changing and might even try to act on them, but your dating attempt will turn into a dating fail and end up just stressing you out instead. I tell you this not to scare you, but to assure you that whatever you endure these next 4 years you are more than smart enough and strong enough to handle though in the moment it may not feel that way.
But even with all the garbage that will inevitably go down, you will choose to remember the good. The late nights filled with midnight doughnut trips to Seaside, hiking the sewers, tag games in the park dodging the campus' night security, and stealing shopping carts to put in the dorm you are for some reason beefing with. You'll remember playing games like 'signs', 'truth or dare', and 'never have I ever' like middle schoolers and having sleepovers in the common room giggling for hours on end. You'll remember that one night filled with an endearing heart to heart where you talked and held one another until it was time to walk back to your apartment hand in hand as the sun came up. Nothing in those moments seemed to matter. I don't want to give it all away, but just know that the anxiety for acceptance and drama will melt away in these moments when you are surrounded by these people.
These are some of the most formative years where you are learning so much about yourself and who you want to be in this world. You will make plenty of mistakes and take risks that will be the best decisions you could have made. As cliché as it is, take every moment for what it is and don't stress about what hasn't happened yet. We can't live in the past or the future, the only place we can live is in the present. Be the girl you want to be and be fearless. 4 years is not a lot of time, so we have to make the most of it! I promise it's all worth it when you finally get to pop the bottles of champagne in your grad photos! I'll see you on the other side!
Always,
Graduating Claire
P.S Freshman year is nothing compared to the next 3 years coming your way, so buckle up this party is just getting started!