Click Here for More Articles on NEW YORK CITY
SAVING STAN to Premiere at Broadway Bound Theatre Festival This August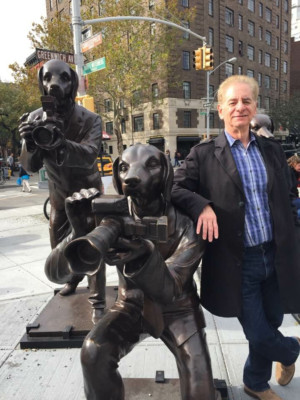 Gary Morgenstein's provocative new play Saving Stan, a drama about friendship, greed, love and death, will premiere at the first-ever Broadway Bound Festival Thursday, August 3 at 12:30pm; Friday, August 4 at 4pm and Monday, August 7 at 7pm. All performances will be held at the 14th Street Y in New York City.
Tickets are available at 14streety.secure.force.com/ticket#details_a0S36000004PFn0EAG.
Saving Stan will star Carlo Fiorletta (Detours), Olivia Baseman (The Wrestler) Jordan Auslander (Mad Mel and the Marradians). The play will be directed by Simcha Borenstein (The Old Neighborhood). Mara Lesemann (Detours) and Mr. Fiorletta are the associate producers.
When arrogant corporate lawyer Stan Nagel (Fiorletta) suffers an incapacitating stroke and can't speak, he asks his oldest friend, Jack Sanders (Auslander), a failed writer desperate for money -- and who can somehow hear Stan's voice -- to help commit suicide in exchange for Stan's considerable estate. Patrice Doner (Baseman), Stan's health care worker, becomes suspicious of Jack's intentions -- and pursues her own agenda.
Gary Morgenstein (Playwright) wrote the critically acclaimed off-Broadway rock musical The Anthem, and his dramatic works range from A Tomato Can't Grow in the Bronx and Right on Target to Ponzi Man. His new musical Mad Mel Saves the World will premiere July 18 at the Midtown International Theater Festival. Morgenstein's novels include A Mound Over Hell, a baseball-science fiction story set in 2098 following America's defeat in World War Three. The first book in The Dark Depths trilogy, A Mound Over Hell is scheduled to be published by BHC Press in March 2018. His other novels include Jesse's Girl; Loving Rabbi Thalia Kleinman; Take Me Out to the Ballgame and The Man Who Wanted to Play Center Field for the New York Yankees. Morgenstein is the creator of the Marradia brand which includes a radio series, musical and the Ancient Aliens books.
Carlo Fiorletta's (Stan Nagel) credits includes the movies Detours, for which he received a Best Actor nomination at the Golden Door Film Festival, and Surviving Family, (both are currently available on Amazon Prime); Available; Motion Picture Martyr; and the Tribeca Film Festival short Jim in the Box. Fiorletta's stage acting includes Proof; Is That Danny DeVito? , The Odd Couple; Camino Real; TONY winner Mario Fratti's Iraq/Blindness; Pulitzer Prize-winner Suzan-Lori Parks' Electrocutioner's Daughter at The Public Theater; "Francis" in Hemingway's "The Short Happy Life of Francis Macomber" (NY Times mention) and Bogosity at the Broadway Comedy Club. A member of SAG/AFTRA, he is President of GIAA (the Guild of Italian-American Actors). He is married to filmmaker Mara Lesemann.
Olivia Baseman (Patrice Doner) is an actress, singer, and producer. Her film and television credits include Darren Aronofsky's Oscar nominated film The Wrestler, Chappelle's Show (the Rick James episode) and Elementary. Recent NY theater credits include The Resistor Project (Me Monster by Maggie Bofill, directed by Cusi Cram); The John Patrick Shanley Reading Festival on Broadway (Jill in The Big Funk) with Animus Theater Company; Hamlet or I Shall Mourn The Rivers (directed by Patrice Miller) and many original works by Gemini CollisionWorks (where she is a company member) at Brooklyn's acclaimed experimental theater The Brick, most recently in CANT. Olivia will be seen next in the action film Crossbreed, premiering in theaters this Fall.
Jordan Auslander (Jack Sanders) most recently starred in the radio drama Mad Mel and the Marradians in a role he originated on stage, for which he was nominated for Best Actor at the Midtown International Theater Festival. Auslander has numerous Off-Off Broadway, "background" and improv credits, but logged seven minutes of fame on Ca$hCab. Since his epic Who Wants to Be A Millionaire fail, too old for roles he was once too short for, Jordan sustains his acting/writing pretensions and addiction to food and shelter as a forensic genealogist.
Simcha Borenstein's (Director) stage credits include directing David Mamet's The Old Neighborhood (first New York revival); David Rabe's Those the River Keeps (first New York revival); Mario Fratti's Iraq (Blindness); The Guilty and Bogosity. Among the short films he's directed are A New York Story, Graft and Father Who Art in Hamilton, and the series Arpo The Notella Queen.
Mara Lesemann (Associate Producer) is a New Jersey-based writer, producer, and script consultant. She wrote and produced the father/daughter road-trip comedy Detours, which was released on Amazon Prime in November. Her previous feature Surviving Family, which stars TONY nominee Billy Magnussen, is available on both iTunes and Amazon Prime. Mara's stage credits include writing and producing the comedy A Temporary Cat and the drama Fertility Factor. She served as associate producer of Gary Morgenstein's political comedy Right on Target. Mara is married to actor and producer Carlo Fiorletta.