Rick McKay Pens Open Letter to Marian Seldes Documentary Filmmaker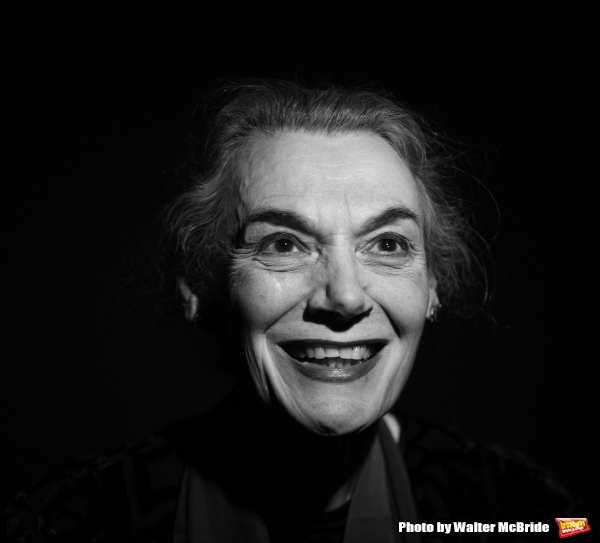 As BroadwayWorld reported on Friday, Tony-winner and premiere actress of the American stage Marian Seldes, passed away in 2014, but only now is a documentary short being released, which follows Seldes through her final chapters of life... and it's coming under fire.
Of note- we're told that the director has removed both a digital screener and the trailer of the film in response to online criticism, as well as blocking those seeking his comment.
Documentarian Rick McKay, who was a friend of Seldes, writes:
"Although Rick Rodgers has declined to respond to my letters, he has made it clear that he has read the letters, and most likely all of your comments of anger and disgust at the abuse shown in his Marian Seldes "documentary," by blocking me on Facebook and Twitter. He also has removed the trailer, making it impossible for anyone to see anything of the film that received a staggeringly negative review last week and which he screened for a week in Los Angeles for Academy Award consideration. I am sure he hopes the attention we have brought to his violation of Marian Seldes, whom he filmed in late stages of dementia, too ill to defend herself, would disappear if the evidence of it was temporarily hidden. I wish I could report something more positive, but we can all only hope he has some conscience and humanity left and will react by dropping the film, or re-editing it, or at least respond soon - as this is a very public violation and abuse should never reach audiences.
I wrote a letter early Friday to the "filmmaker," Rick R.E. Rodgers, who has created the short film that is coming under fire about my dear friend, the great actress and teacher, Marian Seldes (1928-2014), a friend to everyone she has ever met, and a champion of all of us who fight for the theatre, or have ever worked in any theatre. He has yet to respond:
Dear Mr. Rodgers,

I am a filmmaker/documentarian responding to James Grissom's review of your short film, "marian." I "shared" his review on my Facebook home page, with my own comments of shock and anger, making it clear that I had not seen the film. I have tried to find local screenings to no avail, and if what Mr. Grissom writes is true, I have no intention, of course, of supporting your film, as Marian was a good friend and is in two of my films, and I would do anything to support her - in life or in death. However, if you feel I should see it before responding any further - I would agree to look at it.

As a filmmaker I hate hurting another filmmaker's chances with a film, but as a loyal friend to Marian, I can't stand by as you search for potential distribution, possibly on TV or streaming, and wait until it's too late to protect her. Grissom's review is extremely detailed and that is the only review I can find right now, and it is alarming to say the least. What I posted on my FB page has blossomed into quite a big brouhaha in less than 24 hours and I think it is only fair to give you an opportunity to respond and to protect your film - if indeed it's an honorable film showing Marian positively and you believe Grissom's review to be incorrect. I look forward to hearing from you.

Sincerely,

"There has been no response from the director to date. But, evidently, according to his website, the film is doing an Academy Qualifying run in Los Angeles, hoping to qualify for Academy consideration for an Oscar in the documentary short category.
I spoke to a highly esteemed actress/friend yesterday who DID see the film and also was mortified by it. I trust her completely. She is terrified as well that this film will reach the public, showing Marian in later stages of dementia, no longer able to communicate or protect herself, but victim to the camera of this "filmmaker" documenting her at heR Lowest ebb, near death, when it was too late for her to voice her dissent. I am disappointed, if not surprised, that the person responsible has not responded or tried to explain his actions. Evidently there is no angle or arc in the film about the tragedy of dementia or Alzheimers or aging or anything pro-research or cure. His agenda seems to be . . . otherwise. I am hoping we can bring attention that will convince him to remove this footage and protect someone so highly respected, someone who, beyond her brilliant on stage performances that brought such joy to so many, also had a profound effect on the careers of her acting students Christopher Reeve, Robin Williams, Kelsey Grammer, Kevin Kline, William Hurt, Patti LuPone, Val Kilmer, Kevin Spacey and many, many more.
Please feel free to forward this as well as the review by James Grissom, (click here), and a video tribute to Marian in better days, shown during her deeply passionate shoots for "Rick McKay's Broadway: The Golden Age Film Trilogy.""
With a career that spanned 60 years, Seldes was the consummate actress and was happiest in the theater. She was honored to be in the theater and her focus and hard work resulted in extraordinary performances that became touchstones for those who worked with her and saw her on stage. She made her Broadway debut in 1948 in the Robinson Jeffers adaptation of MEDEA directed by John Gielgud and starring Judith Anderson in the title role.
She won her first Tony (she was nominated for five) for her supporting role in A DELICATE BALANCE by Edward Albee. Seldes has a long association with the playwright, appearing in THE PLAY ABOUT THE BABY, TINY ALICE, COUNTING THE WAYS (as part of Beckett/Albee plays) and THREE TALL WOMEN, a tour de force for the actress. She entered the Guinness Book of World Records for her appearance in Ira Levin's DEATHTRAP (Tony nomination)when she didn't miss a performance of the play's four-year run. Other stage credits include EQUUS, PAINTING CHURCHES, THE MILK TRAIN DOESN'T STOP HERE ANYMORE, THE CHALK GARDEN, RING ROUND THE MOON (Tony nomination), and DINNER AT EIGHT (Tony nomination). Her last appearance on Broadway was in 2007 in Terrence McNally's DEUCE.
In 2010, Seldes received a Tony Lifetime Achievement Award honoring her contribution to the theater and her extraordinary talent. Her acceptance of the award became a legendary moment in Tony history when she stepped onto the stage, placed her hand over her heart and looked at the audience of theater luminaries and then exited without a word. She later explained, "They said to keep it short, so I decided I would just say nothing."
Ms. Seldes also had an extensive career in movies, television and radio.
Related Articles
More Hot Stories For You
Confirmed: Billy Porter Will Play the Fairy Godmother in Upcoming CINDERELLA Film
BroadwayWorld recently reported on a rumor that Billy Porter would be joining the cast of the upcoming Cinderella film from Sony, starring Camila Cabe... (read more)

DVR Alert: Lin-Manuel Miranda Will Appear on Tonight's SATURDAY NIGHT LIVE
This just in! Lin-Manuel Miranda will appear on tonight's episode of Saturday Night Live!... (read more)

HAMILTON's Miguel Cervantes and Family Mourn Passing of Three Year-Old Daughter, Adelaide
BroadwayWorld is saddened to report that Miguel Cervantes, who plays Alexander Hamilton in Chicago's Hamilton, and his wife, Kelly,  have confirmed th... (read more)

Ben Platt Reveals Further Details About Upcoming MERRILY WE ROLL ALONG Film
Further details have been revealed for the upcoming Merrily We Roll Along film, starring Ben Platt and Beanie Feldstein.... (read more)

Photo Flash: First Look at Renee Fleming, Dove Cameron, Brian Stokes Mitchell, and More in THE LIGHT IN THE PIAZZA
L.A. Opera presents The Light in the Piazza! Get a first look at the production in the photos!... (read more)

Disney+ Announces Featured Content, Including MARY POPPINS, THE LITTLE MERMAID & More!
Today, The Walt Disney Company announced its full slate of movies and television series that will be featured on its new streaming service, Disney+.... (read more)