Click Here for More Articles on After the Blast
Review Roundup: Zoe Kazan's AFTER THE BLAST at LCT3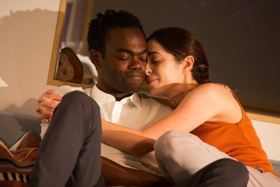 Eboni Booth, Will Connolly, William Jackson Harper, Ben Horner, Cristin Milioti, David Pegram, and Teresa Yenque comprise the cast of the LCT3/Lincoln Center Theater production of After the Blast, a new play by Zoe Kazan, directed by Lila Neugebauer.
AFTER THE BLAST will run for six weeks only through Sunday, November 19 at the Claire Tow Theater (150 West 65 Street).
AFTER THE BLAST is set in the wake of total environmental disaster, when the human population has retreated underground. Experience is simulated. Fertility is regulated. And Anna (to be played by Cristin Milioti) and Oliver (to be played by William Jackson Harper) have one last chance to have a baby.
Let's see what the critics had to say...
Ben Brantley, New York Times: Ms. Kazan - a vivid actress and the screenwriter of the charmingly fantastical "Ruby Sparks" - has fulfilled the first criterion of persuasive futurist fiction: She's created a slyly detailed alternate universe that is both an extrapolation of the world we know today and its own consistent entity.
Frank Scheck, Hollywood Reporter: After the Blast delivers an imaginative, understated portrait of a futuristic society in which beleaguered inhabitants resort to using "sim," a form of virtual reality, to experience the pleasures of nature of which they're now deprived, and vaping to get high. Oliver and Anna's apartment features a large video screen showcasing beautiful images of a natural world that has been transformed into a wintry, radiation-contaminated wasteland. And there's a revelatory plot twist in the second act that one doesn't see coming.
Sara Holdren, Vulture: After the Blast has the smart, fully fleshed-out trappings of a compelling dystopia story, but its heart - and its strength - is its examination of despair, the daily, deadening tug toward the dark that, for so many of us, has become a feature of walking through this world. The story belongs to Anna - a superb performance by Cristin Milioti, who is devastating without ever overplaying a note - and to the relationship she forms with the overwhelmingly adorable "Helper" robot that Oliver brings home one day. (Based on a visual concept by Noah Mease, given a voice at once affectless and weirdly poignant by Will Connolly, and remote-manipulated live by some truly intrepid stagehands, this little creature is a puppetry marvel.)
Steven Suskin: Huffington Post: The play has been smartly directed by Lila Neugebauer, who has been lately zooming to prominence with Annie Baker's Antipodes, Branden Jacobs-Jenkins' Everybody, and Abe Koogler's Kill Floor (at LCT3). Not to mention Sarah DeLappe's The Wolves, which has been thoroughly sold out in its first two productions and is being remounted next month at the Mitzi Newhouse. (And whatever you do, don't miss it this time!)
Tim Teeman, Daily Beast: The play, in some ways, feels beached between a dark portrait of post-apocalyptic life and a relationship on thin ice, and a comedy about a cute robot entering the domestic realm. It settles, far from detrimentally, for being all of those things and at a time when the possibility of the end of the world feels disconcertingly present.
Adam Feldman, TimeOut NY: Born deep beneath the ravaged surface of the earth, survivors of a global apocalypse cling to stories and computer simulations of the world their grandparents once knew. Water is scarce, reproduction is tightly controlled and th-Wait, I'm sorry, first things first: There's a robot! There's a robot onstage! There's an impossibly cute little remote-controlled robot onstage and it's gray with yellow fuzz and has big black eyes and it looks like what might happen if R2-D2 had a threeway with a penguin and a Minion. The robot's name is Arthur and, as designed by Noah Mease and voiced by Will Connolly, it dominates Zoe Kazan's cautionary drama After the Blast. Not since Liz Meriwether's 2006 Heddatron has an adorable automaton rolled off so completely with a show.
Joe Dziemianowicz, Daily News: Director Lila Neugebauer's production is sleekly designed - sets and clothes hit subtle futuristic notes - and skillfully acted. Milioti is particularly fine at capturing Anna's intense feelings. But at 2 1/2 hours, the play loses momentum and the play becomes more pedestrian. Bottom line: Hot jobs post-apocalypse include scientist, doctor, marriage counselor.