Review Roundup: The Critics Weigh in on MURIEL'S WEDDING - THE MUSICAL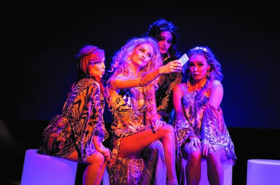 The Sydney Theatre Company and Global Creatures' production of Muriel's Wedding The Musical opened this weekend in Sydney. The production, a theatrical version of PJ Hogan's iconic hit film, updated to today by the writer himself, features original music by Kate Miller-Heidke and Keir Nuttall alongside those beloved ABBA numbers. The musical is exclusive to Sydney, playing at Roslyn Packer Theatre with previews from 6 November, opening on Saturday 18 November 2017.
The 28-strong cast includes Maggie McKenna as Muriel, Madeleine Jones as Rhonda, Gary Sweet as Bill, Justine Clarke as the long suffering Betty, with other members of the Heslop clan played by Briallen Clarke (Joanie), Michael Whalley (Perry) and Connor Sweeney (Malcolm), while Helen Dallimore plays the strangely ever-present beauty consultant, Deidre Chambers.
Let's see what the critics had to say!
Jack Teiwes, Australian Stage: As it turns out, Muriel's Wedding - The Musical is quite an astonishing new show. In a post Mamma Mia! landscape, the prospect of a semi-jukebox musical utilising ABBA songs might have been in dire risk of seeming a very late also-ran, yet as it turns out this production soars with the predominantly new music and lyrics by the quirky opera-trained pop artist Kate Miller-Heidke and partner Keir Nuttall. With many extremely well-orchestrated and catchy songs making excellent use of an ensemble chorus and several interesting and unconventional choices of vocals, it emerges as one of the better new pieces of Australian musical theatre in quite some time.
Clarissa Sebag-Montefiore, The Guardian: The result is a night that pulsates with high-spirited fun, spearheaded by a whip-smart script ("Emu? Cassowary?" Rhonda asks with mock innocence, trying to remember the name of her nemesis's husband, Chook). Updating the action to the present day, Muriel no longer wants to be just a bride: she wants to be Insta-famous, a goal drummed home B. Giant smartphones that hang from the stage, lit up periodically by her online posts and a series of grotesque, pantomimish selfies. In a production where Abba numbers could have easily drowned out any original score and lyrics, Keir Nuttall and Kate Miller-Heidke have proved themselves more than a match for their Nordic counterparts - a godsend for a production that so ruthlessly mocks everything Australiana.
Jane Howard, The Stage: Muriel's story feels perfect for the stage, and yet some things about this adaptation aren't quite right. Part of the original's darkness and critique of Australia has been lost. Phillips finds some wonderful performances, but he doesn't quite find the right wry balance - the original's sardonic core is washed out under the stage lights. A pity, because when Phillips and Hogan reach for this darkness the musical is at its strongest.
Elizabeth Fortescue, The Daily Telegraph: McKenna shone brightly in her first major role - she turned 21 during rehearsals - with great vocals and an incandescent quality that won us over to the windingly common plight of the gawky, unfashionable Muriel. The show asked for McKenna to give and give again, and she more than matched the demands of a tightly-paced and action-packed show.
Jason Blake, The Sydney Morning Herald: Muriel's Wedding feels like the complete package: a beloved film seamlessly updated; a central character who retains all the ambiguities that made you root for her in the first place; a conspicuously inventive score peppered with classic pop hits, and a mainstage debut that will be talked about for years.
Ben Neutze, Daily Review: Muriel's Wedding the Musical is a big, boldly joyous "screw you" to that notion of success. The producers behind the show may have the ambition to turn it into an international property, but the creative team have clearly focused all of their energies into crafting a show that embraces and speaks directly to an Australian musical theatre audience.
Cassie Tongue, Time Out: Muriel's Wedding the Musical is a gorgeously-constructed, unashamedly Australian love letter to outsider women and the freedom they seek; to the women who are crushed by men and those who can stand alone without them; to women who are forced by their communities and the oppressive beauty industrial complex to diminish themselves and find power in rejecting that diminishment. The soul of the show lives in McKenna, Jones, and Clarke, each representing different aspects of the self: McKenna is our social craving and ambition; Jones, our rebellion, and Clarke our lingering sadness of dreams unfulfilled. Together they create something bigger than themselves.
Angus McPherson, Limelight Magazine: It's a thrill, therefore, to report that Muriel's Wedding the Musical, presented by Sydney Theatre Company and Global Creatures, lives up to expectations and more. The show has the audience laughing and cheering right from the start, opening with a bang on Muriel's dead-end hometown Porpoise Spit with a larger-than-life beach number Sunshine State of Mind. This is Muriel's world blown up and painted in vibrant, stylised song and dance.
Diana Simmonds, Stage Noise: Muriel's Wedding - the Musical has - thank God and the STC's resources and determination - been workshopped, fine-tuned, honed and polished to the point where it's a credit to all those involved. It's not the movie: it is it's own thing and that thing is wonderful. There's no need to make excuses, to say "it just needs a few weeks/another rewrite/a bomb under it" - it's good to go and it goes like a V8 Torana. If you don't have tickets: you have been warned. You need to say, "I've seen it." Totes recommended.