Review Roundup: The Critics Weigh in on Eve Ensler's IN THE BODY OF THE WORLD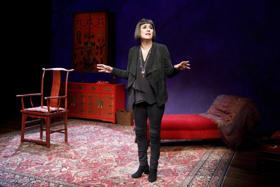 In The Body of the World opened last night, February 6, at MTC at New York City Center - Stage I (131 West 55th Street).
The Tony Award-winning author, performer and activist Eve Ensler, whose The Vagina Monologues is an international sensation, comes to MTC with a powerful new play based on her critically acclaimed memoir. While working with women suffering from the ravages of war in the Democratic Republic of Congo, Ensler was stunned by a life-threatening diagnosis. Told with her signature brand of humor, Ensler's personal journey uncovers surprising connections between her body and the earth and how illness can be both transformative and transcendent. Directing this bold, unflinching and inspiring piece is Tony award winner Diane Paulus (Waitress, Pippin).
The creative team for In the Body of the World includes Myung Hee Cho(scenic and costume design), Jen Schriever (lighting design), M.L. Dogg and Sam Lerner (sound design),Finn Ross (projections), and Jill Johnson(movement).
Let's see what the critics had to say...
---
Jesse Green, The New York Times: But unlike "The Vagina Monologues" and a later play, "The Good Body," which were told in the voices of many different women, "In the Body of the World" is all Ms. Ensler all the time. For 80 minutes, she impersonates no one else, except in passing. The result is a story that's less about connecting to people than to ideas, some of them fairly airy. Whether the play's intensely autobiographical self-focus will come off as liberating or oversharing depends, in part, on how open you are to the meanings of those connections. I was often troubled by them.
Jeremy Gerard, Deadline: Ensler is as unflinching in revealing the details of what she has lost in internal body parts, had reconstructed, or done without, as she is about what happened to the women of Congo. There's urgency in the telling, but neither self-pity nor self-regard. Paulus has drawn an astonishing, and astonishingly anti-maudlin performance from Ensler. The clarity merely sharpens the attack on our senses, until we have gone with her through her own circles of Hell, which include childhood trauma, the ruinous consequences of being labeled "stupid," the cancer gulag and, of course, being in the body of the world. Some of it is blessedly hilarious. Most of it isn't. And yet In the Body of the World is tough love, harsh medicine, a tonic. There's light at the end, even a lovely reveal that embraces the audience without overdoing it or palliating what has come before. I came out rattled as I have rarely been rattled by any theater experience, devastated and blissful at the same improbable time.
Allison Adato, Entertainment Weekly: With a piece this intimately personal and politically significant, it feels churlish to take Ensler to task for stylistic shortcomings. Yes, the show is a mishmash of worthy concerns. But director Diane Paulus (Waitress and the Tony-winning Hair revival, among others) is comfortable with chaos, and helpfully reigns in the tangents, presenting each segment in a well-defined space. The set (Myung Hee Cho is the scenic designer) includes a beautiful but underutilized evocation of the Congolese jungle. In an echo of Ensler's throw-it-all-in storytelling, the suggestion of African flora is dominated by a gold Asian Buddha statue (Ensler is a practicing Buddhist). Why? Why not. She's a big proponent of do what feels good, and to that end has the audience, at one point, out of its seats and dancing on command.
Frank Rizzo, Variety: Her wry observations - bring on the drugs, the pot, the fart specialist! - and her confident, casual air certainly help when presenting, in short, episodic segments, the most intimate details of her treatment, and its accompanying roller coaster of emotions. It's her knack of mixing the serious with the flip that keeps the air charged with sudden surprises and unexpected richness. In telling of her darkest times, she throws a light switch on with grace. In the lighter moments, there's often a shadow cast, too.
Frank Scheck, The Hollywood Reporter: The stylish direction by Diane Paulus (Waitress, Pippin) features extensive use of visually arresting projections that effectively complement the text. But it almost seems too slick at times, with a stunning climactic set reveal coming across as more elaborate than necessary. All the gussied-up theatrics ironically serve to reveal Ensler's actorish weaknesses as a performer. It's hard to avoid the feeling that In the Body of the World would have been more effective as a simple lecture, shorn of the affectations that make this incarnation feel like more of an exercise in self-indulgence than the shattering experience it clearly was for the writer-performer and is intended to be for the audience.
Joe Dziemianowicz, New York Daily News: Author and activist Eve Ensler doesn't tiptoe around a topic. She doesn't mince words. That unblinking, even brutal, bluntness is a strength in her solo play "In the Body of the World," at Manhattan Theatre Club and based on her 2014 memoir. Humor is another plus. It comes in various tones - ranging from warm and wry to pitch-black and caustic. In her book and now on stage, Ensler ("The Vagina Monologues") connects the dots between her own cancer battle with her work with abused Congolese women.
Tim Teeman, The Daily Beast: The strength of the play, the heart of it-a great personal and political roar of pain, resistance, fear, recovery, and strength-also operates as a flaw. Who are all the people she mentions? She knows them, we don't. The tangled, personal and familial relationships could use more explication, particularly-if you have read her book-that strange absence of her father and what he did. Ensler knows her own story well, obviously; the theatregoer may not. She either assumes we do, or that, swept up by her passion, we will overlook the omissions and biographical mysteries.
Barbara Schuler, Newsday: Though very much alone on Myung Hee Cho's spare but striking set, Ensler makes sure we feel, at times intensely, the presence of so many others, among them the kind, caring doctor at Mayo; the brute who never looks at her while performing an excruciating procedure, and her estranged sister who comes to care for her. Finn Ross' artistic projections illuminate what's going on in her head - the poisons rushing through her veins during chemo; the infection that takes over on the same day as the Gulf oil spill; the tree, "my tree," outside her window at Beth Israel that became "my reason to live." Throughout all of this, amazingly, Ensler never loses touch with what was happening in the Congo and at play's end, she is back there. It is the opening of City of Joy, and several of the medical practitioners who cared for her have come to celebrate, and to help. The curtains part to reveal a glorious jungle garden, and Ensler invites the audience to come up and explore it. She has left the stage, but her message of hope has not.
Roma Torre, NY1: At times, it feels like performance-art-as-therapy in stream of consciousness fashion as she tries to come to terms with her illness and dysfunctional family amid the world's horrors. But this is far from a downer; Ensler is buoyed by her loving friends, and she's a keen observer of human nature at its most ironic, peppering even the worst moments with pointed humor. Liberals in the audience will appreciate her political jabs as well. Diane Paulus's direction is a huge plus, tying together the disparate elements with clarity and sensitivity. Giant projections enhance the effect, and a stunning reveal provides a life-affirming coda at the end.
Photo Credit: Joan Marcus
Related Articles