Review Roundup: TROUBLE IN MIND Opens On Broadway Starring Tony-Winner, LaChanze
Alice Childress's wry and moving look at racism, identity, and ego in the world of New York theatre opened to acclaim Off-Broadway in 1955.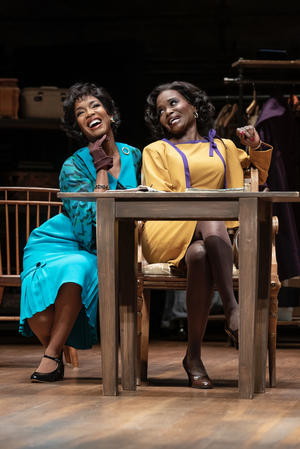 Roundabout Theatre Company's Broadway premiere of Trouble in Mind, opens on Broadway tonight! Let's see what the critics had to say!
Trouble in Mind is led by LaChanze as "Wiletta Mayer," with Michael Zegen as "Al Manners," Chuck Cooper as "Sheldon Forrester," Danielle Campbell as "Judy Sears," Jessica Frances Dukes as "Millie Davis," Brandon Micheal Hall as "John Nevins," Simon Jones as "Henry," Alex Mickiewicz as "Eddie Fenton," and Don Stephenson as "Bill O'Wray."
The design team includes Arnulfo Maldonado (Sets), Emilio Sosa (Costumes), Kathy A. Perkins (Lights), Dan Moses Schreier (Sound), Cookie Jordan (Hair & Wigs) and Nona Hendryx (Original Music).
Following an experienced Black stage actress through rehearsals of a major Broadway production, Alice Childress's wry and moving look at racism, identity, and ego in the world of New York theatre opened to acclaim Off-Broadway in 1955. At the forefront of both the Civil Rights and feminist movements, the prescient Trouble in Mind was announced to move to Broadway in 1957...in a production that never came to be.
---
Jesse Green, The New York Times: For sheer crackling timeliness, the play most of the moment is in fact the oldest: Alice Childress's "Trouble in Mind," which opened on Thursday at the American Airlines Theater. Originally produced in 1955 in Greenwich Village, but derailed on its path to becoming the first play by a Black woman to reach Broadway - a distinction that went to Lorraine Hansberry's "A Raisin in the Sun" four years later - it is only now getting the mainstream attention it deserves, in a Roundabout Theater Company production that does justice to its complexity.
Terry Teachout, The Wall Street Journal: The Roundabout Theatre Company is putting on "Trouble in Mind" in its 740-seat American Airlines Theatre with a deluxe cast led by LaChanze and Chuck Cooper, and the results are glorious to behold. George S. Kaufman is said to have quipped that "satire is what closes on Saturday night," but if this one doesn't draw crowds all the way to the end of its limited run, I'll be shocked.
Adam Feldman, Time Out New York: Trouble in Mind puts its main spotlight on LaChanze, who holds the whole play firmly in hand. She is this production's other revelation: Although she has played serious roles in musicals over the course of her 35-year career, this is the first time she has had the lead in a Broadway play. "I want to be an actress," says Wiletta. "Hell, I'm gonna be one, you hear me?" An actress LaChanze proves herself to be, and not just when she's singing, and a hell of a good one at that.
Greg Evans, Deadline: Sixty-four years late and right on time, Alice Childress' wise and stirring backstage comedy-drama Trouble in Mind is making its long-in-coming Broadway debut tonight, and to describe the play as prescient would be an understatement. Uncanny rings truer. With a star turn by LaChanze that takes a strong place in a theatrical season already formidable in its roster of performances, Trouble in Mind takes a behind-the-curtain look at the racism, coded prejudice, self-flattery, sexism and built-in bigotry that Broadway has always professed to eschew.
Ayanna Prescod, Variety: At the center of "Trouble in Mind" is Wiletta Mayer (LaChanze), a veteran, African American actress who dreams of starring in a role of substance, but has spent her entire career playing stereotypical Black characters. A performer best known for her work in musicals, LaChanze is this production's heartbeat. In her first lead role in a Broadway play, she delicately embodies a middle-aged woman who deeply loves an art form that ignores her. In an instant she transforms from the childlike act Willetta puts on for her white director to the strong façade she projects for her Black castmates.
Matt Windman, amNY: "Trouble in Mind" is worth seeing, as it speaks directly to current concerns in the theater industry over institutional and unconscious racism, as seen in the depictions of Black characters (which has led to recent revisions in shows such as "The Book of Mormon" and "To Kill a Mockingbird") and the handling of disagreements (which has led to the hiring of directors of diversity, equity, and inclusion). "Trouble in Mind" may have waited 65 years to come to Broadway, but it is remarkably on point and on time.
Chris Jones, The New York Daily News: The show is stocked with hugely capable actors, including Michael Zegen (as the imperious director), Jessica Frances Dukes, Don Stephenson, Danielle Campbell, Brandon Micheal Hall, Simon Jones, Alex Mickiewicz and Chuck Cooper, but many seem led toward extremes. The show feels conceived as a star vehicle for LaChanze, an enigmatic performer in every way, but this is an ensemble piece. And I suspect LaChanze, powerful as her performance can be, would have preferred it stayed that way.
Mark Kennedy, Associated Press: Childress wrote a satire of the white theater scene at the time, poking holes in liberal banalities and the white commitment to Black equality. It will still take your breath away, making it a mandatory stop in the fall season. The strong Roundabout Theatre Company's production that opened Thursday stars LaChanze and Chuck Cooper still standing on fissures that were raw in the 1950s, from how agreeable to white authority Blacks must pretend to behave in order to work to the plea of white actors uncomfortable with too much Black boldness.
David Cote, Observer: Childress's witty, insightful play-in which an interracial group of theater makers chafes against stereotypes in their anti-lynching melodrama-makes that awakening painful and real. I wonder if the discussions in the past two years have been as sharp and complex as those in this backstage satire.
Elysa Gardner, New York Stage Review: LaChanze is luminous and fierce in the central role, showing us the dignity and warmth that have sustained Wiletta where others might have simply become embittered. Another musical theater stalwart, Chuck Cooper, has a poignant turn as Sheldon Forrester, the veteran actor cast as Job's father, whose obsequiousness contrasts with Wiletta's rising pique, while Michael Zegen captures Manners's unconscious arrogance to almost chilling effect. Don Stephenson and Danielle Campbell deliver deft comic performances as the white cast members, Bill O'Wray and Judy Sears-respectively, a latently racist character actor and a well-meaning but clueless ingénue-and Jessica Frances Dukes adds more punch as Millie Davis, a Black actress who is older than Judy but younger than Wiletta, and hasn't quite arrived at the latter's level of frustration, yet.
Frank Scheck, New York Stage Review: Director Charles Randolph-Wright doesn't successfully balance the play's comic and dramatic elements, with the result that the evening sometimes feels like a backstage comedy and other times like a polemic on race relations. The performances, too, vary in effectiveness, with the most memorable work coming from the luminous LaChanze, the veteran Cooper, and Dukes, who makes the most of the sardonic Millie.From a historical perspective, Trouble in Mind is an important, groundbreaking work. It's just a shame that it feels so dated now upon its long belated Broadway premiere.
Jonathan Mandell, New York Theater: There are a total of nine actors in "Trouble in Mind," the size of the cast one of the signs of a play written years ago. If a few of the characters come to feel extraneous, and some of the scenes feel like filter, the actors each have at least one scene where they are put to good use. Brandon Micheal Hall portrays John Nevis, a brash young Black newcomer to acting, which gives the playwright an opportunity to impart her hard gained wisdom about dealing with the white people in charge of show business: "White folks can't stand unhappy Negroes... so laugh, laugh when it ain't funny at all." John generally ignores her advice, thinking she's behind the times, and starts sounding just as glad-handing and fatuous as Al Manners. Chuck Cooper, a standout as usually, portrays Sheldon, a Black actor who has learned the lesson of accommodation too well. But there's one arresting moment when Manners is urging the cast to express more fear. "I'm not asking you to dream up some fantastic horror... it's a lynching. We've never actually seen such a thing, thank God... but allow your imagination to soar, to take hold of it... think." Sheldon speaks up and says he has, in fact, seen a lynching.
Juan A. Ramirez, Theatrely: What the production does give us is a trenchant, powerful lead performance from LaChanze as Wiletta Mayer, a veteran actor rehearsing a play about racism written and directed by White men. The gravitas, lived experience, and magisterial presence she brings to the role is worth the ticket price alone, and makes a fantastic case for an immediate revival of Gypsy. Looking gorgeous in Emilio Sosa's elegant costumes, she is unfussy and relaxed while still delivering Childress' critiques with the laser-sharp precision of a woman with decades of experience in the business.
To read more reviews, click
here
!

Related Stories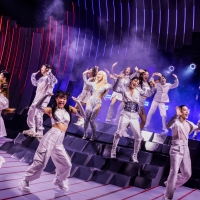 Review Roundup: KPOP Opens on Broadway!

November 27, 2022

Critics have weighed in on KPOP, starring K-pop superstar Luna as MwE, directed by Teddy Bergman, with a book by Jason Kim, and music and lyrics by Max Vernon. KPOP officially opened on Sunday, November 27th at the Circle in the Square Theatre.
---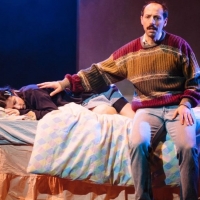 Review Roundup: BAGHDADDY Opens at the Royal Court

November 25, 2022

Read the reviews for Baghdaddy, written by Jasmine Naziha Jones and directed by Milli Bhatia, running at the Royal Court Jerwood Theatre Downstairs through Saturday 17 December 2022.
---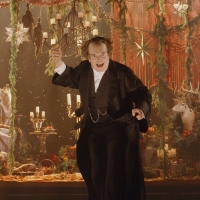 Review Roundup: Jefferson Mays Brings One-Man A CHRISTMAS CAROL To Broadway!

November 21, 2022

Tony Award winner Jefferson Mays' stars in the new Broadway production of his universally celebrated, one man virtuoso, tour-de-force performance in Charles Dickens' A Christmas Carol.
---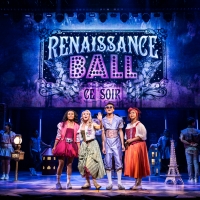 Review Roundup: & JULIET Brings The Music of Max Martin To Broadway

November 17, 2022

The highly anticipated new musical & Juliet opens tonight on Broadway at the Stephen Sondheim Theatre (124 West 43rd Street). Read the reviews!
---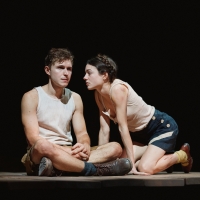 Review Roundup: Bess Wohl's CAMP SIEGFRIED Opens At Second Stage Theater

November 15, 2022

The New York Premiere of CAMP SIEGFRIED, the new play from Tony Award-nominee Bess Wohl (2ST's Grand Horizons and Make Believe), directed by Tony Award-winner David Cromer (The Band's Visit, 2ST's Man from Nebraska) opens tonight at Second Stage's Tony Kiser Theater.
---