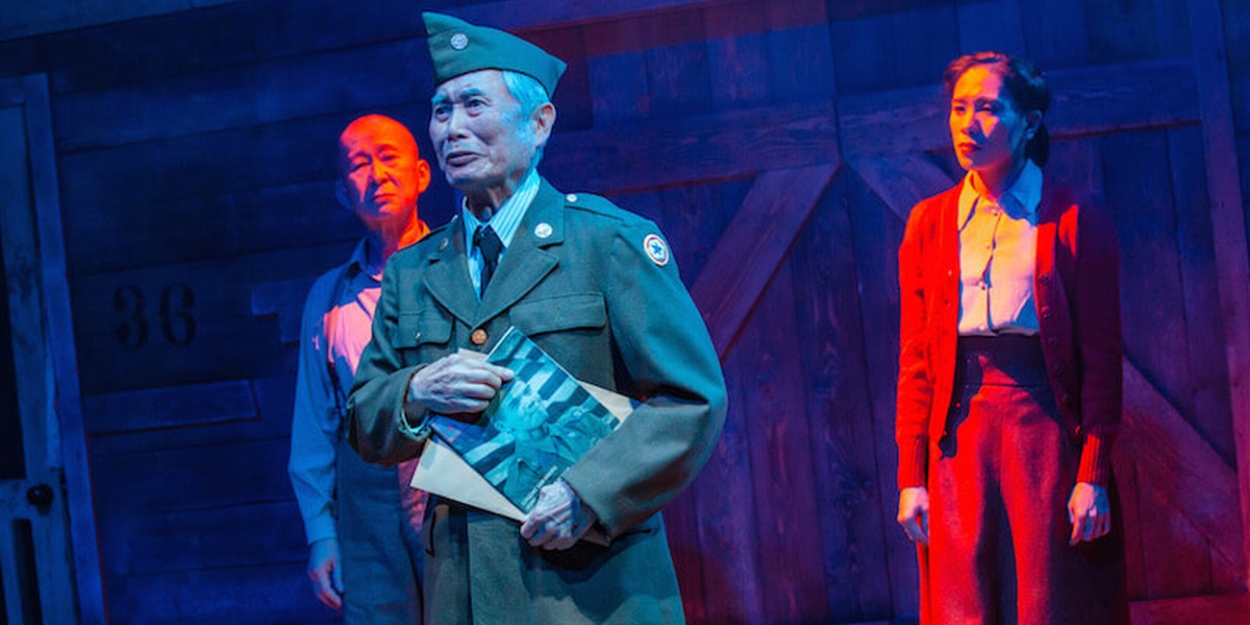 Review Roundup: George Takei, Telly Leung And More Star In ALLEGIANCE West End Premiere
The UK premiere runs at Charing Cross Theatre until Saturday 8 April, 2023.
George Takei, the original and beloved Mr. Sulu from 'Star Trek', film and television star, activist and social media icon, makes his London stage debut in the UK premiere of the Broadway musical inspired by Takei's true childhood experiences, 'George Takei's Allegiance'. Read the reviews!
Now Allegiance gets a new and more intimate production for the UK, conceived specifically for the Off West End space at Charing Cross Theatre, directed and choreographed by Tara Overfield Wilkinson (director, 'Little Shop of Horrors' UK tour, associate director/choreographer of 'Come From Away' UK).
'George Takei's Allegiance' UK premiere runs at Charing Cross Theatre through Saturday 8 April, 2023.
Joining him from the 2015 Broadway production of Allegiance is US actor and Broadway star Telly Leung, best known to UK audiences as Wes, the Warbler on TV's 'Glee' and to Broadway audiences for the title role in 'Aladdin'. His other Broadway and US national touring credits include 'Flower Drum Song', 'Pacific Overtures', 'Wicked' (Boq, original Chicago company) and Angel in 'Rent' at the Hollywood Bowl, directed by Neil Patrick Harris.
'George Takei's Allegiance' has a book by Marc Acito, Jay Kuo and Lorenzo Thione with music and lyrics by Jay Kuo.
---
Franco Milazzo, BroadwayWorld: What is obviously an important historical subject is let down by a frankly abysmal book from Marc Acito, Jay Kuo and Lorenzo Thione. Despite a meaty running time of 140 minutes, the characters are by and large so thinly drawn that there's a risk of paper cuts, while Kuo's hackneyed songs are in danger of putting the creators of elevator music out of business. More through Tara Overfield Wilkinson's commendable direction than anything to do with the script, the actors do superbly to find nuances in their underwritten roles but, much as we truly sympathise with their situation, there's not enough textual encouragement for us to care about the fates of Sam, Kei and co. to any significant extent.
Dominic Cavendish, The Telegraph: It's not just Takei's celebrity that captivates; there's a dignity and rare benign aura about him that means even when he's shuffling about here and there, the picture of frailty (compounded by a plotline that sees Ojii-Chan needing medical treatment), he lights up the space around him. He warbles a little, and while staying seated at points, joins in with energetic clapping when the joint starts jumping in a pastiche big band number. But his stellar presence oddly draws attention to what's lacking. The whole affair is slickly directed and choreographed by Tara Overfield Wilkinson, and the many serviceable (if a touch overblown and overstated) numbers are well served by a cast that includes Telly Leung, who played Sam on Broadway. Yet the crucial kernel of Takei's life-changing experience - being a child in a world turned upside down - is missing in action. And that feels like a major omission. Any Trekkie is bound to want to catch Takei in the flesh. But as a must-see memorial to his formative story, the show's artistic phasers aren't fully set to stun.
Arifa Akbar, The Guardian: Directed by Tara Overfield Wilkinson, with a book by Marc Acito, Jay Kuo and Lorenzo Thione, it feels long at almost two and a half hours but its scenes move too fast and breezily, telegraphing the camp's horror but also containing heavy helpings of schmaltz. Love stories bloom while some die and their ghosts return to watch their loved ones, and sing. Takei is charming in his part but these characters do not become individual or full-bodied enough. The show throws out song after song (music and lyrics by Kuo) and too many of them are unmemorable. The music is rousing, sometimes with a distantly martial beat, but at other times oddly bouncy. The performances are uniformly strong though, as well as the singing, especially from Ferrer whose voice is both powerful and delicate. But we end up simply not feeling strongly enough for a story that should appal and outrage us.
Nick Curtis, The Evening Standard: Allegiance has a pleasing score and lyrics by Jay Kuo, its generic balladry enlivened with the odd comic or swing-inflected number, but without a single tune you might recall on the tube home. Kuo, Marc Acito and producer Lorenzo Thione also provide the by-the-numbers plot, stitching twin love stories and a skimpy exploration of masculinity into the historical issues.
Alun Hood, WhatsOnStage: Allegiance only managed 111 performances during its 2015-16 run on the Great White Way, but thanks to a well-received pro shot screen version, a subsequent West Coast staging and the sheer indefatigability of Mr Takei, this is a musical that refuses to go quietly. In fact, in Tara Overfield Wilkinson's UK premiere production at the Charing Cross Theatre, it refuses to do almost ANYTHING quietly... and the result is a rousing, haunting, surprisingly multi-textured piece of musical theatre that maintains, for the most part, a healthy balance between cynicism and sentimentality, and sheds light on horrendous real-life events that were only taught about and acknowledged comparatively recently.
Paul Vale, The Stage: Despite the uneven tone, there are some well-balanced performances, led by Leung's hot-headed Sammy and Ferrer's Kei, whose journey is the heart and soul of the show. Ferrer pitches her numbers with vocal strength and emotional clarity, while Takei brings warmth and wisdom to the role of Ojii-Chan, the Kimura patriarch. He also bookends the show as the gruff, uncompromising older Sammy. His dual role lends authority to the book and a much-needed sense of serenity to an otherwise intense, busy production.
Louise Martin, West End Best Friend: Direction and choreography by Tara Overfield Wilkinson is simply sublime. We are caught up in the story from the start, questioning what impossible decisions we would make in the same circumstances and how we would fight to keep our families and community together, yet still finding the strength to celebrate what they still have and striving to return to that better life once the war is over.
Mayam Philpott, The Reviews Hub: This is a faithful staging and there are some really great performances here that help this show along, but the musical has found ways to engage with more difficult content in the last five years that occasionally make George Takei's Allegiance feel a tad old-fashioned. But it's still important to see work that challenges the accepted narratives of glorious war and changes our perceptions of untarnished heroism in this era.