Review Roundup: CAROLINE, OR CHANGE Opens On Broadway - See What the Critics Are Saying!
Sharon D. Clarke, Caissie Levy, John Cariani and more star in the first Broadway revival of the acclaimed musical from Tony Kushner and Jeanine Tesori.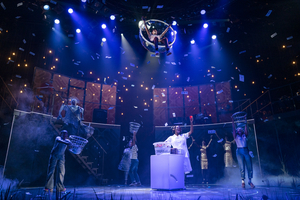 Roundabout Theatre Company presents the new Broadway production of the Tony Award nominated and Olivier Award-winning musical Caroline, or Change, which opens tonight, at Studio 54.
Sharon D Clarke returns to her Olivier Award-winning role as Caroline Thibodeaux, with Gabriel Amoroso (Noah Gellman), Alexander Bello (Jackie Thibodeaux), John Cariani (Stuart Gellman), Joy Hermalyn (Grandma Gellman), Arica Jackson (The Washing Machine), Tamika Lawrence (Dotty Moffett), Caissie Levy (Rose Stopnick Gellman), Adam Makké (Noah Gellman), Kevin S. McAllister (The Dryer, The Bus), Harper Miles (Radio 3), N'Kenge (The Moon), Nya (Radio 2), Richard Alexander Phillips (Alternate for Jackie Thibodeaux and Joe Thibodeaux), Jayden Theophile (Joe Thibodeaux), Nasia Thomas (Radio 1), Jaden Myles Waldman (Noah Gellman), Samantha Williams (Emmie Thibodeaux), Stuart Zagnit (Grandpa Gellman) and Chip Zien (Mr. Stopnick).
Caroline Thibodeaux is a Black woman working as a maid for a Jewish family in 1963 Louisiana, as the civil rights movement is transforming America. From Pulitzer Prize winner Tony Kushner and Tony Award winner Jeanine Tesori comes the show that pulses with the urgency and passion that's shaping the world today.
---
Jesse Green, The New York Times: Now Clarke, who won an Olivier award for her performance in the British production, adds hers. She makes of the maid an almost Shakespearean figure; even at the depths of the character's despair, in the scarifying 11 o'clock number "Lot's Wife," she commands attention without begging for it, and does not allow herself, because Caroline wouldn't, the luxury of collapse. The result of that restraint is more painful than cathartic, leaving the story's emotional release to those who can afford it: Caroline's children. The chance to believe in change is her hard-won bequest to them - and, in this devastating, uncomfortable, crucial musical, to us.
Ayanna Prescod, Variety: Caroline's daughter Emmie (Samantha Williams), however, fiercely serves as this story's change agent. She's instrumental in helping her mother revaluate her antiquated beliefs and works to fight the systems that had her mother believing them in the first place. Williams delicately conquers a role that previously secured Anika Noni Rose her first Tony Award, making this role her own with a youthful energy and gentle grace. All of these story elements spun together wrestle with issues that are still urgent today. As one memorable lyric in the show states, there is "no underground in Louisiana." But on the surface in New York City, there is an important musical revival on Broadway that is deeply meaningful, crucial to experience and definitely a necessary change.
Helen Shaw, Vulture: Eighteen years ago, the musical had a little more ... hope in it. As Kushner has noted, the story has always been Caroline's tragedy, but in 2003, it used Emmie and Jackie and even Noah to point at possibilities of the non-tragic to come. The musical still ends the same way, but in the audience, we know the U.S. continues to display its own immobility, its own dogged resistance to change. Longhurst's production is therefore brave enough not to brighten, not even at the curtain call. The libretto does for a while pretend there's a kind of slantwise equivalence between the bereaved Noah and the exhausted Caroline, but in "Lot's Wife," the show has admitted which grief is the unrecoverable one. "I'm gonna slam that iron down on my heart," Caroline cries. "Gonna slam that iron down on my throat, gonna slam that iron down on my sex." The sound in the room grows huge and unbearable as a woman gives up on her future, releasing energy like an atom ripping apart. The show can't recover from this intensity; certainly, we cannot. Whatever comes after "Lot's Wife," whatever little grace notes the production gives to Emmie and Noah, we stay frozen in that song's nuclear blast.
David Rooney, The Hollywood Reporter: Any work of art about the socioeconomic divide, particularly with regard to inequities rooted in race, class and power, is bound to land differently now than it did in, say, 2004. That seems entirely apposite for a musical with the word "change" in its title and the tremors of personal, political and historical upheaval thematically embedded in its story. But it's not just shifts in the prism of American life in the 17 years since Caroline, or Change transferred from the Public Theater to Broadway that breathe urgency into this shattering revival. Everything about Michael Longhurst's production feels more emotionally charged, starting with Sharon D. Clarke's mighty performance in the title role.
Matt Windman, amNY: Some of director Michael Longhurst's ideas pay off (displaying the town's statute of a Confederate soldier both before and after it is vandalized, emphasizing the swampy physical environment, a post-climactic rainfall special effect) and others are awkwardly inserted and strained (having many scenes performed on a narrow balcony level, incorporating a turntable). "Caroline, or Change" ought to be better appreciated today. Not only have people had more time to absorb its score, its plot (which reflects upon systemic and unconscious racism) speaks directly and powerfully to the current cultural moment.
Greg Evans, Deadline: In this still-young Broadway season already boasting a remarkable line-up of new productions that, regardless of box office sales or seats filled, is a small miracle, the Roundabout Theatre Company production of Caroline, Or Change places itself squarely at the forefront of the best in culture this city has to offer. Directed by Michael Longhurst with intensity and sensitivity, and performed by a cast that seems to have made a pact to sustain itself at the towering heights achieved early and unfailingly by its mighty star Sharon D Clarke, this Caroline, Or Change is a hurricane wind unleashed on decrepit legacies and newfound cautions.
Tim Teeman, The Daily Beast: The collision of musical styles and Kushner's clever, witty lyricism makes Caroline, Or Change a haunting, unforgettable musical. This critic loved its ambition, even if it was occasionally perplexing and opaque. Like Angels in America, the material fleshes out detail and the personal-trousers, musical instruments, comic books, lost coins, and bank notes-while also being proudly political, and showing how centrally politics exerts itself as a force on people's lives.
Juan A. Ramirez, Theatrely: It is rare for a musical to have a stronger second act than first, with most outings' ambitions meeting their limits by the time the stakes are set. Kushner's story, which might fare better as a tight one-acter, has somewhat of a bumbling start as it muddles through its introduction of characters, plot, and artistic flights of fancy. Longhurst's direction valiantly makes its way through these flaws, and ends with a masterstroke of lighting (by Jack Knowles) and staging that banishes all misgivings one might find throughout the show. This production's final moment-a stark tableau of generational significance-is breathtaking in its simplicity, but earth-shattering in its artistry. If masterful theatre is measured by its ability to leave an audience reeling in catharsis, it is here that this production of Caroline, or Change emerges as an honor to experience, and a joy to have borne witness.
Adam Feldman, Time Out New York: But change comes whether you welcome it or not, and my reactions to this production are, I recognize, the luxuries of someone who has seen the show many times before, as not nearly enough people have been able to do. Make no mistake: Caroline, or Change is a masterwork, even in its altered frame. It should be experienced by everyone-and for all the things I might change about this version, I can't wait to see it again.
Robert Hofler, The Wrap: Longhurst's revival is strongly sung, led by the astounding vocals of Sharon D. Clarke in the title role. One of the delights of "Caroline" is watching household objects come to life in an adult musical, and it's hard to imagine the prominent roles of the Washing Machine (Arica Jackson), the Radio (Nasia Thomas, Nya, and Harper Miles), the Moon (N'Kenge), and the Dryer and the Bus (Kevin S. McAllister) being more robustly impersonated vocally. Sitting through this "Caroline," I often thought how superior the singing here was to the Met Opera's new "Fire Shut Up in My Bones."
Chris Jones, The New York Daily News: Clarke is the worthy star, Caroline the exhausted heroine and Longhurst puts the maid's experience firmly at the center of the stage and the story. By contrast, her Jewish employers are kept so remote and so far upstage most of the time, they're almost outside on 53rd St. In their place at the emotional heart of the piece land the Thibodeaux children, led by Samantha Williams, and Caroline's friend, Dotty (Tamika Lawrence). In the end, the production is clearly saying that Caroline's existential struggles in this riven, deeply unfair America can be rationalized only as a gift to the next Black generation. It's both a clear and a moving point of view.
Charles Isherwood, Broadway News: But stripping away any element of this far-seeing and fiercely imaginative show might compromise the whole. In any case it has become a landmark of musical theater in the 21st century. Still, for this viewer, it is the unblinking yet compassionate portrait of the title character that lifts the show into the sublime, and Clarke's performance - much like Tonya Pinkins's in the original production - is the driving force behind its moments of transcendence.
Elysa Gardner, New York Stage Review: If there are a few slow-moving moments in Longhurst's production, the payoff is big; it's unlikely that anyone with a beating heart will leave after Act Two without moist eyes, or at least a lump in the throat. That's not because of the sadness in Kushner's story, of which there is plenty; it's because of the sense of hope that ultimately cuts through it, blazing through the final number. It's not easy to juggle despair and exuberance without resorting to sentimentality, and Caroline still manages the task handily.
Steven Suskin, New York Stage Review: Clarke, a Londoner making her Broadway debut, is not exactly an unknown quantity, given her three Olivier Awards. (These include one for her 2018 performance in this role and another for her Linda Loman opposite Wendell Pierce in the Young Vic's staggering 2019 Death of a Salesman, which fully deserves to be seen on the New York stage). Here, Clarke provides a compelling reason to see Michael Longhurst's production of the Tesori-Kushner musical, which has been imported with an otherwise local cast.
David Cote, Observer: When Tony Kushner and Jeanine Tesori's Caroline, or Change opened at the Public Theater in December 2003, later moving to Broadway for a paltry four-month run, we weren't worthy of it. In 1963 Louisiana, an embittered Black maid's ambivalent relationship with her employer's child is poisoned by money. Reviews were mixed, audiences thin. Ticket buyers shied from a multilayered morality tale about broken, grieving people divided by race and class, triggered by charity, who prized resentment over empathy. Today, thanks to an outstanding revival starring the majestic Sharon D. Clarke, we're not just worthy of Caroline, or Change; we are it.
Jonathan Mandrell, New York Theater: As the title character of "Caroline, or Change," Sharon D. Clarke sings a breathtaking 11 o'clock number called "Lot's Wife" that sparks thunderous applause; the audience at Studio 54 is clearly thrilled by the performer's soulful delivery. Some surely also burst into tears, saddened by the character's despair. But my enthusiasm for this first Broadway revival of Tony Kushner and Jeanine Tesori's inventive, thoughtful and affecting collaboration comes not just from those aspects of the show that satisfy audience expectations about big Broadway musicals. What makes this work so powerful, and especially timely, is how this splendid cast tells a small story about change - literal pocket change - while offering a larger glimpse into the complex undercurrents in a tense moment of change in American history.
To read more reviews, click
here
!
---
Shop BroadwayWorld

Shop this season's new musicals! Get dressed up for a night at the theatre, or just a night at home, with merch from some of Broadway's biggest hits including SOME LIKE IT HOT, KIMBERLY AKIMBO, and more!
---
Related Stories