Pianist Stephen Hough to Perform Debussy, Schumann, and Beethoven at Carnegie Hall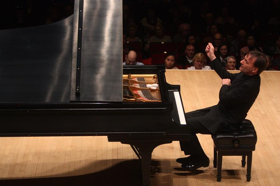 Pianist Stephen Hough returns to Carnegie Hall next month for a recital of works by Debussy, Schumann, and Beethoven. Debussy's music features most prominently, in honor of his centennial (the composer died in 1918); the program includes the two books of Images, "Clair de lune" from Suite bergamasque, and "La terrasse des audiences du clair de lune" from Préludes, Book II. Contrasted with these works are Schumann's Fantasy in C major and Beethoven's Sonata No. 23 in F minor, "Appassionata." The recital takes place in Stern Auditorium on January 30 at 8:00 p.m. Mr. Hough last appeared in New York in January 2017, when he performed with the New York Philharmonic at David Geffen Hall.
Tickets priced from $15 to $99 are available from Carnegie Hall by phone at (212) 247-7800, online at carnegiehall.org, or in person at the box office.
"In a previous season, I placed Debussy and Chopin side by side in a sandwich-like program, wanting to highlight the empathy between them in their love for and understanding of the sound of the piano," says Mr. Hough in his artist note, referring back to his Carnegie Hall recital in 2015. "In [the upcoming] recital I'm trying for the opposite effect-for contrast, even opposition."
Speaking to Ham & High in advance of a U.K. performance of this recital program, Mr. Hough said:
[The program explores] the French aesthetic of Debussy as against the German of Schumann and Beethoven, but with a challenge to received ideas about the two.
A standard perception of French piano music is that it's spontaneous and perfumed, while German music is more planned and structured. But the program I've chosen here turns that on its head.
I've got pieces by Debussy-principally the two books of Images-that are fastidiously detailed and jewel-like, alongside German works that are emotionally crazy and irrational. Beethoven's "Appassionata" is a sonata that explodes with passion and anger. And the Schumann Fantasy ... well, Schumann is always walking off into the forest, full of wild imagining.
The recital follows the January 5 U.S. release of Mr. Hough's first all-Debussy recording, also in honor of the centennial. The recording is released by Hyperion Records and includes the two books of Images, among other works. Click here for audio excerpts from the recording.
Additional highlights of Mr. Hough's season include performances of the Carnegie Hall program around the world, including in London, Milan, Mumbai, and Paris, as well as throughout North America, with recitals in Los Angeles, San Francisco, Toronto, Miami, at Duke University, and on a four-stop tour in Hawaii. He also appears with the Baltimore, Dallas, Detroit, New Jersey, Utah, and Vancouver symphonies and Ottawa's National Arts Centre Orchestra; on a four-city West Coast tour with the Berlin Philharmonic Wind Quintet; and abroad at the BBC Proms and with the Kammerorchester Basel, Orchestra Sinfonica Nazionale della Rai, Seoul Philharmonic, Singapore Symphony, and the Royal Liverpool Philharmonic, where he is currently Artist in Residence.
A recognized writer, Mr. Hough also looks forward to the publication of his first novel, The Final Retreat, by Sylph Editions this March.
Stephen Hough is regarded as a Renaissance man of his time. Over the course of his career he has distinguished himself as a true polymath, not only securing a reputation as an insightful pianist, but also as a writer and composer. In 2001, he was the first classical performing artist to receive a MacArthur Foundation Fellowship and, in 2013, he was named a Commander of the British Empire. He has appeared with most of the major American and European orchestras and plays recitals regularly in major halls and concert series around the world. As a writer, he contributes to BBC Music Magazine, The Guardian, The Times, and Gramophone, among other publications, and for seven years, his blog for The Telegraph was one of the most popular and influential forums for cultural discussion. His musical compositions are published by Josef Weinberger Ltd., and he is also an avid and exhibited painter.
To learn more about Stephen Hough, visit stephenhough.com and follow him at @houghhough on Twitter and Facebook.
Tickets priced from $15 to $99 are available from Carnegie Hall by phone at (212) 247-7800, online at carnegiehall.org, or in person at the box office.