Photo Flash: Steppenwolf Pays Heartfelt Tribute to Martha Lavey
Steppenwolf Theatre Company hosted a warm and heartfelt public memorial celebrating the remarkable life and legacy of ensemble member and former artistic director Martha Lavey, who passed earlier this year at the age of 60. BroadwayWorld has photos from the event below!
On October 9, more than 500 ensemble members, friends, family, co-workers, and collaborators gathered in Steppenwolf's Downstairs Theatre to share in a two hour tribute to the legendary Chicago cultural leader with stories, song, laughter and tears, hosted by current Artistic Director Anna D. Shapiro and Executive Director David Schmitz. More than 500 people also tuned into the live stream of the event.
In addition to the hosts, the evening included speeches honoring the many ways that Martha Lavey touched the lives around her personally as a sister, aunt, friend and collaborator, and publicly as a cultural and community leader, mentor and advocate of the arts and artists. Speakers included ensemble members Amy Morton, Bruce Norris, Yasen Peyankov, Molly Regan (sharing the words of ensemble member Austin Pendleton) along with Jenny Avery, Doug Brown, Ben Cameron, Curt Columbus, Nora Daley, Michele Dragisity, Evan Hatfield, Bruce Sagan, Jessica Thebus and Andy White. The event also included musical performances by the All Nations Worship Assembly Chicago Ensemble, Suzi Petri and ensemble member Jim True-Frost. A retrospective video looking back on Lavey's life and legacy was provided by HMS Video.
The following morning, the stretch of Halsted Street in front of Steppenwolf Theatre was renamed "Martha Lavey Way" in an honorary ceremony. Steppenwolf ensemble, employees and public gathered at the corner of Willow St and Halsted St at 11am for the sign unveiling with remarks by Steppenwolf Executive Director David Schmitz and Alderman Michele Smith.
The honorary street renaming ordinance was submitted by Alderman Michele Smith of the 43rd Ward and granted by the City Council. Two honorary "Martha Lavey Way" signs have been installed-one at the northwest corner of North Halsted Street and West North Avenue, pointing north, and the other sign will be located at the southwest corner of North Halsted and West Willow Street, pointing south.
Martha Lavey joined the Steppenwolf ensemble in 1993 and served as Artistic Director from 1995 to 2015. Under her transformative leadership, Steppenwolf became a national leader in producing new plays and commissioning playwrights, doubled the size of its ensemble and diversified its base of artists, added two performance spaces, expanded and deepened its partnerships in public schools and the community, created Steppenwolf for Young Adults, and instituted a platform for engaging audiences after every performance. She oversaw the production of hundreds of plays and transferred dozens of Steppenwolf productions to Broadway and abroad, gaining national and international recognition for the company and Chicago as a vital theater destination.
During Martha Lavey's tenure, Steppenwolf was awarded the National Medal of the Arts, the only theater to ever receive the honor, as well as the Illinois Arts Legend Award, Equity Special Award and nine of the company's 12 Tony Awards. Lavey catapulted Steppenwolf to the forefront of new play development and production with a robust commissioning program that cultivates ongoing creative relationships with some of the most compelling playwrights today. Lavey oversaw the conception of and programming for the Garage Theater, an intimate space in 1998 that provided an additional platform for outside companies, new works and audience engagement. Several programs were established during her tenure, including Steppenwolf for Young Adults, an innovative and influential program for teens and their families; The School at Steppenwolf, an acclaimed training residency based in ensemble traditions; The Professional Leadership program for emerging arts managers and designers; The First Look Rep of New Work for plays in development; and the Garage Rep, presenting Chicago's vibrant Off-Loop theater companies, among others. Lavey was named one of the '100 Most Powerful People' by Chicago Magazine twice, was selected as one of the city's '10 Most Powerful Women in the Arts' by the Chicago Sun-Times and was awarded the title of '2010 Chicagoan of the Year' by the Chicago Tribune. Lavey and former Steppenwolf Executive Director David Hawkanson were recipients of the 2015 'Citizen Advocate Award' presented by the Arts Alliance Illinois for their extraordinary contributions to the arts locally and nationally. In May 2016 she received an honor from the City of Chicago for her two decades of service as artistic director.
While leading one of the most acclaimed theater companies in the world, Martha Lavey also performed in more than 30 Steppenwolf productions including Middletown, Endgame, Up, Good Boys and True, Love-Lies-Bleeding, Lost Land, I Never Sang for My Father, The Memory of Water, Supple in Combat, Time of My Life, A Clockwork Orange, Talking Heads, SLAVS!, Picasso at the Lapin Agile, Love Letters, and Aunt Dan and Lemon. Elsewhere in Chicago she performed at the Goodman, Victory Gardens, Northlight and Remains theaters and in New York at the Women's Project and Productions.
Martha Lavey served a Board President for the Theatre Communications Group from 2009 - 2011. She served on grants panels for the National Endowment for the Arts, The Theatre Communications Group, Three Arts Club, USA Artists and the City Arts panel of Chicago. She earned a doctorate in Performance Studies from Northwestern University and was a member of the National Advisory Council for the School of Communication at Northwestern University. She was a recipient of the Sarah Siddons Award, an Alumni Merit Award and an Honorary Doctorate from Northwestern University.
Martha Lavey passed away on April 25, 2017 due to complications from a stroke. Faithful friends, audience members, donors, staff, artists, mentees, members of the Steppenwolf family and the national theatre community were all indelibly impacted by Martha's passion, commitment, vision and unmatched intellect. She will be dearly missed. Services for Martha were held in May 2017 in her parent's home of Vienna, Virginia.
Photo Credit: Michael Brosilow (memorial photos); Joel Moorman (street dedication photos)


Honorary Street Dedication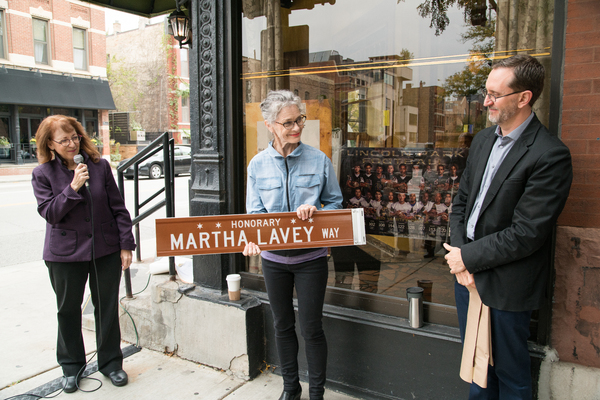 Alderman Michele Smith, Martha's sister Michele Dragisity and Executive Director David Schmitz

Honorary Street Dedication

Honorary Street Dedication

Alderman Michele Smith, Martha's sister Michele Dragisity and Executive Director David Schmitz at the honorary street renaming of the stretch of Halsted St in front of the theater to 'Martha Lavey Way.'

Crowd gathers for honorary street dedication in Martha Lavey's honor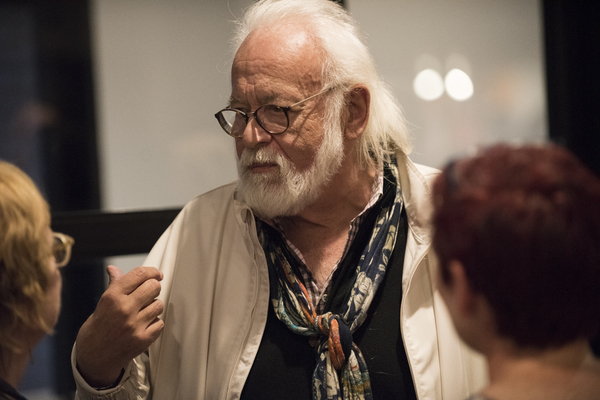 Ensemble member Frank Galati at the public memorial celebration for Martha Lavey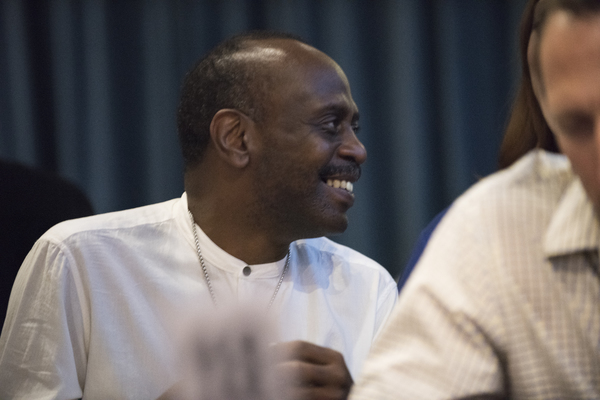 Ensemble member K. Todd Freeman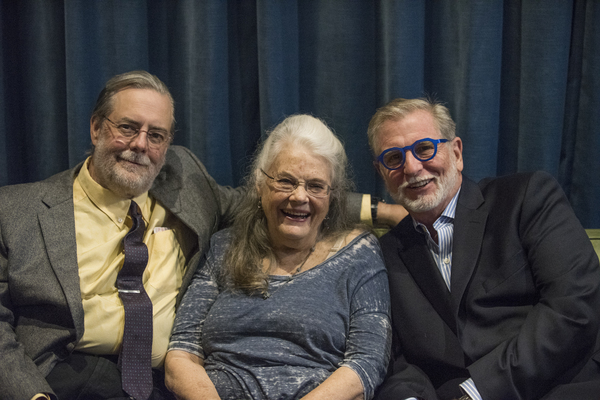 Longtime Steppenwolf stage manager Malcolm Ewen, ensemble member Lois Smith and Artistic Director of Northlight Theatre B.J. Jones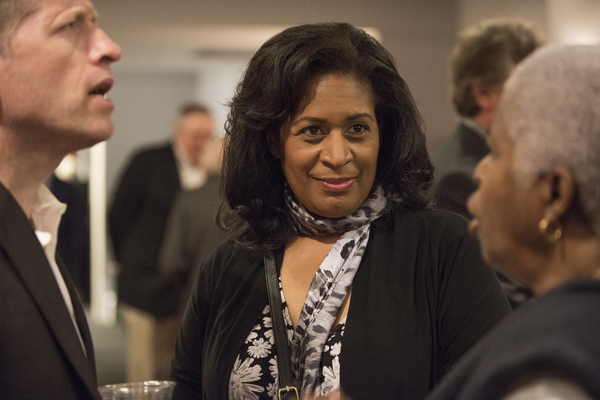 Ensemble members Tim Hopper and Ora Jones with actor Cheryl Lynn Bruce

Actor Cheryl Lynn Bruce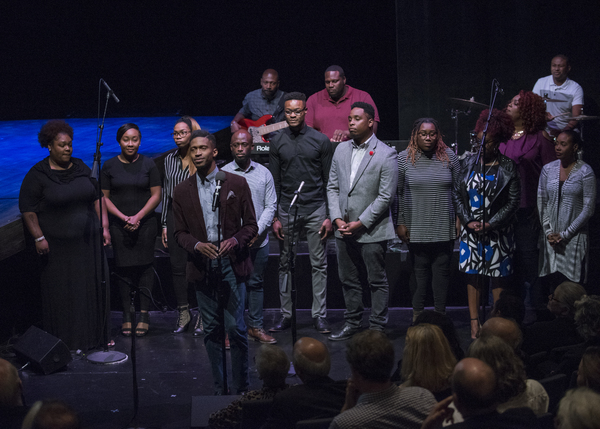 Members of the All Nations Worship Assembly Chicago Ensemble perform at the event

Artistic Director Anna D. Shapiro and Executive Director David Schmitz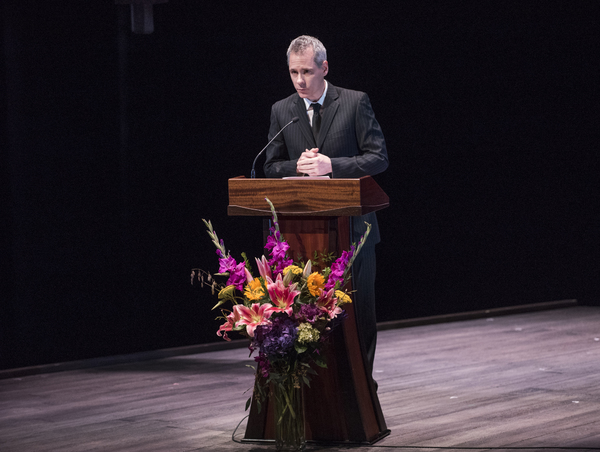 Ensemble member Bruce Norris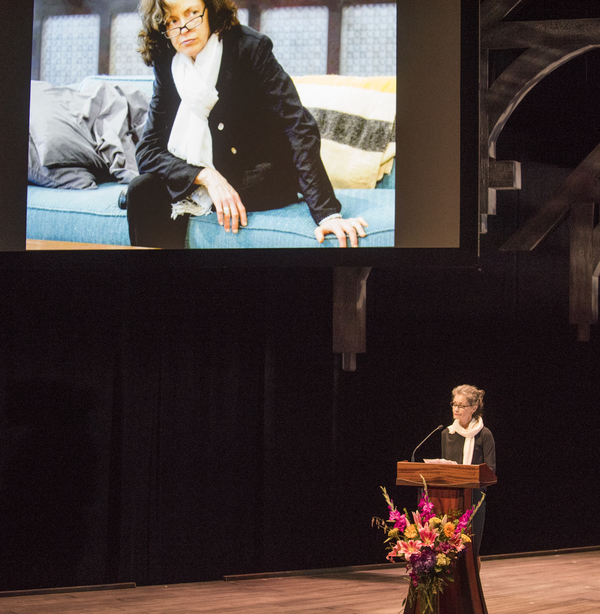 Martha Lavey's sister Michele Dragisity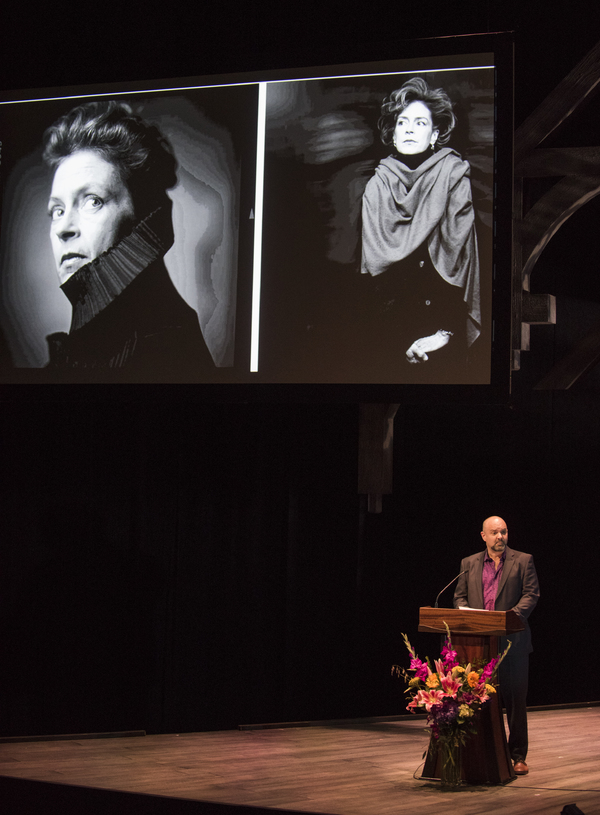 Longtime friend and former artist associate at Steppenwolf Curt Columbus shares memories of Martha

Director and teacher Jessica Thebus, close friend of Martha's, daughter of acclaimed Chicago actor Mary Ann Thebus, shares memories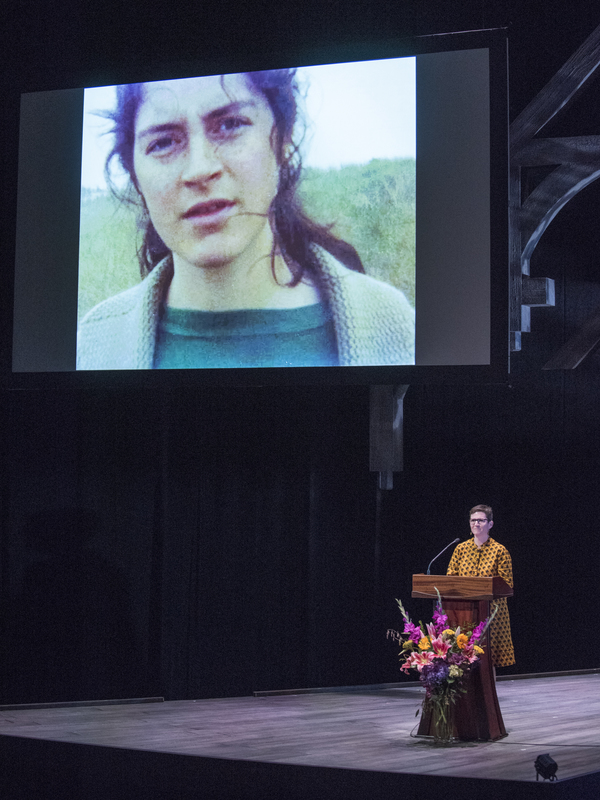 Director and teacher Jessica Thebus, close friend of Martha's, daughter of acclaimed Chicago actor Mary Ann Thebus, shares memories

National theater leader Ben Cameron, and dear friend of Martha's, address the impact of Martha's work on the national theater scene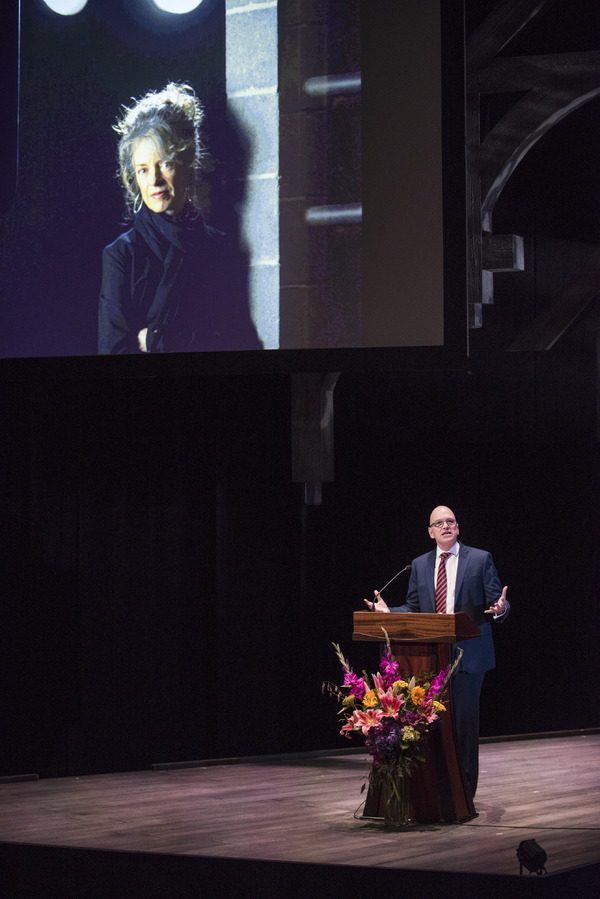 National theater leader Ben Cameron, and dear friend of Martha's, address the impact of Martha's work on the national theater scene

Steppenwolf's Director of Audience Experience who worked with Martha for 10 years spoke on behalf of the staff and their deep love, admiration and respect for her

Steppenwolf board members (left to right) Bruce Sagan, Doug Brown and Nora Daley

Ensemble member Jim True-Frost performed a song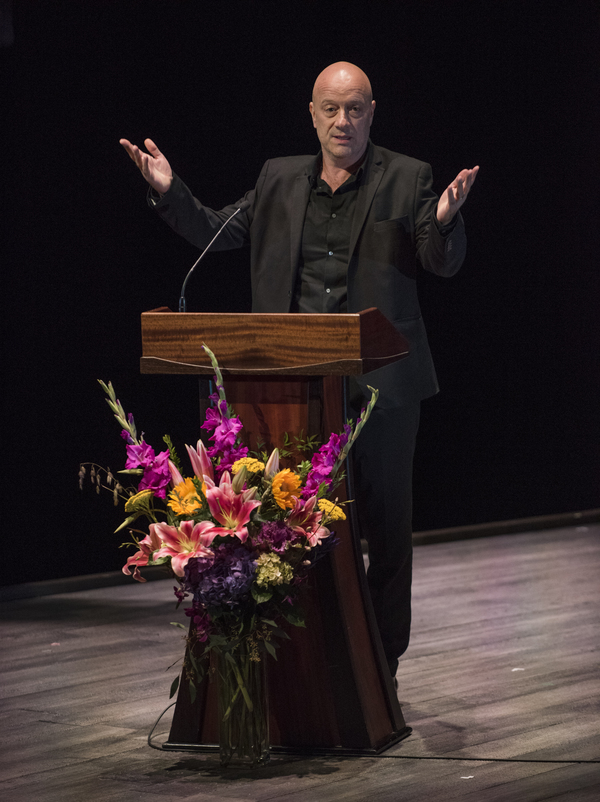 Ensemble member Yasen Peyankov

Ensemble member and co-founder Jeff Perry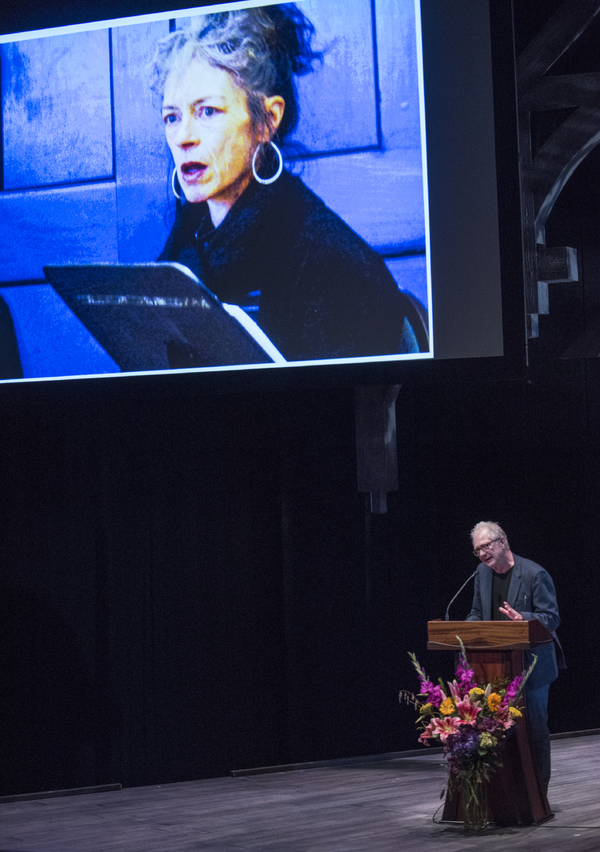 Ensemble member and co-founder Jeff Perry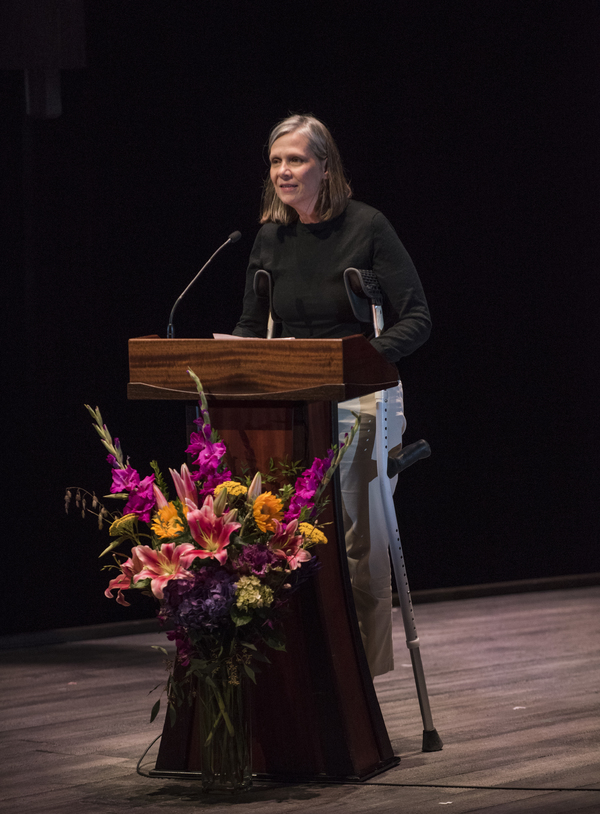 Ensemble member Amy Morton, who also co-curated the evening

Artistic Director Anna D. Shapiro
Related Articles
More Hot Stories For You
Confirmed: Billy Porter Will Play the Fairy Godmother in Upcoming CINDERELLA Film
BroadwayWorld recently reported on a rumor that Billy Porter would be joining the cast of the upcoming Cinderella film from Sony, starring Camila Cabe... (read more)

Breaking: MRS. DOUBTFIRE Will Open on Broadway in Spring 2020 at the Stephen Sondheim Theatre
This just in! Mrs. Doubtfire, the new musical based on the film of the same name, will open on Broadway this coming spring at the Stephen Sondheim The... (read more)

HAMILTON's Miguel Cervantes and Family Mourn Passing of Three Year-Old Daughter, Adelaide
BroadwayWorld is saddened to report that Miguel Cervantes, who plays Alexander Hamilton in Chicago's Hamilton, and his wife, Kelly,  have confirmed th... (read more)

Photo Flash: First Look at Jonathan Groff & More in LITTLE SHOP OF HORRORS
LITTLE SHOP OF HORRORS, starring Jonathan Groff, Tammy Blanchard and Christian Borle, opens October 17 at The Westside Theatre (407 W. 43rd St, NYC), ... (read more)

Ben Platt Reveals Further Details About Upcoming MERRILY WE ROLL ALONG Film
Further details have been revealed for the upcoming Merrily We Roll Along film, starring Ben Platt and Beanie Feldstein.... (read more)

Photo Flash: First Look at Renee Fleming, Dove Cameron, Brian Stokes Mitchell, and More in THE LIGHT IN THE PIAZZA
L.A. Opera presents The Light in the Piazza! Get a first look at the production in the photos!... (read more)