Photos: Stars Come Out for Good Causes at SPEAK UP, RISE UP
First annual Speak Up, Rise Up Storytelling Festival in the East Village
August 14 - 20 at The Connelly Theater
Speak Up, Rise Up, runs until Sunday, August 20 at the historic Connelly Theater in the East Village. The inaugural festival has featured 18 diverse solo and storytelling shows, and 7 community workshop performances over the past week. Show topics range from immigrant rights, stories from former inmates, a storytelling game show, dating in NYC, stories from women leading the resistance, social and racial justice, growing up in East New York, and following in love with a cult leader, among others.
The festival was created by Asher Novek who is a storyteller and community organizer. Asher has worked closely with several local organizations around political organizing and channeling the recent resistance energy towards tangible progress.
Tickets are $15 online/$20 at the door, and are available at www.artful.ly/speak-up-rise-up
Performances take place at the Connelly Theater, 220 East 4th Street (between avenue A & B), New York, NY 10009. Subways: F to 2nd Avenue (closest), 6 to Bleecker Street, B/D/F/M to Broadway-Lafayette. All performances last approximately one hour. More info available at www.speakupriseup.com
Weekend Line-Up Includes:
Saturday, August 19 @ 1:30 pm
Good at Cults - Written & performed by Cait Elliott (Solo-show)
In 2014, Cait met a man in a NYC coffeeshop. Three years later, she shares the raucous tale of joining a cult, falling in love with its leader, and life on the other side. A meditation on spirituality, sexuality, abuse of power and the basic human drive to seek shared through audience participation, stand up and storytelling.
Cait Elliott is an actress, writer, storyteller and teaching artist. She graduated from New York University's Tisch School of the Arts in 2011, where she trained with the Atlantic Theater Company.
Saturday, August 19 @ 3:00 pm
Journeys of the First: When American and Immigrant Identities Collide - Hosted by Dawn Fraser (Storytelling show)
Journeys of the First feature stories and experiences of first generation Americans, and times when their identity as an immigrant, has come into some kind of conflict with their identity as an "American." From Nigeria and India to the Philippines and Trinidad and Tobago, each person has had their own unique perspective on what it means to be from their country of origin, as well as American. However, once embracing this identity, many people have found the need to straddle the line between values that come at odds. From food insecurity and long-distance parenting to living secret lives and reconciling with Trump supporting parents, the show's featured guests will take participants on a journey to explore some of the nuances of being a first-generation American.
Dawn Fraser is the founder and host of Barbershop Stories. Other credits include The Moth Mainstage, Story Collider, RISK!, TED@NYC. www.dawnjfraser.com
Saturday, August 19 @ 6:00 pm
SLIGHTLY FERAL - Hosted by Catie Lazarus (Storytelling show) with special guest Aasif Mandvi of The Daily Show
Join Catie Lazarus, Andrew Bancroft, Leslie Goshko and more for a night of stories about being slightly feral. It is August in New York. Who doesn't feel a little feral? Employee of the Month's host and writer Catie Lazarus will debut all new stories! Plus special guests Andrew Bancroft, who you may recognize as the MC on Employee of the Month or from Freestyle Love Supreme and Eurydice at Ars Nova and Leslie Goshko, a storyteller, Sid Gold's famed cabaret starlet and host of Slideshow Goshko at KGB Bar, will share new stories as well. New! Fun! Slightly Feral! For more, follow @catielazarus
Catie Lazarus is a writer, storyteller and talk show host. Lazarus was awarded "Best Comedy Writer" at the ECNY Awards and named one of New York's "Top 100 New Yorkers." www.lazarusrising.com
Saturday, August 19 @ 7:30 pm
Planned Parenthood NYC
Over the past 100 years, Planned Parenthood of New York City has become a leading resource for health care and information for New Yorkers from all communities. We are thrilled to announce that we'll be partnering with the Speak Up, Rise Up Storytelling Festival, where patients, staff members, volunteers, and supporters will share their stories of resistance and resilience. Inspired by Michelle Chen's 2015 article, "The War Against Planned Parenthood Is Also an Assault on Poor Women of Color," the showcase will shine light on how the assault on reproductive health and rights has impacted and oppressed various communities, stemming from the GOP-led insistence on putting an end to safe, affordable health care for all. www.plannedparenthood.org/planned-parenthood-new-york-city
Saturday, August 19 @ 9:00 pm
A Night of Subjective Comedy with Aparna 'N Friends - Hosted by Aparna Nancherla (Storytelling show)
Aparna has always been unsure of herself. In fact, she has spent a good deal of her life trying to figure out why exactly other people aren't. Spend an evening with her, aided by some extraordinary cohorts, as she bumbles her way through a show that offers no answers, but does raise more questions. The only guarantee is no guarantee, no warranty, no problem. Sound intriguing? If so, please lower your expectations and come on down.
Host Aparna Nancherla credits include Crashing & Master of None/HBO, Inside Amy Schumer, The Jim Gaffigan Show. Aparna was also a writer for Late Night with Seth Meyers. www.aparnacomedy.com
Saturday, August 19 @ 10:30 pm
Surprise Stories - Hosted by Colin Wilhm (Storytelling show)
Surprise Stories is the world's first storytelling game show. We combine storytelling and improv in a cage match setting. The audience gets to choose the themes and winners of each round. It's fun for the whole family.
Colin Wilhm is a writer and storyteller. He helped produce the HBO documentary series The Jinx: The Life and Deaths of Robert Durst, and the documentary film Catfish. He has been featured on Queer Memoirs, Tell It: Brooklyn, Cinema Stories, Whatever Happened to the Nerds, among others. www.facebook.com/surprisestories
Sunday, August 20 @ 12:00 pm
#WeAreDefiant: The Story of a Generation - The Defiant Network
Defiant is a next-generation community committed to rebuilding the promise of America. We do this by identifying, curating, and amplifying successful leaders and communities taking democracy into their own hands. This summer, Defiant is traveling the country to document the leadership of young people who are shepherding their communities through generationally-defining crises: opiate addiction, mass incarceration, devastating debt, environmental injustice, the 1099 economy, among others. Defiant is excited to pilot a collective storytelling experiment of our generation at Stand Up, Rise Up. www.wearedefiant.net
Sunday, August 20 @ 1:30 pm
How Hard? - Hosted by Nisse Greenberg (Storytelling show)
As the prison industrial complex grows, people working to fight against it are also growing in numbers. In this show, we will hear stories from those have been on the inside and been in the trenches working to stop 21st century slavery. We will hear the struggle from those effected most personally.
How Hard? Is hosted by Nisse Greenberg (Creator of Drawn Out, Bad Feelings, VHS Presents other storytelling shows), and features stories by Darney "K Born" Rivers (CEO for I am Community - a non-profit organization that promotes public safety by bringing mental health awareness and parenthood workshops to the community), Travis Brown (founder of Miracle of Nature, a skin care line that he imagined while serving time), Samantha Gupta (court appointed defense lawyer in Brooklyn for the Legal Aid Society), Ismael Nazario (his TED Talk "What I learned as a kid in jail" has been viewed over 1 million times). Dawn Fraser (TED Talks, The Moth) serves as assistant producer.
Sunday, August 20 @ 3:00 pm
No, We Won't Shut Up! - Hosted by Robin Bady (Storytelling show)
There's lots wrong in the world today, and these women have something to say about it. And, no you can't stop them because their time is NOW!
Featuring Robin Bady (her new solo show "Nancy Drewinsky and the Search for the Missing Letter" will premiere at the United Solo Festival Sept. 21), Michele Carlo (MOTH's GrandSlams, NPR with Latino USA), Nicole Ferraro (personal essays published in The New York Times, Story Collider Magazine), Megan Hicks ("Her performance so engages the listener that it pushes the boundaries" AudioFile), Valentina Ortiz (As a storyteller and a musician she has traveled the world and published 4 books), and Angel Yau (Risk!, Mortified, NY Sketchfest).
The issues range from white privilege, racism, wage theft, gentrification in Brooklyn, sexual harassment by a police officer. Storytellers share their personal and ultimately inspiring stories.
About the Speak Up, Rise Up Festival
Speak Up, Rise Up, under the Artistic Direction of Asher Novek, is a first-year storytelling festival which focuses on bringing traditional and non-traditional performers together. The focus of the festival is to raise the profile of people and communities, whose stories we don't often hear.
The Advisory Committee includes: Destiny Arturet, David Crabb, Nicole Ferraro, Anita Flores, Susan Kent, Mark Pagan, Larry Rosen, and Jordan Schulze.
Community partners of Speak Up, Rise Up include; NYC Veteran's Alliance, Lady Parts Justice League, Planned Parenthood of NYC, The Future Project, Theater of the Oppressed NYC, The Muslim Community Network, and Razom for Ukraine. Each organization is offering a workshop which will focus on personal storytelling for team members and their communities. The workshops will culminate in a community showcase during the festival.
Direct Sponsorship includes, Babeland, Lagunitas Brewing, FWD.us, I Am A Imigrant and We Get Depressed.
Media Partners include, Civic Hall, Millennial Politics, and Action Group Network.
Facebook: www.facebook.com/speakupriseupfestival
Twitter: www.twitter.com/SpeakUp_RiseUp
Photo Credit: Dana Trunk


Giulia Rozzi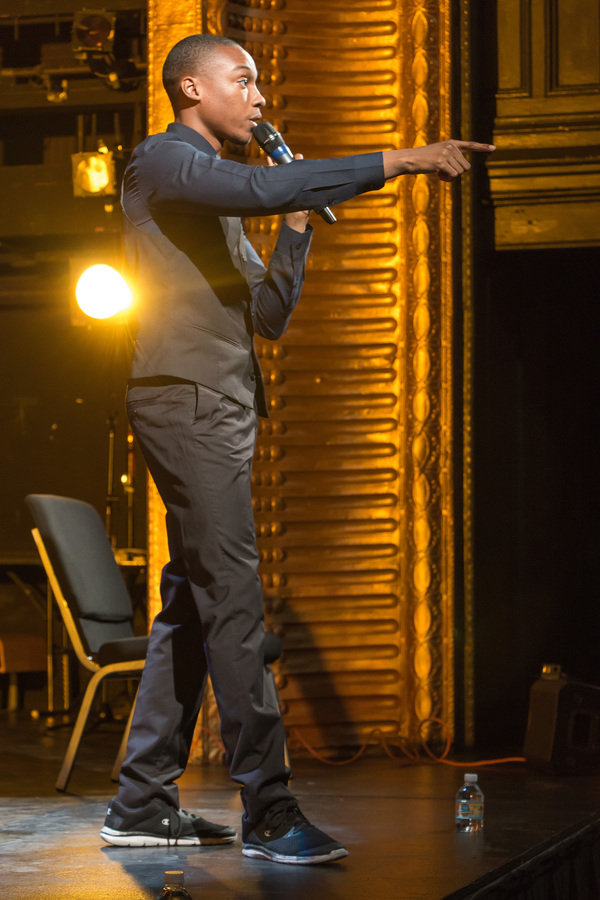 Josh Johnson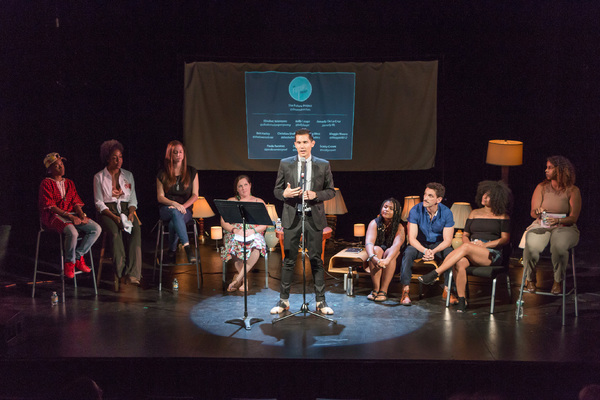 The Future Project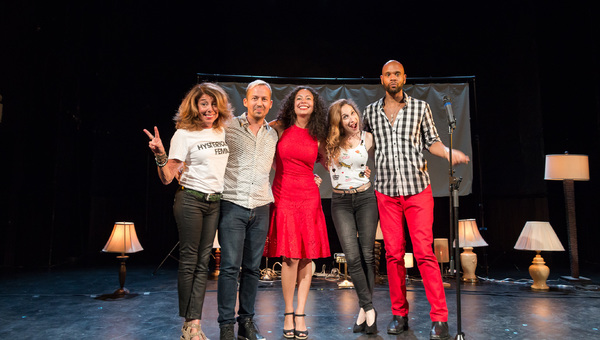 Singleling with Vanessa Valerio ​

Shannon Cason

Ophira Eisenberg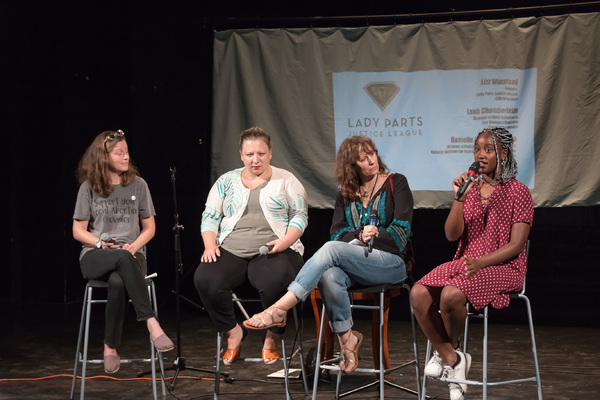 ​Lady Parts Justice League