Patrons Ask For Refunds Following 'Terrible' Performance of THE WIZ in Louisville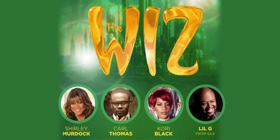 A recent performance of The Wiz at Brown Theatre in Louisville had patrons asking for a refund, according to Courier Journal.
The production, put on by Island Entertainment KC, of Kansas City, Missouri, is being called "terrible" and "sloppy" by those in attendance.
"The whole thing is weird," said an employee of the Kentucky Center. "Some people didn't stay more than nine minutes through the show. There was a woman who was so distraught she walked out and spent the entire time talking to the ticket sales people as the show was going on."
A patron of the show, Helen Barnett, said she spent $65 on her ticket, but said the show was "janky." She commented that Dorothy was wearing a "Walmart dress" and the actors forgot their lines.
An actor from the show, Kori Black, spoke out about the performance on Facebook, following the backlash. She said that the 3pm show ended up being a dress rehearsal, and acknowledged there were "a lot of issues."
However, it seemed that the following performance had issues of its own.
Tasha McGhee, a patron of the 7pm performance, noted plenty of problems, including the Cowardly Lion's costume missing a tail, a mane, and one of his paws. In addition, she said at several points in the show, the lights had to be dimmed because the cast and crew set the wrong scene. The projected background was coming from a laptop that kept displaying notifications throughout the show, McGhee said.
Patrons who request a refund are directed to call the Kentucky Center Box Office, 502-584-7777, which will then be forwarded to Island Entertainment. As all revenue is Island Entertainment's, it is their responsibility to handle those requests, according to Christian Adelberg, a spokesman for the Kentucky Center.
Read more on Courier Journal.
Related Articles