New York Regional Premiere Of THE HUNCHBACK OF NOTRE DAME Cast Announced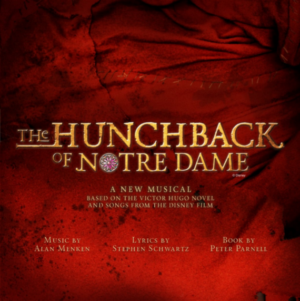 The White Plains Performing Arts Center (WPPAC) presents the first New York professional production of THE HUNCHBACK OF NOTRE DAME onstage from December 22 - January 14.
From the Oscar-winning composer team Alan Menken (Aladdin, The Little Mermaid) & Stephen Schwartz (Wicked, Pippin) comes a lushly scored retelling of Victor Hugo's (author of Les Miserables) epic story of love, acceptance, and what it means to be a hero. The Hunchback of Notre Dame showcases the Disney film's Academy Award-nominated score.
The musical begins at the famed cathedral in fifteenth-century Paris. Quasimodo, the deformed bell-ringer who longs to be "Out There," observes all of Paris reveling in the Feast of Fools. Held captive by his devious caretaker, the archdeacon Dom Claude Frollo, he escapes for the day and joins the boisterous crowd, only to be treated cruelly by all but the beautiful gypsy, Esmeralda. Quasimodo isn't the only one captivated by her free spirit, though - the handsome Captain Phoebus and Frollo are equally enthralled. As the three vie for her attention, Frollo embarks on a mission to destroy the gypsies - and it's up to Quasimodo to save them all.
A sweeping score (accompanied by a 15 piece orchestra & 30 person choir) and powerful story make The Hunchback of Notre Dame an instant classic. Audiences will be swept away by the magic of this truly unforgettable musical.
The cast features the talents of Anna Baker (Ensemble), Matthew Billman (Captain Phoebus de Martin), Melanie Burg (Ensemble), Bobby Cassell (Quasimodo), David Thomas Cronin (Saint Aphrodisius), Jenna Dallacco (Esmeralda), Jarrad Biron Green (Clopin Trouillefou), Chris Guzman (Lieutenant Frederic Charlus), Katelyn Lauria (Madam), Joey Nelan (Ensemble), Rebecca Skowron (Ensemble), Dustin Harris Smith (Jehan Frollo), James Smith (Father Dupin), Cecilia Snow (Florika), Anna Laura Strider (Ensemble), Esteban Suero (Ensemble) and James Zannelli (Dom Claude Frollo).
THE HUNCHBACK OF NOTRE DAME is Directed by Frank Portanova with Musical Direction by Stephen Ferri and Choreography by Lexie Fennell Frare. Scenic Design by Christopher & Justin Swader, Lighting Design by Jamie Roderick, Choir Direction by Tom Cuffari, Stage Managed by Jessie Jardon. Music by Alan Menken, Lyrics by Stephen Schwartz, Book by Peter Parnell. Based on the Victor Hugo novel with songs from the Disney film.
THE HUNCHBACK OF NOTRE DAME will play the White Plains Performing Arts Center Friday, December 22 7pm; Saturday, December 23 2pm & 7pm; Wednesday, December 27 7pm; Thursday, December 28 2pm; Friday, December 29 7pm; Saturday, December 30 2pm & 7pm; Thursday, January 4 11am; Friday, January 5 7pm; Saturday, January 6 7pm; Sunday, January 7 2pm; Wednesday, January 10 2pm; Friday, January 12 7pm; Saturday, January 13 7pm; Sunday, January 14 2pm. The White Plains Performing Arts Center is located on the third level of City Center off Mamaroneck Avenue in downtown White Plains, minutes from the White Plains Metro North Station. For tickets visit the theatre box office Monday-Friday (11am-6pm), purchase the tickets online at wppac.com or call 914-328-1600. For Group Sales, please contact boxoffice@wppac.com.
THE HUNCHBACK OF NOTRE DAME is a WPPAC MainStage Production which is a professional production featuring union and non-union actors from Broadway, national tours and regional theatre across the country. These productions are created from scratch, staffed with professional production teams (directors to designers), large LIVE orchestras and boast high-quality sets and costumes.
THE HUNCHBACK OF NOTRE DAME is sponsored in part by the Cappelli Organization, The Complete Golfer, Entergy, GA Fleet and Yost & Campbell.