Netflix 'Fauda' Star Firas Nassar To Make New York Stage Debut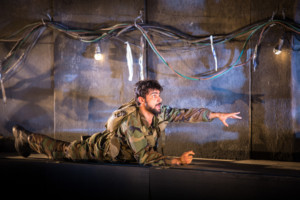 Actor Firas Nassar's breakout performance in the role as Nidal al-Makdasi in the hit Israeli Netflix series Fauda, now in its second season ("the best international series of 2017" (The New York Times), has created a rising Arab/Israeli star, making him one of the exciting and sought-after actors coming out of the region. He will make his NY stage debut this October when Israel's celebrated Gesher Theatre returns to New York City on a North American tour under the auspices of the Cherry Orchard Festival. The Gesher performs its two leading productions at the Gerald W. Lynch Theater at John Jay College (524 W. 59th Street in NYC). Mr. Nassar is featured in the political satire, In the Tunnel, on October 6th at 8PM and 7th at 2PM. The Gesher is also presenting The Dybbuk, arguably the most iconic play of the entire canon of Jewish drama, on October 3rd and 4th at 8PM. Tickets are $55. - $125 and are available online at CherryOrchardFestival.org.
Firas Nassar plays the role of Hisham in the political satire In the Tunnel, by Roy Chen, inspired by the Best Foreign Language Oscar-winning film No Man's Land by Danis Tanovic. Two Israeli soldiers and two Palestinians are trapped in a tunnel dug by Hamas between Gaza and Israel. Enemies snared in a mousetrap, they try to find their way out. Should they kill or save each other? Meanwhile, above ground, a political and media circus attempts to capture the event. The cast of nine is directed by award-winner Irad Rubenstein
The Dybbuk, by Roy Chen based on S. Ansky's classic play, tells the story of a young Hasidic woman who became possessed on the eve of her wedding by the dead spirit of her beloved, a young scholar whom her parents forbade her to marry. The esteemed Gesher Artistic Director Yevgeny Arye directs the cast of 25.
Both productions are performed in Hebrew with English and Russian Supertitles
In the Tunnel will head to Pittsburgh's International Festival of Firsts where it will be performed on October 11-13 at the August Wilson Center.
The young actor is a graduate of the Nissan Nativ acting studio in Tel Aviv. He made his television debut in December 2017 when the second season of Fauda aired. The critically acclaimed series was first introduced to international audiences in 2016 after being bought by the streaming service Netflix, with the second season premiering worldwide May 2018. Coming from a classically trained background, he continues to work with Gesher Theatre, where he will be in the cast of The Kite Runner, a stage adaptation of Khaled Husseini's best-selling novel, which opens on September 6 at the company's theater in Tel Aviv. He is repped by Abrams Artists Agency in the US and Perry Kafri Agency in Israel.
Gesher Theatre was founded in 1991 by director Yevgeny Arye and a troupe of Russian actors, who in pursuit of artistic freedom, immigrated to Israel from Moscow. In its early days, the theatre served as one of the few bilingual theatres in the world, staging every play both in Hebrew and in Russian. Today, Gesher Theatre performs solely in Hebrew, while still maintaining its close ties with the Russian culture and heritage.
Over the years and under Arye's leadership as Artistic Director, the Gesher Theatre has won a place of prominence in the Israeli cultural scene as well as in the international arena. In 27 years of existence, Gesher Theatre has created more than 100 theatre productions which have won numerous awards and appeared on the world's most prominent stages and festivals. As befits its name, which means "bridge" in Hebrew, Gesher Theatre sees its goal as being a source of integration in Israel multicultural society, promoting new generations of young theatre artists and presenting a repertoire composed of world classics alongside well-known texts from Jewish literature.
The Gesher Theatre was last seen in New York in 2013, where the Cherry Orchard Festival presented the company in The Enemies: A Love Story, based on the novel by Isaac Bashevis Singer and adapted by Roy Chen, at Jazz at Lincoln Center's Rose Theater.
Previous New York productions include: Tom Stoppard's Rosencrantz and Guildenstern are Dead at BAM (1992); Joshua Sobol's Village and Adam Resurrected, by Alexander Chervinsky, based on the novel by Yoram Kaniuk, at Lincoln Center Festival (1998); The Dreyfus File by Jean-Claude Grumberg (2001); The Slave and Shosha, based on works by Isaac Bashevis Singer at Lincoln Center Festival (2004); and Momik, based on David Grossman's novel See: Under Love, at Borough of Manhattan Community College (2008).
The Cherry Orchard Festival, a production of the Cherry Orchard Foundation, is a celebration of the international arts in the heart of New York City and beyond. Each of its world-class, multi-disciplinary performing and visual arts attractions is unique and never has been presented before in the US. Since its inception in 2012, the Cherry Orchard Festival welcomed over 100,000 people of all ages, presenting 60+ events, concerts and theatrical performances on the highest artistic level.
The Festival's creative team finds the newest and most daring projects in the international arts arena and introduces it to the audience. The Festival's mission is to initiate and promotes global cultural activity and exchange of ideas to an inter-generational audience through entertaining and educational programming and events in all genres. The Festival's team is committed to providing the finest entertainment, exceptional musical performances and enlightening educational programs to its patrons. Visit www.cherryorchardfestival.org to donate and to find more information about upcoming performances.
Related Articles
More Hot Stories For You
The Drama Book Shop, Now Co-Owned by Lin-Manuel Miranda, Will Reopen in March
 It was announced today that The Drama Book Shop will reopen its doors in March 2020 at its new Times Square home at 266 West 39th Street (between 7th... (read more)

HADESTOWN Becomes First Musical Of 2018-2019 Season To Recoup Investment
Hadestown, the Tony Award-winning Best New Musical has become the first musical of the 2018-2019 Broadway season to recoup its initial investment of $... (read more)

Voting Now Open For The 2019 BroadwayWorld New Jersey Awards, Presented by TodayTix!
Voting is NOW OPEN for the 2019 BroadwayWorld New Jersey Awards, brought to you by TodayTix! The nominees are set, and now you can vote to make sure y... (read more)

TOOTSIE To Play Final Broadway Performance in January
It was announced today that the Tony-nominated musical TOOTSIE will play its final performance at at the Marquis Theatre on Sunday, January 5, 2020.... (read more)

Betsy Wolfe and Matt Bogart Will Star in Developmental Reading of Original New Musical INDIGO
Sing Out, Louise! Productions will hold a developmental reading of Indigo, an original new musical featuring music & lyrics by MAC Award winning compo... (read more)

LES MISERABLES Changes Dates of Broadcast in U.S. Cinemas
Les Misérables a?" The Staged Concert will be shown in cinemas across North America on Sunday December 8 & Wednesday, December 11 from the Gielgud The... (read more)