Naked Angels & Arlene Hutton Among Recipients of the Access Theater Residency Program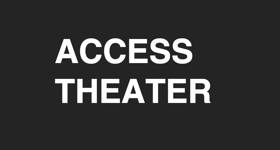 Access Theater is thrilled to announce the theater companies and artists who have been selected for their upcoming 2017-2018 Residency program. The six theater companies to participate include: Naked Angels, Concrete Temple Theatre, Everyday Inferno, New Light Theater Project, No. 11 Productions, and Thicket & Thistle; the nine individual artists include: Joey Brenneman, Arlene Hutton, Wes Goodrich, Lisa Huberman, Steven Meeker Jr., Kyle Metzger/Dina Vovsi, Robert Siverls, and Sarah Wansley.
Artists were asked to submit an idea that they were looking to develop at Access Theater, as the program aims to provide an artistic home for artists to do what they need to in order to develop a piece, regardless of outside pressure and deadlines. Based on the proposed ideas, with an interest in preserving diversity among its applicants and balancing between emerging and established artists, a panel selected fifteen applicants to take part in the Residency.
All of the selected companies are based in New York and the selected artists have either planted roots firmly in the New York Theater community or are looking to establish themselves as an artistic presence and entity within the city. The Residency Program builds upon a long history of Access Theater and its unwavering commitment to supporting artists.
Says Artistic Director Sarah Norris, "With the program entering its second year, we're thrilled to welcome this year's group of residents. Access Theater has long served the downtown Manhattan community and, after twenty-five years, still strives to be a welcoming home for artists and a place where some of the best theater is being developed."
Last year served as the inaugural Residency Program, in which Access supported companies like Elevator Repair Service who workshopped their experimental take on Measure for Measure which will premiere at The Public next season. Waterwell prepped for their successful winter run of Blueprint Specials, performed at the Under the Radar festival.
Newly established companies like Primitive Grace, led by David Zayas and Paul Calderon, workshopped and ran their new play, Fringe of Humanity, in our Black Box. And companies like Everyday Inferno, New Dance Theatre, New Light Theater Project, and The Boom! Agenda Theatre Collective developed new and diverse work for the stage.
Since 1992, Access Theater has been a home to New York City's leading downtown artists. It's twenty-five year history is rich with the early works of then-unknown theater artists, including: Stephen Belber, Brian Dykstra, Tom McCarthy, Peter Dinklage, Amy Redford, Aasif Mandvi, Michael Hollinger, David Foley, and Bedlam. Other artists who have worked at Access Theater include Julie Taymor, RoBert Woodruff, The Public, Moises Kaufman, Ethan Hawke, Labyrinth, and Allan Ball. Access Theater leadership includes Jacqueline Christy (Executive Director), Sarah Norris (Artistic Director), and Michael Aguirre (Producing Director). Upcoming: Access will present a co-production with No. 11 Productions of the new play, Friends Call Me Albert, beginning August 23rd. The residency begins September 1, 2017 and lasts through August 31, 2018. For more details about the residents and their projects, visit accesstheater.com.