Click Here for More Articles on NY Public Library for the Performing Arts
NY Public Library's Digital Curatorial Assistant, Stephen Bowie, on Revisiting BAKER STREET
BroadwayWorld continues our exclusive content series, in collaboration with The New York Public Library for the Performing Arts, which delves into the library's unparalleled archives, and resources. Below, check out a piece by Stephen Bowie, Digital Curatorial Assistant of The New York Public Library for the Performing Arts, on Revisiting Baker Street: An Interview with Jerome Coopersmith.
---
Last year, the Billy Rose Theatre Division of the New York Public Library for the Performing Arts acquired the scripts of the playwright Jerome Coopersmith, a lifelong New Yorker perhaps best known to theatre buffs as the librettist for the Sherlock Holmes musical Baker Street.
As a young man Coopersmith got his start in the then-New Medium of television, when most programs were still broadcast live. A early specialist in docudramas, including the long-running Armstrong Circle Theatre, he's probably best-known as one of the most prolific contributors to the classic police drama Hawaii Five-O. During the 1960s, though, Coopersmith took a hiatus to focus on the stage, writing not just Baker Street but part of the book for The Apple Tree and a musical about Mata Hari that closed on the cusp of a New York run.
The bulk of the scripts that Coopersmith gave to the library represent his television work, but the collection also includes multiple drafts of Baker Street, as well as most of his other plays and librettos. (The collection is still unprocessed, and not yet available to researchers; contact the Theatre Division for more information.)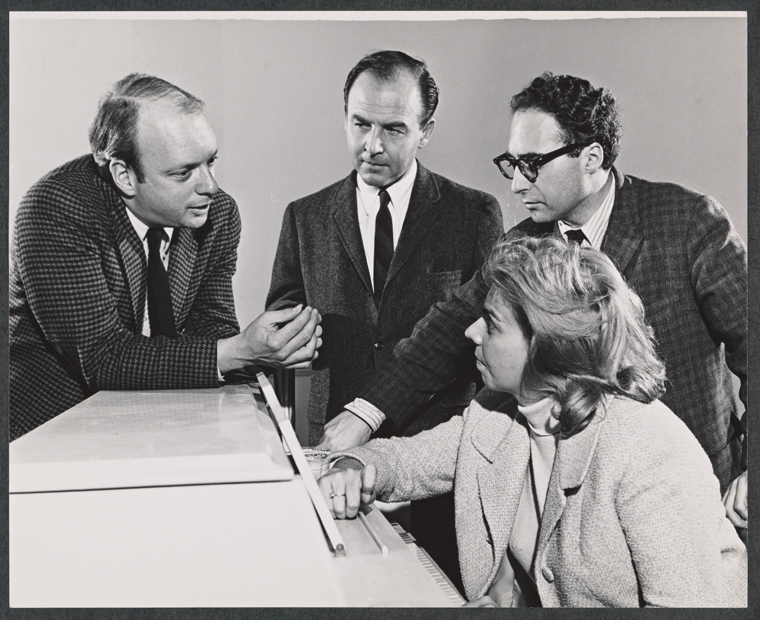 Recently Coopersmith, now 92, recalled some of the highlights of his Broadway days in an e-mail interview.
Many writers of your generation got their start in television, and I know you spent more than a decade writing for TV before your breakthrough in the theatre. Was writing plays (and specifically musicals) your end goal, or just something that happened along the way? Or did the medium not matter to you?
Writing short plays for television was the beginning of my life as a dramatist. In that early stage, I was lucky to have as a friend and mentor the great American playwright, Horton Foote,
who taught me more than I could learn in any school. TV writing became my major career. It included cop series, medical dramas, made-for-television movies, and episodic dramas based on actual events. I was on a high level of TV writing when I ventured into the theatre. My first theatrical effort was Eleanor, a play about the early life of Eleanor Roosevelt that won a drama competition held by the Massachusetts State College at Bridgewater. It was later produced in Hunter College, New York, with the Roosevelt family in attendance, and in the Washington D.C. Portrait Gallery in conjunction with the Eleanor Roosevelt Centennial.
My next theatrical effort was a musical.
Did the idea of a Sherlock Holmes musical originate with you, or the producer Alexander Cohen, or via some other avenue altogether?
I woke up one morning with a vision in my head - a vision of Sherlock Holmes singing on a stage. I don't know where the idea came from, but there he was, wearing his deerstalker cap, his cherrywood pipe in hand, singing about a deduction that enabled him to solve a crime. The idea haunted me for days. Why not a musical Sherlock Holmes? The characters and stories created by Sir Arthur Conan Doyle were much larger than life. Isn't that the essence of a musical?
My first challenge was - what story would I tell? I re-read the Sherlock Holmes stories I had enjoyed many years ago, and found that not one of them had all the landmarks I would need for a play: the evil Professor Moriarty, the American singer Irene Adler (Doyle called her "the woman" in Holmes' life), the ragged street urchins known as the Baker Street Irregulars who assisted Holmes in his adventures, and of course the great detective himself and his friend Dr. Watson. So it dawned on me that I would have to create a story of my own that contained all of those elements. I felt that it should be connected to an historic event in England to give it importance. That's where the New York Public Library came in.
I spent days in the reading room at 42nd Street and Fifth Avenue scanning newspapers of the 19th Century. There were no computers in those days, but they had a machine that allowed you to scroll back issues of papers. With a hand-crank I turned page after page, finding stories of fires in factories, cargo ships lost at sea, and an outbreak of chicken pox in Singapore. When the right page came into view, I knew I had found my treasure. It was Queen Victoria's Diamond Jubilee in 1897, the celebration of her 60th year of reign, the biggest event in Europe of its time. All the characters I needed fell into place: Irene Adler would be performing in a London theatre as a tribute to the Queen. Professor Moriarty would be planning to steal the gifts from all over the world that were arriving for Her Majesty, and when those gifts were stolen, who but Sherlock Holmes would be able to track them down and bring Moriarty to justice. When I finished the play, my agent showed it to producer Alexander Cohen. He optioned it within five minutes.
Can you describe the gestation of Baker Street? I know there were three teams of songwriters involved, and Joshua Logan was set to direct at one point. Was there any material that didn't make it into the Broadway production that you regretted losing?
Regarding the score, the first songwriters I teamed up with, [Dennis] Marks and [Alan] Friedman, didn't work out. Alex Cohen put me together with another songwriting pair he knew in Canada, Ray Jessel and Marian Grudeff. They remained as composer and lyricist of the show. Just before the out-of-town tryouts, Cohen engaged Jerry Bock and Sheldon Harnick to write three additional songs, for which they agreed to receive no credit. Jessel and Grudeff continue to be listed as creators of the score.
Josh Logan considered directing for a while. We had several meetings in his upscale apartment near the East river, but Logan finally bowed out. I never knew why. Hal Prince got the job, and we got along well. Hal had the good sense to tell me he had a tendency to do things in directing that were overly comical, and that I should be on the alert for them, and sound the alarm
when necessary. In one scene, when Holmes and Moriarty were thought to be dead, their funeral processions passed in the street, and Hal had the two coffins bumping into each other which made me cringe in my seat. Hal agreed to cut the scene. I had high regard for his ability to self-correct.
When I went through the Library's clipping file on Baker Street, my main impression was of how energetically Alexander Cohen ballyhooed the production. Do you have any favorite stories about Cohen?
Alexander Cohen was a modern replica of P. T. Barnum, a kind of publicity genius who could hardly cross a street without making headlines. Sometimes he went over the top, but you need people like that in the theatre because they can make things happen. He certainly got "Baker Street" onto a stage.
My favorite story about Cohen: When Baker Street was playing out of town before its New York run, Alex called me in Boston to tell me he had arranged for me to be interviewed on a Boston radio show. It was not good news to me because at that time I had a severe case of mic-fright, and was terrified by the thought of millions of people listening to me.
"Not a problem," Cohen said. "Fritz Weaver, our star, will be on the panel with you, and he'll do most of the talking." I was somewhat relieved.
The day before the radio show, Fritz called to tell me he couldn't make it because he had a rehearsal scheduled, so I would have to do it alone. In panic, I called Alex Cohen in New York, and told him I couldn't do it.
"We can't blow it," he said. "The host is an important theatre critic. He'll kill us if no one shows up."
Cohen finally agreed to come to Boston himself and sit with me on the panel so that I would not be alone in the interview.
On the day of the show, I waited for Alex outside of the radio station, determined not to go in if he didn't show up. But his chauffeured limousine did arrive, and together we entered the building. There we were on the studio panel with a large clock above our heads ticking the seconds before air time. Ten ... nine ... eight ... seven ...
... and finally on the air!
And then a strange thing happened. The host asked a question, and Cohen opened his mouth but never said a word because I jumped in and began to talk and talk and talk, glibly, clearly, precisely. I don't know what came over me, but somehow my mic-fright was suddenly cured. When the show ended, I was afraid that Cohen would be angry at me for making him come up to Boston. But he wasn't angry. He just stared at me with admiration.
"You were pretty good," he said.
Was Fritz Weaver the first choice to star as Sherlock Holmes? And, more generally, I'm curious about your impressions of the auditions and early rehearsals on what was, I'm guessing, a larger-scaled production than anything you'd done up to that point.
Fritz Weaver was not the first choice. We tried almost every English star who could fit the role, including Rex Harrison, but none accepted. Fritz, although an American, had the kind of persona that could be convincing as an Englishman, and we were delighted to have the fine actor that he was. When the Broadway run ended, actor Michael Rennie agreed to play the role in a nation-wide tour of Baker Street. But unfortunately Alex Cohen was having financial problems, and the tour was canceled.
I was in awe at the early rehearsals of Baker Street. I had never done anything that large in scale. I had a secret fear that perhaps it was being over-produced, but I didn't want to step on the toes of the man who was bringing it to life. In later stagings such as the Off-Broadway production in the York Theatre and the 2016 revival in San Francisco, I found that a smaller production of Baker Street worked better in creating the intimate fireside atmosphere of the Conan Doyle stories. In all versions, the story of the play remained the same - the story that earned Baker Street a Tony Nomination as Best Musical in its original Broadway run.
The Doubleday-published Baker Street was well received by Sherlockians on both sides of the Atlantic. The Sherlock Holmes Society of London thought highly of the play. That was evident
when they invited me to one of their annual dinners held in the House of Parliament. I didn't mind in the least taking my tuxedo out of mothballs and sending it to the dry cleaners.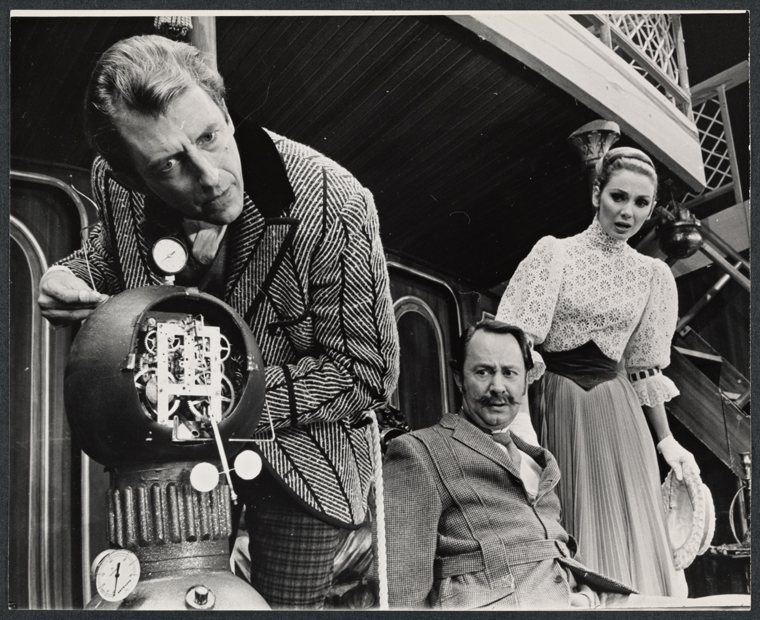 Having looked at your script and read some of the reviews, I'm still having a hard time visualizing how the Bil Baird Marionettes figured into Baker Street. How did audiences react to that rather offbeat idea, and how did it come about?
In preparing Baker Street for Broadway the time came when we wondered how to depict Queen Victoria's Diamond Jubilee parade. Would it be choreography? Film? Or merely off-stage sounds and music. Then someone suggested a Bil Baird puppet display. It was a wonderful idea. Bil Baird created a puppet parade of splendor and simplicity. It could be operated by one man standing in the wings and turning a crank. When he did, the parade crossed the stage with marching battalions of Coldstream Guards, some mounted on horseback, and a golden horse-drawn carriage in which the Queen could be seen waving to people on the street. It was a widely publicized feature of the show, and audiences loved it.
Were you involved at all in the plans for a film version of Baker Street?
I was involved in a plan for a film version for a short while. MGM made the original cast album of Baker Street and as a result they had the optional rights to make the movie. I had several meetings with Michael Anderson, who was chosen to direct the film. Unfortunately MGM then announced that it was giving up the production of movie musicals.
Can you talk about the process of working with Bock and Harnick on The Apple Tree, and why they opted to complete the book on their own? Were you involved at the same time as Mike Nichols?
I worked with Jerry Bock and Sheldon Harnick on The Apple Tree, which was a musical based on three American short stories. I was involved in writing only one of the three, so I could never claim credit as book writer for the entire show. The segment I wrote was based on Mark Twain's "Diary of Adam" and "Eve's Diary." My adaptation of them was approved by the original director, Jerry Robbins, but he quit the show for reasons of his own and was replaced by Mike Nichols. In later years, Sheldon Harnick graciously told people that the Adam and Eve segment retained about 80 percent of my original adaptation. It was the segment that drew raves from the critics. Somehow I was able to get into Mark Twain's mind, and understand his humorous yet loving attitude towards the Garden of Eden couple.
You also gave us your script for Mata Hari, another big Broadway-style musical, but one that closed out of town. It was directed by Vincente Minnelli and produced by David Merrick - a pretty impressive team. Why do you think the show didn't make it to Broadway?
Mata Hari was an important time in my life. The musical drama was created by myself (book), Edward Thomas (music), and Martin Charnin (lyrics). It took me a long time to figure out how to portray the woman who was executed by France as an enemy spy in World War I. I read all the books I could find about her, and they were all different. Many believed that she was not guilty, and that she was executed by France because they needed a scapegoat to blame for their shamefully lost battles. I finally came up with a way of telling the story. The question of Mata Hari's guilt was of minor importance compared to the guilt of those who created the war. Having been through a war myself, I relished the chance to make a statement against the brutal exercise we partake in so often. I have tried to use my job as a writer to help bring about needed changes in the world. I may not have succeeded very often, but I've tried.
Mata Hari opened in Washington DC in the midst of the Vietnam War. At the last pre-opening dress rehearsal producer David Merrick filled the audience with prominent government figures, the very people who were prolonging the Vietnam War. When the curtain rose on a World War I soldier in the trenches singing "This is not a very nice war" the government figures in the audience began to feel an uncomfortable connection. To make things worse, many stage effects went wrong, but the most violent turmoil was the clash of ideas between the play and the audience VIPs.
I can only imagine what angry telephone calls went on between high government figures and the office of David Merrick. All I know for sure is that Merrick announced the show would close in Washington, and not be brought to New York.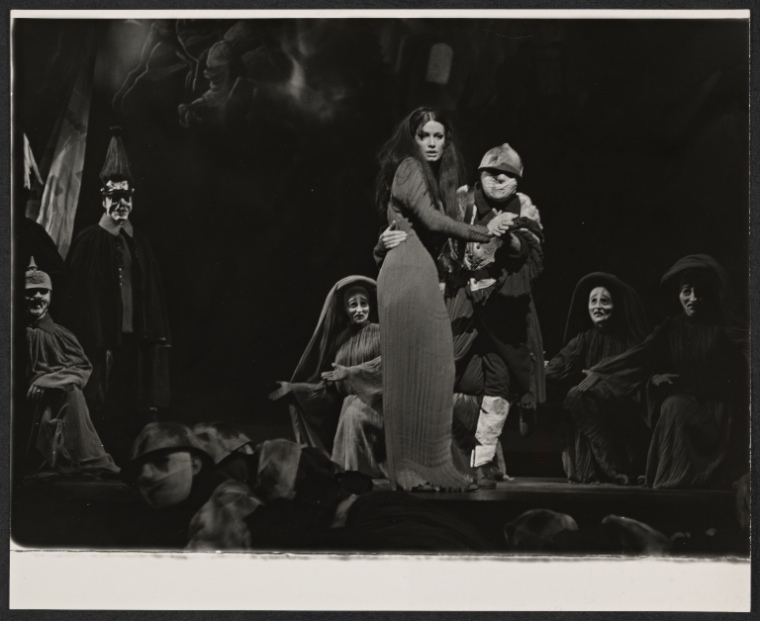 Photos courtesy of The New York Public Library for the Performing Arts