Michelle Visage Will Join the Company of EVERYBODY'S TALKING ABOUT JAMIE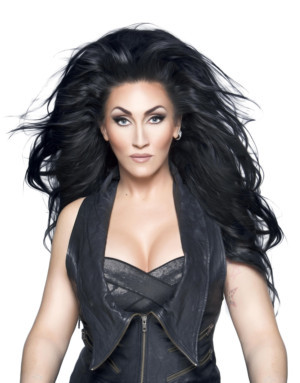 Everybody's Talking About Jamie, the award-winning feel good musical sensation, has announced that internationally renowned personality, Michelle Visage, will be making her West End musical debut playing the role of Miss Hedge from Thursday 18 October 2018 to Saturday 26 January 2019.
Nica Burns, Producer of Everybody's Talking About Jamie said: "We are all absolutely delighted to welcome Michelle Visage to the cast of Everybody's Talking About Jamie as our new Miss Hedge
Michelle blew us away with her fantastic singing voice, her excellent characterisation of the part and her charismatic stage presence."
Michelle Visage said: "I am BEYOND thrilled to be making my West End debut in Everybody's Talking About Jamie! The reason I chose this show in particular is because of the very important message it tells. It is a great show with great music and talent but more importantly it's about love, truth and the tenacity of the human spirit! Also there is a HUGE bonus: I get to live in London, one of my favourite cities in the world! I can't wait to help audiences to fall in love with the show the way I did when I saw Everybody's Talking About Jamie for the first time and understand why everyone REALLY IS talking about Jamie!"
Michelle is an internationally renowned, platinum selling recording artist, actress, author, television personality, podcast co-host, radio show host, who has made a name for herself in the entertainment industry, across multiple mediums for the past three decades. Michelle is best known in the UK for being a judge on Ireland's Got Talent and America's hit TV show RuPaul's Drag Race, which recently won Outstanding Reality-Competition Program at this year's Primetime Emmy Awards. Michelle hosts a podcast with RuPaul named RuPaul: What's the Tee with Michelle Visage which won the award for Best Host at this year's 22nd annual Webby Awards. Michelle was a finalist on Celebrity Big Brother in 2015.
Michelle will join current cast members: John McCrea (Jamie), Rebecca McKinnis (Margaret), Shobna Gulati (Ray), Lucie Shorthouse (Pritti Pasha), Lee Ross (Hugo/Loco Chanel), Alex Anstey (Laika Virgin), Luke Baker (Dean Paxton), Luke Bayer, Courtney Bowman (Fatimah), Marvyn Charles, Ken Christiansen (Jamie's Dad), Jordan Cunningham (Sayid), Daniel Davids (Levi), James Gillan (Tray Sophisticay), Ryan Hughes (Mickey), Daniel Jacob (Sandra Bollock), Cherelle Jay, Jordan Laviniere (Cy), Harriet Payne (Bex), Chloe Pole, Shiv Rabheru, Lauran Rae (Becca) and Kirstie Skivington (Vicki).
Inspired by a true story, Everybody's Talking About Jamie is the hit musical for today.
Jamie New is sixteen and lives on a council estate in Sheffield.
Jamie doesn't quite fit in.
Jamie is terrified about the future.
Jamie is going to be a sensation.
Supported by his brilliant loving mum and surrounded by his friends, Jamie overcomes prejudice, beats the bullies and steps out of the darkness, into the spotlight.
With songs by lead singer-songwriter of The Feeling, Dan Gillespie Sells, and book and lyrics by writer Tom MacRae, this funny, fabulous, feel-good, musical sensation has been wowing audiences and critics alike.
Sixteen: the edge of possibility. Time to make your dreams come true.
Everybody's Talking About Jamie opened at the Sheffield Crucible in 2017 and is now playing at the Apollo Theatre in the West End, currently booking until 6 April 2019. As well as receiving 5-star reviews, Everybody's Talking About Jamie was nominated for 5 Olivier Awards, received the UK Theatre and What's On Stage Awards for Best New Musical and won the Attitude Culture Award 2017. Dan Gillespie Sells won Best Composer at The Stage Debut Awards, John McCrea won the What's On Stage award for Best Actor in a Musical, the UK Theatre Award for Best Performance in A Musical and was named joint Most Promising Newcomer at the Critics Circle Awards and Lucie Shorthouse won the What's On Stage Award for Best Supporting Actresses in a Musical.