Liz Callaway to Join Quincy's Rising Star Program for Holiday Concert
The Broadway star will perform with the students this November.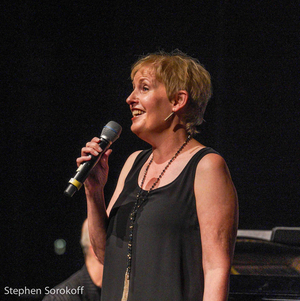 JM Productions and Rising Stars of Quincy, has announced a unique Broadway concert starring Emmy Award winning & Tony Award nominee, Ms. Liz Callaway. The concert is presented live at The Marriott Hotel in Quincy on November 27, 2021, at 8:00 pm. Liz will be joining students from the Rising Stars program on stage for an incredibly special & intimate concert to kick off the 2021 holiday season.
Liz Callaway is a Tony nominee and Emmy Award-winning actress, singer and recording artist. She made her Broadway debut in Stephen Sondheim's Merrily We Roll Along, received a Tony Award nomination for her performance in "Baby," and for five years, won acclaim as Grizabella in Cats. She has also starred in the original casts of Miss Saigon, The Three Musketeers, and The Look of Love.
Callaway has released seven solo albums: Passage of Time, The Beat Goes On, The Story Goes On: Liz Callaway On and Off-Broadway, Anywhere I Wander: Liz Callaway Sings Frank Loesser, Merry and Bright, The Essential Liz Callaway, and her latest CD Comfort and Joy- An Acoustic Christmas. She has also released four singles Be a Lion from The Wiz, The Morning After by Oscar-winning songwriter David Shire, Beautiful City from Godspell, and a duet of her Oscar-nominated song from Anastasia, Journey to the Past with the star of Anastasia on Broadway, Christy Altomare. Her numerous other recordings include Sibling Revelry, Boom! Live at Birdland, A Christmas Story - The Musical, The Maury Yeston Songbook, Dreaming Wide Awake: The Music of Scott Alan, Hair in Concert, and the complete recording of Allegro produced by the Rodgers and Hammerstein Organization.
Joining Ms. Callaway for a portion of the concert is the Rising Stars chorus. Students from the South Shore audition to take part in the program. Audio and video clips are sent to JM Productions with the hope of securing a slot in the program. "Rising Stars" collaborates with singers 12 ~ 21 who have that special and unique quality as performance artists. It is the philosophy of "Rising Stars" to provide each child with the opportunity to explore performance art in a fun, safe, and structured learning environment! At "Rising Stars" we are interested in enrolling students who are curious about the performing arts as a life goal or simply an extracurricular activity helping the student to become a well-rounded individual.
Tickets can be purchased for this concert at https://ticketstothecity.com/jm