Click Here for More Articles on Podcasts
Listen to Episode 3, Part 2 of 'Broadwaysted Away' and Get EXCLUSIVE Behind-the-Scenes Stories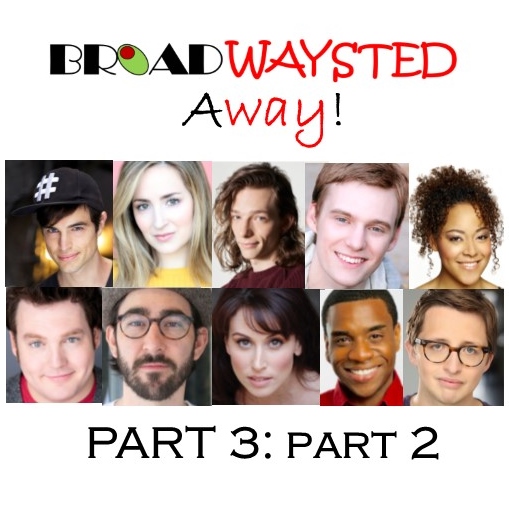 After three episodes of twists and turns, the final installment of Broadwaysted Away is finally released today!
Entitled "Part Three: Part Two (The Final One)," this extended closing chapter of the Broadwaysted Away saga finds our heroes facing off against the Mastermind, Andrew Briedis, and his evil plan to use Kevin to smash Lin-Manuel Miranda.
This episode is packed full of excitement, laughs, and musical theater puns--and "Before It's Over," the Broadwaysted Crew is sharing exclusive Behind-the-Scenes stories with BroadwayWorld!
See Below for All of the Exciting Gossip and Easter Eggs
Listen to the episode here:
---
Cast (In Order of Appearance)
Announcer..............................Lesli Margherita
Bryan......................................Bryan Plofsky
Kimberly..................................Kimberly Schmidt
General Seating......................Antoine L. Smith
Private Dressing Room...........Lilli Cooper
Dance Captain........................Max Crumm
Thug One................................Brendon Stimson
Thug Two................................Mike Faist
Thug Three.............................Will Roland
Usher.......................................Jay Schmidt
Kevin........................................Kevin Jaeger
Female One.............................Hannah Elless
Mastermind..............................Andrew Briedis
---
Every Scene a Little Death
Bryan: Okay, so multiple people die in this episode. That's intense.
Kevin: Well, it's the final chapter of an epic saga. People on both sides have to fall on the battlefield. Remember Harry Potter--
Bryan: Oh I'm still grieving that!
Kevin: I had so much fun writing the melodramatic death scene for Hannah and Bryan--but the real fun was recording it with them. All of us couldn't stop laughing! That was definitely a multiple take scene!
Kimberly: And Will Roland just ad-libbed his death, right?
Kevin: Yeah, basically we told him to die by saying as many famous last lines from movies he could think of--because I'd put most of the death lines from musicals into the Hannah Scene.
Kimberly: The Female One scene--
Kevin: (laughing) Right. Female One.
Telephone Hour
Kevin: The recording process for Broadwaysted Away was a blast, but it was complicated because most people recorded with us on their own and I edited the dialogue together later.
Kimberly: For some people, scheduling was almost impossible--Lesli Margherita, for example, was out of town killing it in Guys and Dolls so she recorded her part on her own and sent it to us--
Bryan: Hence the cameo by her dog.
Kevin: Also, when I was editing "Part Three: Part Two (The Final One)," I discovered a pivotal narration section that Bryan had never recorded for some reason or another.
Bryan: So while I was in Hawaii, I recorded the section on my phone and sent it to Kevin.
Kevin: Sorry I had to interrupt your vacation, Bro.
Kimberly: Bro?
Bryan: No, it's okay, Kimberly. The "Bro" Must Go On!
Kimberly: Oh God! Boooo! Did you guy's plan that?
Kevin: No, but do I get an assist for that one?
Bryan: Yeah, that was You and Me...But Mostly Me.
Kimberly: God, I need a drink for this interview.
The Giggle Award
This Award is given to the cast member who was most prone to the giggles during recording...aka the "Jimmy Fallon" Award
Bryan: Okay, this one has a lot of potential candidates, so let's just each take turns saying our choice. Ladies first...meaning Kimberly.
Kimberly: Mike Faist. Hands down. He basically laughed through the entire whisper part of the battle--which is understandable, because it's ridiculous and Brendon was hysterical--but I got to give it to Mike.
Bryan: Kevin--your choice?
Kevin: Hannah Elless and Bryan again--I just remember both of them were seriously encouraging each other to hold it together with silent nods and a crazy eye language. It was hard to watch them and not laugh--but they legit broke into belly laughs through multiple takes of the death scene.
Bryan: So both of those are solid choices. But, of course, both of you are wrong. The giggler of this group was definitely Max Crumm. He had a blast ad-libbing random dance moves during the fight scenes...but he was struggling to keep from laughing during all his serious Dance Captain lines.
Kevin: Wow, a three-person tie. Can we do that?
Kimberly: Yeah--didn't they do that for the boys in Billy Elliot?
Maybe Far Away, or Maybe Real Nearby...
Kevin: We have had a blast presenting Broadwaysted Away for the past few weeks and we've really appreciated the positive response the previous episodes have received!
Bryan: We'd love to hear what you think after hearing the final installment, so hit us up on social media @Broadwaysted and tell us!
Kimberly: We're excited to return next week with the classic episode format, and the next few weeks hold a couple more surprises and Broadwaysted firsts!
Bryan: But for those of you who listened to the radio play and are saying "Please Sir, I Want Some More"...well--
Kimberly: Our official answer for the "Will you be doing another radio play?" is currently "Maybe."
Kevin: Well, wait--guys. If this is a place for spoilers, we should probably just tell them that we're--
Bryan & Kimberly: KEVIN!
Kevin: No, you're right. Leave it with a cliff-hanger. This interview is TO BE CONTINUED...
Bryan: No, it's over.
Kimberly: Yeah, we're done.
Kevin: OR ARE WE?!
Bryan: It's five o'clock.
Kevin: Oh yeah, we're definitely done. Happy Hour?
Kimberly: Let's go toast Broadwaysted Away!
---
About the Show:
Broadwaysted: Where we're drunk on Broadway! Literally. This isn't your typical theatre podcast. Come "take a glass together" with us every Tuesday!
Join our cocktail hour as we pour a few rounds, play some games, and chat all things theatre with your favorite members of the Broadway community. From current hits, to past flops, and future stars, Broadwaysted drinks to it all. It's a place to unwind, be yourself, and hang out among friends who love what you love. Feel like you're at the table with your host Bryan Plofsky, co-host Kevin Jaeger, game master Kimberly Cooper, and amazing guests! Let's all get Broadwaysted!
Twitter: @Broadwaysted
Instagram: @Broadwaysted
Bryan's Twitter: @nuttyplofessor
Kevin's Twitter: @JaegerKev
Kimberly's Twitter: @KimberCoops

Related Articles
Broadwaysted: Where we're drunk on Broadway! Literally. This isn't your typical theatre podcast. Come "take a glass together" with us every Tuesday! Join our cocktail (read more...)