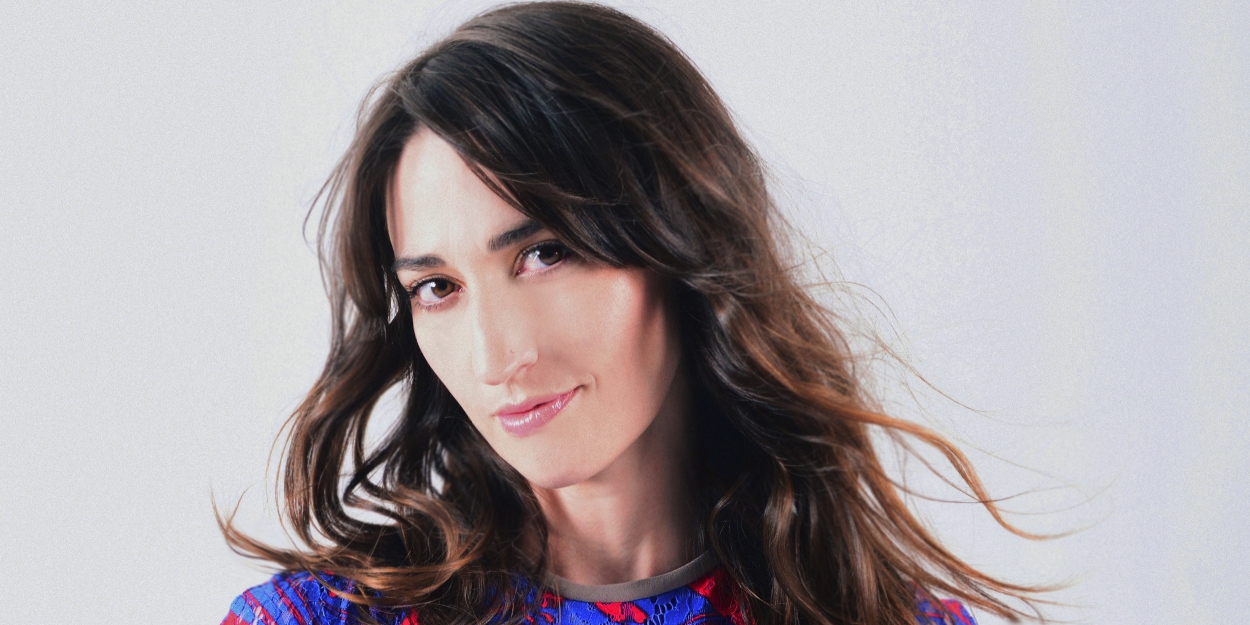 Listen: Sara Bareilles Joins THE STORY PIRATES PODCAST Season 5 Finale
Bareilles performs the new Story Pirate's song "The Dancing Cupcake".
The Story Pirates Podcast, winner of the 2020 and 2022 Webby and iHeart Radio Awards for Best Children's Podcast, has announced released its season 5 episode, available now. The episode features the new Story Pirate's song "The Dancing Cupcake," performed by Grammy Award-winning recording artist, composer and actress Sara Bareilles.
Listen below!
The Story Pirates Podcast takes stories written by kids and turns them into comedy and original songs. Since launching in 2017, the series has been downloaded over 65 million times. Bareilles, a multi-Tony and Emmy Award-nominee, performs the song inspired by a story by 9-year-old Violet from Pennsylvania and composed by Story Pirate Ellen Winter. In addition to Bareilles, the Emmy-nominated, 10-year-old actress Mykal-Michelle Harris special guests on the season finale episode as Henrietta Hudson, a precocious 10-year-old who runs an NYC towing company that has impounded the Story Pirates' ship. Bareilles was most recently seen playing the role of The Baker's Wife in the critically acclaimed Broadway production of Into the Woods and in the Peacock original series Girls5Eva, streaming now. Harris played Santamonica Johnson on ABC's Mixed-ish. She most recently can be seen in the Disney film Cheaper by the Dozen alongside Gabrielle Union and Zach Braff and on Disney's original series Raven's Home. The Story Pirates will perform in Los Angeles in Story Pirates Live: Amazing Adventure at the Saban Theatre on March 11, 2023. Tickets are on sale now.
Made up of talented comedians, songwriters and frequent celebrity guests, the Story Pirates inspire kids to create, bringing laughter to kids and grownups of all ages with hilarious sketches, catchy original songs from all genres, and interviews with the creative geniuses (kids!) behind the stories. They have an impressive roster of Story Pirates alumni, including Amber Ruffin, Stephanie Hsu, Matt Rogers, Bowen Yang, Michelle Wolfe and Kristen Schaal. Past special guests of the podcast include Julie Andrews, Kristen Bell, John Oliver, Seth Myers, Sasheer Zamata, Cecily Strong, Billy Eichner, Natasha Rothwell, Claire Danes and more.
Sara Bareilles has received two Tony Award nominations, three Primetime Emmy Award nominations and eight Grammy Award nominations, garnering a 2020 Grammy in the category of Best American Roots Performance for her song "Saint Honesty." On Broadway, she composed music and lyrics for Waitress and stepped into the lead role in 2017, 2018, 2019, 2020 and 2021. Other musical credits include a song on the Tony Award-nominated score for SpongeBob SquarePants and Emmy Award-nominated appearance as Mary Magdalene in NBC's Jesus Christ Superstar Live. Bareilles produced original music and executive produced the musical drama series Little Voice, teaming up with Jessie Nelson, J.J. Abrams and Apple. She plays Dawn Solano on the Emmy-nominated musical comedy series Girls5eva and recently stared as The Baker's Wife in the Broadway revival of Stephen Sondheim and James Lapine's Into the Woods.
ABOUT MYKAL-MICHELLE HARRIS
10-year-old Mykal-Michelle "Mimi" Harris returned to the small screen last year both as the rambunctious Luna Baker in Disney+'s Cheaper by the Dozen remake and as new series regular Alice Baxter in the Disney Channel series Raven's Home. Stepping in as Raven's' young cousin Alice who moves in with her, Harris joined in season 5 of the hit series and stars opposite Raven-Symoné and Issac Ryan Brown. Raven's Home returned for its midseason premiere on October 2nd. In Cheaper by the Dozen, she was a memorable part of the all-star cast featuring Zach Braff and Gabrielle Union as her parents. Harris' Luna shined through her blended family of 12 with her dance moves, sense of style and quick wit.
Outside of acting, Harris recently was one of the four hosts of Peacock's The Kids Tonight Show" produced by Jimmy Fallon. She interviewed the likes of Matt Damon, Matthew McConaughey, Kristen Bell, Jojo Siwa, Kenan Thompson, Lester Holt and the D'Amelio Sisters during show's first season.
Charismatic and full of sass, Harris made a splash with her viral video as Serena Williams' biggest fan; charming the viewers of GMA and Little Big Shots with her enthusiasm, athleticism and candor at only 3-years-old. Since then, she starred as the sassy Santamonica Johnson on ABC's Mixed-ish for two seasons, joined Mariah Carey in her "All I Want for Christmas is You" music video and Mariah Carey's Magical Christmas Special for AppleTV+ as well as recurred on HBO's Big Little Lies and Showtime's The Affair. The youngest person to ever be a solo couch guest on Jimmy Kimmel Live, Harris has delighted audiences with her spunk and continues to connect with children and adults alike around the world.
MORE ABOUT STORY PIRATES
The Story Pirates are a nationally renowned group of top comedians, musicians, best-selling authors and incredible teachers with twenty years of experience creating content that celebrates the imaginations of kids. Winner of both the 2020 and 2022 iHeartRadio Award and the Webby Award for Best Kids and Family Podcast, The Story Pirates Podcast is one of the top three kids and family podcasts in the world. Downloaded more than 65 million times and featuring songs and sketches based on stories written by kids, their special guests on the podcast and albums include top talent like Julie Andrews, Lin-Manuel Miranda, Kristen Bell, John Oliver, Sasheer Zamata, Dax Shepard, Cecily Strong, Billy Eichner, Natasha Rothwell, Claire Danes and many more.
Their nonprofit arm, Story Pirates Changemakers, brings life-changing arts and literacy tools to under-resourced schools and communities. This multiple award-winning arts education organization brings excitement to literacy learning.
SPTV, which airs on several PBS affiliates around the country, won a 2022 Silver Anthem Award, which celebrates purpose and mission-driven work.
The Pirates have released three critically acclaimed middle-grade books with Random House Children's Books and several award-winning albums, all based on ideas from kids around the world. The Creator Club, their subscription service, features activities, live-streamed classes, a weekend radio show, and videos to entertain and encourage creativity for kids at home.
In fall 2021, the Story Pirates creative team produced the very first Looney Tunes podcast for Warner Bros. Animation, Bugs and Daffy's Thanksgiving Road Trip which was recently featured on NPR.