Kristin Stokes to Reprise Role as Annabeth in THE LIGHTNING THIEF on Tour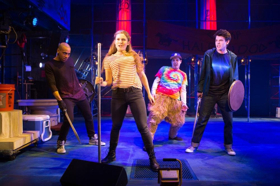 Kristin Stokes will reprise the role of Annabeth in the upcoming national tour of The Lightning Thief: The Percy Jackson Musical based on the best-selling novel written by Rick Riordan.
On reprising the role on the road, Stokes says, "I couldn't be more excited to be back as Annabeth and to share this show with the country. I've been lucky enough to play Annabeth from our very first workshop, so she's very near and dear to my heart. To me, she's the perfect feminist - fearless, strong, smart, resourceful, and is not afraid to show it! She has taught me so much, so it only made sense to do as Annabeth would do, and take on the challenge of touring. The outpouring of love from the fans both of the book and the musical has been incredible. It's going to be an unforgettable experience bringing this awesome story to life in cities all over North America. Frankly - I'm stoked!"
In other exciting news for the tour, tickets for the show in Tampa, FL and Philadelphia, PA are now on sale to the public, along with Eugene, OR, Portland, OR, and Charlotte, NC. Durham, NC goes on sale tomorrow. Visit the show's website for the current list of announced cities and dates. Additional cities continue to be added so check back regularly.
The national tour of The Lightning Thief: The Percy Jackson Musical launches in Chicago in January 2019. As previously announced, original Off-Broadway cast member Chris McCarrell will reprise the role of Percy Jackson for the tour. Additional casting will be announced at a later date.
As a son of Poseidon, Percy Jackson has newly discovered powers he can't control, monsters on his trail, and is on a quest to find Zeus' lightning bolt to prevent a war between the Greek gods. Based on the best-selling Disney-Hyperion novel by Rick Riordan and featuring a thrilling original rock score, The Lightning Thief: The Percy Jackson Musical is an action-packed theatrical adventure that has been celebrated by audiences and critics alike.
THE LIGHTNING THIEF: THE PERCY JACKSON MUSICAL has a Drama Desk nominated book by Joe Tracz, music and lyrics by Rob Rokicki, and is directed byStephen Brackett, with choreography by Patrick McCollum, with set design by Lee Savage, costume design by Sydney Maresca, lighting design by David Lander, Obie award winning sound design by Ryan Rumery, fight direction by Rod Kinter and orchestrations by Wiley Deweese and Rob Rokicki. The production is being presented by special arrangement with Rick Riordan andthe Gallt & Zacker Literary Agency.
More information about The Lightning Thief: The Percy Jackson Musical is available at www.lightningthiefmusical.com.
Photo Credit: Jeremy Daniel

Related Articles
More Hot Stories For You
VIDEO: Watch HAIRSPRAY LIVE!, Starring Ariana Grande, Jennifer Hudson, Kristin Chenoweth, and More- Live Now!
Hairspray Live! will be broadcast online as part of The Shows Must Go On! The show will launch today at 2:00pm EST and be available for 48 hours. The ... (read more)

QUIZ: Which Broadway Song Matches Your Personality?
Are you more of a 'My Shot' or 'Don't Rain On My Parade'? Take our personality quiz to find out!... (read more)

Governor Cuomo Announces New York City Will Begin First Phase of Reopening
New York Governor Andrew Cuomo announced in today's press conference that New York City will begin its first phase of reopening on June 8. This means ... (read more)

HADESTOWN Tour Postpones Hartford Performances
Hadestown, which had previously announced a tour beginning this fall has delayed the launch of the tour. The previously scheduled official tour openin... (read more)

Ryan Murphy Buys Rights to THE NORMAL HEART & THE DESTINY OF ME; Aims to Run on Broadway in Rep
Ryan Murphy posted a heartfelt tribute to the late Larry Kramer on Instagram yesterday, following the news of his passing. In his post, he revealed th... (read more)

Imelda Staunton-Led HELLO, DOLLY! Postponed to 2022
Hello, Dolly!, one of the most iconic musicals of all time, was set to begin performances this summer at the West End's Adelphi Theatre. Producers of ... (read more)