Jeffrey Grode Releases BROTHERS OF THE MULTIVERSE Sci-fi Series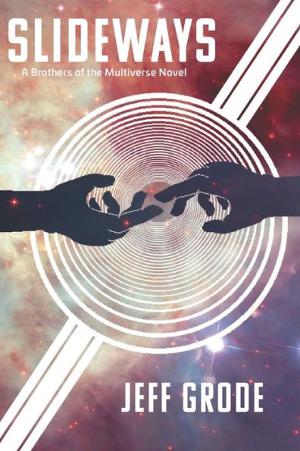 Jeffrey Grode is pleased to announce his young adult sci-fi series. Join the wild ride through a multiverse of parallel worlds.
SLIDEWAYS

A Brothers of the Multiverse Novel, Book 1
ISBN: 978-1977984951
ASIN: B07CRLDVW4
Pages: 488
Genre: Science Fiction
An eventful and immersive interdimensional romp.-Kirkus Reviews
SLIPTIME

A Brothers of the Multiverse Novel, Book 2
ISBN: 978-1718609440
ASIN: B07K29ZP66
Pages: 303
Genre: Science Fiction
A teenager, his grandfather, and a resurrected robot, slip the bonds of time to save the world.
LUNAR TIDE
A Brothers of the Multiverse Novel, Book 3
ISBN: 978-1082730108
ASIN: B07Z8J4C1X
Pages: 415
Genre: Science Fiction
A mysterious seer, Mélange, sends seventeen-year-old Flora a telepathic warning-beware the Techno-Mage.
All three books are available for purchase in print and ebook formats.
Jeff Grode grew up in Erie, Pennsylvania, currently resides on Maryland's Eastern Shore, and knows his way around a kayak, horses, and a good story. A lifelong fan of reading science fiction, fantasy, and spy novels, he found a love for creative writing.
Science fiction is the backdrop for his stories, and he focuses upon the interaction and inherent conflict between friends, family, and foes in a world undergoing fast technological change.
Related Articles
More Hot Stories For You
Broadway League Approves 15-Second COVID-19 Test For Actors and Crew; League President 'Cautiously Optimistic' About Early 2021 Return
Broadway League President Charlotte St. Martin told the New York Post that for the first time, she feels 'cautiously optimistic' about Broadway being ...

QUIZ: Spend a Day at North Shore High and We'll Tell You Which Mean Girls' Plastic You're Most Like!
Are you a Cady, Regina, Karen, or Gretchen? Take our quiz to find out which of the North Shore plastics are you!...

VIDEO: Watch Bernadette Peters in Concert to Benefit Broadway Cares/Equity Fights AIDS
A free stream of Bernadette Peters: A Special Concert, a benefit for Broadway Cares/Equity Fights AIDS, will stream today, July 10, at 8 pm Eastern!...

Jesse Tyler Ferguson and Justin Mikita Welcome Their First Child, a Son Named Beckett Mercer
Jesse Tyler Ferguson and husband Justin Mikita have welcomed their first child, a son named Beckett Mercer!...

VIDEO: Watch JOSEPH AND THE AMAZING TECHNICOLOR DREAMCOAT with The Shows Must Go On- Live at 2pm!
The Shows Must Go On has brought the theatre home every weekend throughout lockdown, entertaining millions of theatre fans. The YouTube channel will c...

Voting Open For The 2020 BroadwayWorld Album Awards; BEETLEJUICE Leads Best New Broadway Cast Recording
Voting continues for the 2020 BWW Albums/CDs Awards, recognizing the best releases from 2019 & 2020 - and we've got the first round of standings! Chec...