Interview: Brian Quijada on Why WOLF PLAY at MCC Theater is Resonating With Audiences
Quijada says starring in Wolf Play feels like "doing theatre to the nth degree of theatre."
After a sold out production at Soho Rep last year, Hansol Jung's Wolf Play is back on stage at MCC Theater. Now in previews, Wolf Play opens February 14 for a limited run through March 19, 2023 at MCC Theater's Susan & Ronald Frankel Theater (511 W 52nd Street, New York, NY 10019).
Wolf Play is directed by Dustin Wills, and tells the story of a young South Korean boy-represented onstage as a puppet operated by a "wolf"- who is "re-homed" via a website chat room. He and his new parents (Ash, a professional boxer played by Esco Jouléy, and Robin, a video game maker played by Nicole Villamil) undergo the complex process of becoming a family.
The play is centered around themes of queer parenting and chosen family, and asks questions about theater's ability to challenge what we think we see.
The cast of Wolf Play also includes Christopher Bannow as "Peter," Brian Quijada as "Ryan," and Mitchell Winter (Frontieres Sans Frontieres) as "Wolf."
BroadwayWorld spoke Brian Quijada, who shared why Wolf Play is resonating with audiences, how starring in Wolf Play feels like "doing theatre to the nth degree of theatre" and more.
---
Wolf Play is now in previews at MCC Theater, and it was brought back to the stage after a production at Soho Rep last year. What were your first thoughts when you read this play, and did you see it when it was on stage at Soho Rep?
I read the play a few years ago, Hansol Jung and I go back, I want to say, 10 years. I was in her very first American world premiere in Idaho at Boise Contemporary Theater, and then years later she was like, "I have this new play." I read it, and then I workshopped it, this must have been six years ago. And it was amazing. It's amazing to know a writer for that long and see her in beast mode for lack of a better word [laughs]. And I saw it at Soho Rep and I thought it was beautiful. It's kind of a trip to see a play not knowing that you're going to be in it, think it's amazing, and then when the opportunity comes, to get to be in it, I have a lot of feelings about it. It's beautiful. The play is gorgeous, it's complex, and so it's amazing to get to step into the role.
Can you tell me about who you play in Wolf Play?
I play Ryan, who is a member of this family that the wolf is introduced to. He is the brother of one of the partners and the trainer of the other, of the two moms, and he is one of the five people very much affected by the new introduction of this boy into this family.
This play is about family, about found family, what has it been like for you working with this company to bring that to the stage?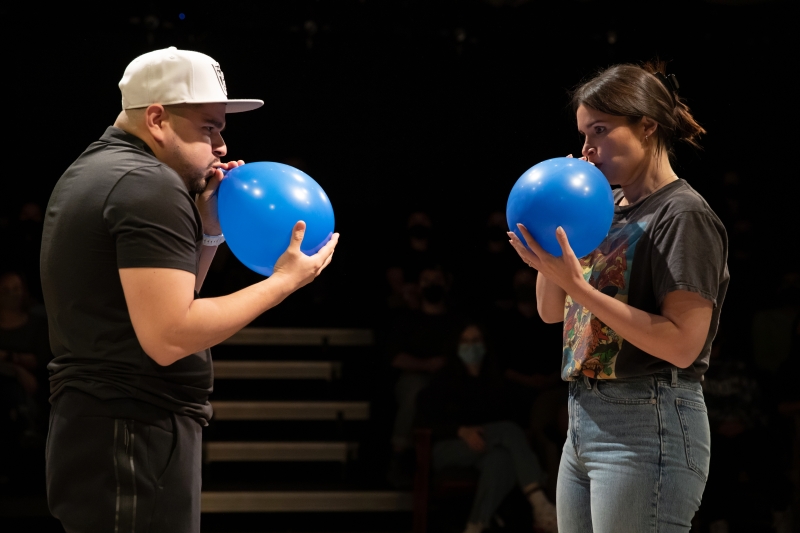 It's been an absolute blast. It's really interesting to step into the process where a lot of people have already spent years with it. It's actually really comforting. And they're so great, it's a group of insanely talented actors, and there is a lot going on, it's a lot like playing mental gymnastics [laughs]. And I remember them saying, "You start the play and you're like 'Oh my god, there is so much going on it's so complicated' but that's normal!" It's been great, they've taken me on as if I've been working on it with them for years.
As we'd discussed, this play was brought back to the stage after a production last year. What do you think it is about this material that is striking a chord with audiences?
It's super inventive. At one point a microphone is used as a game controller, at one point a piece of luggage is used as a TV, there's rope being used to fly in things, and we're doing it, it's like we're doing theatre to the nth degree of theatre. And I think that brings out the kid in everybody, the way that we used to play in our rooms, and play make believe.
But what's beautiful about the story is that it really encapsulates these people in a real-life way, in a very relatable way in these circumstances. I play what you would traditionally call a villain, but what I think is amazing about Hansol's writing is that you can take a character that is a quote-unquote "villain" and sympathize with them, understand why they made a terrible decision. And I think that's the truth with everybody. Everybody is flawed, and everybody has incredibly high stakes that are complicated, and everybody is fighting for what they love so bad that sometimes it can derail relationships. There is a line in the play that's, "I don't know how to not want the things that I want." And I think that's a thesis statement for the play. It's a very relatable thing for audiences, I think. For me definitely being within it, but I think audiences are like, "Yeah, I feel that very much, and these are the consequences sometimes."
What do you hope that audiences take away from this play?
This play brings me so much joy, I laugh in it so much, and then because of that, I think, it wrecks you in a very beautiful way. I've always said that comedy is the trojan horse to a good punch in the heart, and I think this play does just that. It's a blast until it isn't, and then life sets in. And doesn't everybody want to feel all those things at the theatre?