Interview: Blair St. Clair Is Going Back to Their Musical Theatre Roots with LEGALLY BLAIR
Legally Blair runs February 2 and 3 at The Green Room 42.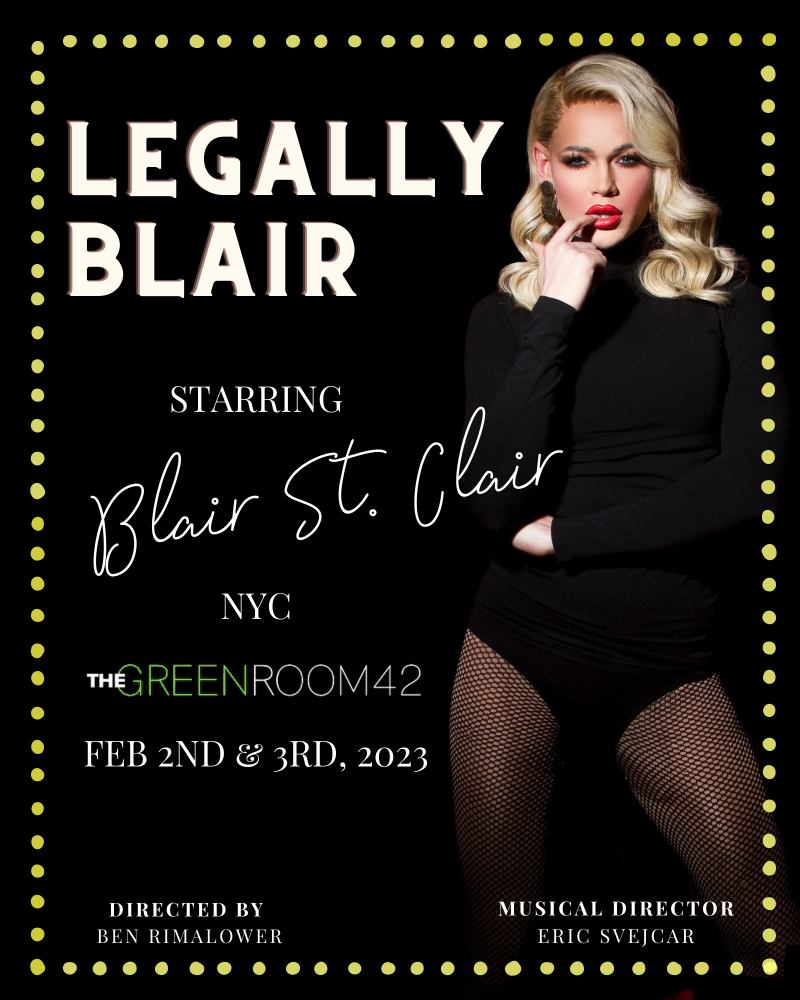 Your 2023 is about to get so much better.
On February 2 and 3, The Green Room 42 will present the nightclub debut of Blair St. Clair, the drag star and vocalist, in "Legally Blair," a new show about their life, liberty, and the pursuit of dreaming wide awake. Blair, who previously appeared on "RuPaul's Drag Race" Season 10 and All Stars 5, is teaming up with accomplished director Ben Rimalower and Musical Director and Arranger Eric Svejcar, who leads a trio of musicians. This musical revue takes the audience on a journey through some of Broadway's greatest songs and a glimpse at Blair like you've never seen them before.
Blair recently checked in with BroadwayWorld to chat all about the new show!
---
How long have you been wanting to do something like this?
I can't even answer that because I've never not wanted to be onstage. There has never been a time when I didn't want all the attention and spotlight. And honestly, whether I am performing in the living room for my dog or if it's an audience of hundreds of people, I'm at my happiest.
There was never a specific moment that I realized I wanted to do my own cabaret show. I've always said that I wanted to do the best work that I can do. I see this as an introduction of myself to the world, saying: "Hey, this is what I can do! This is who I am. If you like it, awesome." I think this in an awesome space to showcase what I can do.
What's it been like to work with your director Ben Rimalower and music director and Eric Svejcar?
It's been really wonderful collaborating with them. I'm a Type A Taurus... I'm the type of kid who in in school would do all the work for the group but put everyone's name on the project. [Laughs] But it's been so great working with people who I trust. It's really hard to work with someone if you are in two different worlds. I got really lucky with Ben and Eric because they really get me. They understand that I'm not trying to do a drag show. I'm trying to do a show that shows who I am as a gender-nonconforming artist working in theatre. They got that. They lifted me up and reminded me that I can and should be doing this work.
How did you decide what would be in this show?
I started by making a list of songs that I like to sing- stuff that's already in my book and some stuff that I wanted to learn. Then I looked at those songs for themes that would connect them and figure out what it is that I'm trying to say. It was important to me that my show was pertinent to what is happening to me presently. I wanted to look at the themes in my life and in what's happening now. Not two years ago... not future me, but now.
And right now... I've been stuck. I've been in a kind of purgatory in the theatre world. I'm not a cisgender woman; I'm not a trans woman. I'm I non-binary performer that presents both male and female onstage. There are opportunities happening for me, but not a lot. So I wanted to write a story about myself, but one that you could plug in any person who is struggling to find themselves.
Are you excited to get to perfrom in such an intimate space?
My experience so far has been different from usual musical theatre performers. Having been in the world of drag performance, it's so up close and personal. This space is so cool because I think it merges those two worlds. This space is great for me because it's so personal and my story is so intimate. And I think I perform best when I see people's reactions! I really enjoy that energy exchange.
I know you've said before that Broadway has always been a dream... is that were you see your path going?
I know I will be on Broadway some day! I don't know when and I don't know which show, but I will be! That's not out of cockiness. I just know that it's in store for me. I'm a storyteller and that's where I can tell the most stories. If I could have gone to a Broadway theatre as a kid and see someone do something similar to what I do, I would have had a really different experience growing up. I looked at Disney princesses and leading ladies and I wanted to be them but I knew that I couldn't. When I found drag, I realized I could!
Do you have any Broadway dream roles?
Well I'd love to be Elle Woods in Legally Blonde. But if it comes back to Broadway I am also A-OK with being sorority girl #6 bending and snapping for my life! I would also love to play Roxie Hart in Chicago. Having seen Angelica Ross as the first trans person, it was monumental to see these spaces accepting queer people. And I've always wanted to be in Mean Girls. Plug me in anywhere in the tour! And last but not least- Dawn in Waitress. I need to play that someday... but I think I need fake braces or something. [Laughs]
What were your creative outlets as a kid?
I was a kid who did a little bit of everything. And I also quit a little bit of everything. [Laughs] Gymnastics, dance, school choir... I found theatre very early on in elementary school. The first show I ever saw was The Sound of Music and the first show I ever did was The Sound of Music.
I was also a child model for print ads and stuff. I always liked the camera on me.
And when did drag come into the picture?
I found drag through theatre. I was cast in a regional production of La Cage Aux Folles as one of the drag queens. I had just graduated high school and I was taking a gap year before going on to study musical theatre. I wasn't sure where I wanted to go, but I knew I wanted to perform. I didn't even know what drag really was, but then I learned that I could do it on my own and could be my own director, writer, producer and star. I knew it was for me. I could be all the characters that I wanted to be.
Why do people need to be there on February 2 and 3?
This is show about self identity and reflection in the most real and fun way. You can sit back and be entertained, but you'l also walk away feeling inspired to live your life a little more truthfully.
I think it's wonderful to see you come into your own and forge your own path.
Thanks! I don't know what's next for Blair St. Clair, but I do know that whatever is in store will be exactly what it's supposed to be. And I'll be doing int happily and authentically. I found parts of who I was during RuPaul's Drag Race, but I also lost a lot of who I was in that experience. I was trying so hard to be who I thought people wanted me to be. Since having less attention on me, I really found out who Drew is- myself outside of drag. I really found a love of who I am, which has made my drag so much happier. When I'm in drag today, it's not a job. It's not just a costume. It's my heart getting to talk to the world.
---
Blair St. Clair will perform "Legally Blair" at The Green Room 42 (570 Tenth Avenue at 42nd Street, on the 4th Floor of Yotel) on Thursday, February 2 at 7:00 PM and Friday, February 3 at 9:30 PM. The cover charge ranges from $49-$129. Ringside tables include a "Meet & Greet" after the show. While food or beverages service is provided inside the theatre, the ticket price includes a $10 credit to be spent inside at The Green Room 42 or outdoors at Social Drink & Food, the largest rooftop of any hotel in New York City.