Click Here for More Articles on Be More Chill
How the Musical BE MORE CHILL Became a Hit Even Before it Played a Single New York Performance
In the spring of 2017, Joe Iconis noticed that he was getting tagged in Twitter and Instagram posts about his sci-fi musical Be More Chill. This was unusual because aside from regional productions, the show only had one professional run, at Two River Theater in Red Bank, New Jersey in the spring of 2015, and the cast recording had been released in October of that year.
As far as anyone could tell, there was no reason for this sudden interest in the show. Iconis, bookwriter Joe Tracz, and actor George Salazar texted each other to see if anyone had said anything on social media, but no one had. People were discovering the cast album on their own, so much so that it became the second most talked about musical on Tumblr in 2017, after HAMILTON and before DEAR EVAN HANSEN. Surprisingly, the album hit the Billboard Cast Album chart's Top-10 two years after its initial release.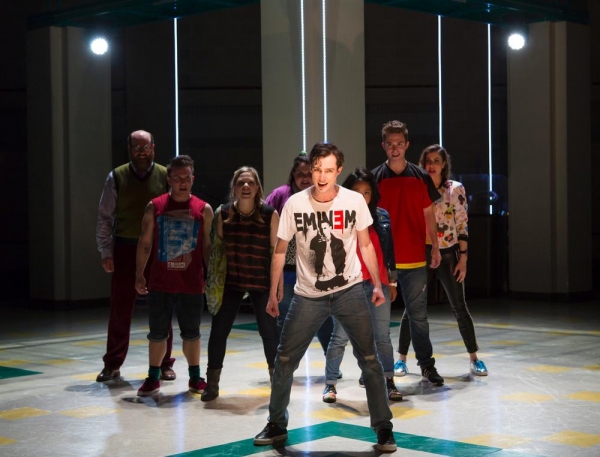 Be More Chill just began a commercial Off-Broadway run at the Pershing Square Signature Center on July 26 with a fan-base so large that it is sold out well into the run, which is unprecedented for a show with no major stars and not based on a huge commercial property. The musical's source material is a 2004 young adult novel by Ned Vizzini, which became the first YA novel ever chosen to be a part of "The Today Show's" book club.
"Every time I perform it, I discover a new shade and something really brilliant and exciting."
It's unclear just how this surge of excitement all started, but Salazar met two young people who told him that they shared a video of "Michael in the Bathroom" from a press event on Tumblr, which they believe started the frenzy.
Be More Chill is about a teenager named Jeremy who finds out about "The Squip," a tiny supercomputer that can make him cool. Salazar plays his best friend Michael, and his appropriately-titled song "Michael in the Bathroom" centers on the universal emotions of feeling out of place and hiding in the bathroom, rather than face the shame, anxiety, and awkwardness.
This song tends to be individuals' way into the score from what Iconis has noticed (it has well over 2 million views on YouTube, by far the most watched video on Ghostlight Record's channel).
Early on in the Two River run, record producer Kurt Deutsch came to see the show, and predicted that the song would be a huge hit.
"He was right," said Salazar. "It totally blew up. It's crazy. I think I've sung that song maybe over 400 times including the run in Red Bank, and it never gets old. I feel like every time I perform it, I discover a new shade and something really brilliant and exciting in the song."
"Hiding in the bathroom at a party is an experience that a lot of people seem to have had," said Iconis, who always tries to give musical theater heft to little moments that don't normally feel worthy of musicalization.
"When I wrote it, I wanted to write something that of course appealed to young people, because it's about young people, but also was something that I, as an adult male, would want to see. It's about issues most people experience, like depression and anxiety and pressure, but it's done through the lens of this sci-fi teen comedy. Which is to say that a lot of people relate it," Iconis explained.
"People were always like, 'That weird emo kid or whatever.'"
From that song, people often discover the rest of the eclectic misfits that populate the show. "I think one of the biggest things that Be More Chill does better than most shows that I've seen about a teenager's life is a lot of people are represented who don't normally get represented on the stage," says Gerard Canonico, who plays Rich, a bully with a secret.
"I remember being a teenager and feeling like I had a few friends and I was an emo kid. People were always like, 'That weird emo kid or whatever.' My group of friends all listened to the same music. But I never saw my group of friends represented before in a show, and on top of that, it goes even deeper. Kids who have some sort of identity crisis. Kids who don't understand why they feel off as themselves," Canonico said of the appeal of the show.
Flashback to BE MORE CHILL's 2015 Run at Two River Theater
Canonico hears from fans from all over the world, thanking him for representing their stories. "I must get about, modestly speaking, probably 15 to 20 drawings or renderings or lyrics or memes about the show that I'm tagged in every single day," he said. "We consider ourselves a cast of genuinely unique misfits, and I think all around the world we have that comradery with people."
"They're more than fans. They're collaborators."
Everyone involved with the production is just as grateful for the fans' support as the fans are for the work done on the production. Iconis was clear that this run would 100% not be happening had it not been for the fans' following.
Iconis has been trying to get a New York run of the show since before the New Jersey production closed. The only thing that he had to give him leverage with producers was the online response.
"We skipped a step with the show," he said. "There wasn't a production that was well reviewed and went to Broadway. There wasn't a movie version. It was just the show that, by some social media miracle, found its audience, and because it found the audience, it's now finding a larger audience."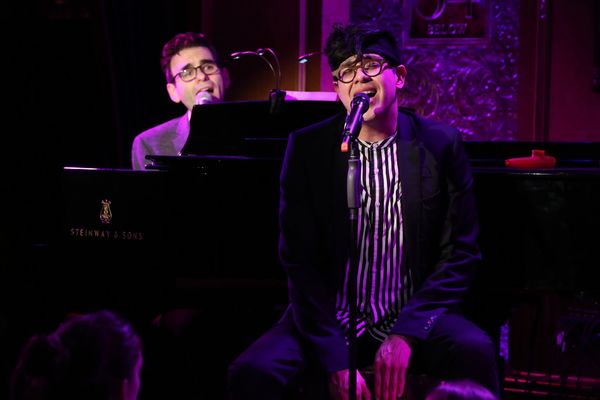 Because of that, everyone involved has a special relationship with the fans. "I always pause before I say the word 'fan,' because they're more than fans. They're collaborators," Iconis said. "These people who have a passion about the show they have allowed it to be here. It never feels like, 'Oh I have to sign autographs for my fans.' It's like, 'Oh I'm going to talk to people as much as I can who support this work I'm doing.'"
That is why when Iconis and Salazar had concerts at 54 Below for their album "Two-Player Game," they would always follow it with a meet-and-greet. Salazar remembers one young girl in particular, who told them that Be More Chill saved her life following a couple of months spent in a mental hospital.
"Normally we get 'Michael in the Bathroom' was the song that helped me, but with her she said 'Voices in My Head,' which is the the last song in the show," Salazar said. "I'm crying now talking about it because she was warm and sweet, and looking at this girl I never in a million years would have thought that she was in so much pain, and you just never know. It was really startling for me to witness something like that. Her honesty and openness was so overwhelming and I think about that girl literally every day."
Stories like this are especially meaningful to Salazar, who wanted to be a doctor growing up so that he could help people. His father told him that he wouldn't be able to do that as an actor, but he later called to apologize when he realized that his son is helping people through this show.
"My dad is a big macho guy. He doesn't cry, and it was this really incredible moment for my father and I to share," says Salazar. "I can't escape from the knowledge of what this thing has become for people, and I wouldn't want to."
"It's definitely a lot of pressure, but I'm working through it."
Though cast members have been involved in other musicals with devoted fan bases before- Salazar in THE LIGHTENING THEIF, based on the popular Percy Jackson book series and Canonico in SPRING AWAKENING- this feels like a new experience, despite the obvious audience overlap from both.
"I've been with this project as my character Rich for the past three years. I think being a character in a show that is blowing up akin to SPRING AWAKENING- knock on wood- is a very different feeling because it's personal," Canonico said. "There's an expectation to my character now. There's things about Rich from the cast album that these kids love, and that goes into the design portion down to what T-shirt I'm going to wear and what hair color I'm going to have."
Everyone is feeling a bit of that pressure to live up to the expectations of those who only know the show through the cast recording, but who will now finally get to see it live, on stage, in New York City.
There are some rewrites and new material; some of which would have happened in Jersey had there been more time, and some have come about because the world has changed so much in the past three years.
"I've never been in this position where as I'm rewriting things I'm thinking, 'Oh my God. Will the 100 million people who listened to this song just absolutely despise my new word choice for this one syllable moment?' It's definitely a lot of pressure, but I'm working through it," says Iconis. "Joe Tracz and I are still the same men who wrote the show three years ago, so I have faith that any changes we make will still be in the same spirit of the show we first made."
"We've been saying this is BE MORE CHILL 2.0. You're still going to see the show and you're still going to know the show. It's still going to be the same show, just a little bit more grounded and fleshed out," says Canonico. "I'm positive that no one will be disappointed."
Related Articles