Click Here for More Articles on Hamilton
HAMILTON Merchandise Trademark and Copyright Lawsuit Reaches Settlement with #EduHam Donations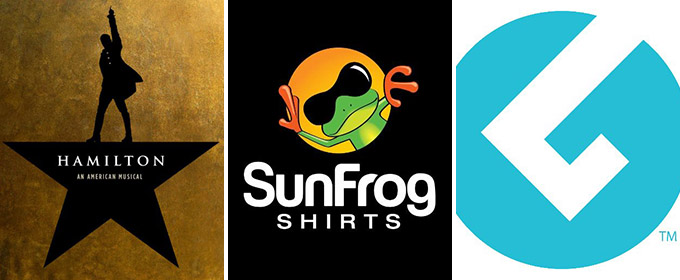 Hamilton Uptown Limited Liability Company, Creative Goods Merchandise LLC, SunFrog LLC and Gear Launch, Inc. announced today that they have amicably settled a trademark and copyright infringement lawsuit involving the alleged unauthorized manufacture and sale of merchandise featuring the iconic Hamilton logo. The lawsuit was filed in the United States District Court in New York City.
Hamilton Uptown (producer of the musical Hamilton) and Creative Goods (the sole authorized manufacturer and representative for Hamilton merchandise) had filed its complaint against SunFrog, GearLaunch, Inc. and several "John Doe" defendants known only by the URL's they used in selling goods claimed to be counterfeit. The suit alleged the "John Doe" defendants were using e-commerce platforms maintained by SunFrog and GearLaunch for independent designers in violation of terms of use fixed by those companies.
The settlement represents cooperation between the proprietors of intellectual property and prominent e-commerce agents to crack down on infringements. While SunFrog and GearLaunch deny the claims against them, they have agreed to cooperate in locating infringers, taken steps to fortify their systems against future infringement, and agreed to donate an undisclosed sum to the Hamilton Education Project of the Gilder Lehrman Institute. (The Hamilton Education Project enables public school students to attend performances of Hamilton, and supports the teaching and learning of American history.)
HAMILTON Producer Jeffrey Seller states: "We are pleased that this matter has been so expeditiously resolved, and that GearLaunch and SunFrog are both strongly aligned with the effort to filter out pirated or infringing merchandise. It is our shared goal to prevent fans of Hamilton from being misled into buying unauthorized merchandise, and by acting responsibly in the face of this problem, GearLaunch and SunFrog are showing that the entertainment and the merchandising industries can work together for their common interests. We intend to continue to aggressively prevent the infringement of Hamilton by the 'John Does' and others, to the full extent of the law."
The Plaintiffs are represented by Mark J. Lawless and the firm of Levine Plotkin & Menin, LLP of New York. SunFrog is represented by Revision Legal of Traverse City Michigan, and Gear Launch is represented by the firm of Taylor & Patchen, LLP of San Francisco.