GIRL FROM THE NORTH COUNTRY Extends for Final Time Through December 23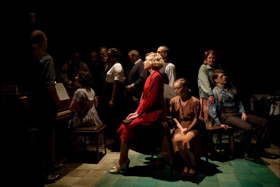 The Public Theater announced today a final two-week extension for the North American premiere of Girl from the North Country. Written and directed by Olivier Award winner and Tony Award nominee Conor McPherson with music and lyrics by music icon Bob Dylan, Girl from the North Country weaves the music of our greatest poet-singer-songwriter into a piercing drama about home, heart, and the searching determination of the American soul. This new musical has been extended three times and will now run through Sunday, December 23, with an official press opening on Monday, October 1.
The complete American cast features Todd Almond (Elias Burke), Jeannette Bayardelle (Mrs. Neilson), Stephen Bogardus (Nick Laine), Sydney James Harcourt (Joe Scott), Matthew Frederick Harris (Ensemble), Caitlin Houlahan (Kate Draper), Robert Joy (Dr. Walker), Marc Kudisch (Mr. Burke), Luba Mason (Mrs. Burke), Tom Nelis (Mr. Perry), David Pittu (Reverend Marlowe), Colton Ryan (Gene Laine), John Schiappa (Ensemble), Kimber Sprawl(Marianne Lane), Rachel Stern (Ensemble), Chelsea Lee Williams (Ensemble), and Mare Winningham (Elizabeth Laine).
Following a sold-out run at London's Old Vic and a West End transfer, this astonishing new show from Olivier Award winner and Tony Award nominee Conor McPherson and music icon Bob Dylan makes its North American premiere at The Public with an American cast this fall. Dylan's inimitable songbook is authentically transformed by McPherson into an achingly beautiful story of a down-on-its-luck community on the brink of change in Duluth, Minnesota, in 1934.
GIRL FROM THE NORTH COUNTRY features scenic and costume design by Rae Smith; lighting design by Mark Henderson; sound design by Simon Baker; orchestrations, arrangements, and musical supervision by Simon Hale; additional arrangements by Simon Hale and Conor McPherson, movement direction by Lucy Hind; and fight direction by UnkleDave's Fight-House.
Conor McPherson (Writer and Director) is an acclaimed writer and director. He was born in Dublin in 1971 and attended University College Dublin where he began to write and direct. His stage plays include Rum & Vodka, The Good Thief, This Lime Tree Bower, St Nicholas, The Weir (Olivier, Evening Standard, and Critics Circle Awards), Dublin Carol, Port Authority, Shining City (Tony Award nominated), The Seafarer (Tony, Olivier, and Evening Standard Award nominated), The Veil, and The Night Alive (New York Drama Critics' Circle Award for Best Play, Olivier, Evening Standard, and Lucille Lortel Award nominated). His adaptations include Franz Xaver Kroetz's The Nest and August Strindberg's The Dance of Death and his screen credits include the screenplay for the BBC series "Paula," broadcast earlier this year.
Bob Dylan (Music and Lyrics) is one of our culture's most influential and ground-breaking artists. Born in Duluth, Minnesota in 1941; self-taught on piano, guitar, and harmonica, he travelled to New York City in 1961, quickly establishing himself as an explosive performer in the Greenwich Village music scene. More than half a century later, Dylan continues to perform almost 100 concerts each year. He has released more than 50 albums and written over 600 songs. He's sold more than 125 million records and is the holder of 11 Grammy Awards. His songs have been covered more than 6,000 times by artists as diverse as Duke Ellington, Jimi Hendrix, Guns N' Roses, Stevie Wonder, Bob Marley, and Adele. He is also an accomplished visual artist and author, and in 2016 was awarded the Nobel Prize for Literature - the first songwriter to receive such a distinction.
GIRL FROM THE NORTH COUNTRY began performances in The Public's Newman Theater on Tuesday, September 11 and has been extended three times through Sunday, December 23, with an official press opening on Monday, October 1.
Public Theater Partner, Supporter, and Member tickets are available now. Single tickets, starting at $110, can be accessed now by calling(212) 967-7555, visiting www.publictheater.org, or in person at the Taub Box Office at The Public Theater at 425 Lafayette Street.
Photo Credit: Joan Marcus