Winter Is Coming! GAME OF THRONES Parody Heading to Off-Broadway This Fall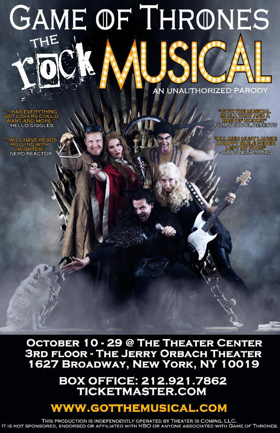 After a sold out run in San Diego Theater Is Coming, (Producers of Lost: The Musical and the critically acclaimed Once Upon a Time: The Rock Opera), has announced that it will present the New York premiere of Game of Thrones: The Rock Musical - An Unauthorized Parody, an uproarious musical comedy parody of HBO's tentpole drama series. The production, which begins previews on October 10 in the Jerry Orbach Theatre at The Theater Center (210 West 50th Street) will have its official opening on October 13th and is directed by Steven Christopher Parker with music direction by Erin Stegeman & Ace Marrero. Performances will continue through Sunday, October 29. https://www.gotthemusical.com
TV's favorite hit drama has been re-imagined for the stage as a parody rock musical! An uproarious musical comedy parody of HBO's tentpole drama series, Game of Thrones: The Rock Musical follows the saga of Eddard 'Ned' Stark as he battles tapdancingdirewolves, an evil inbred prince and a smattering of other characters too hot and raunchy for network television. Will Ned climb his way to the Iron Throne? Or will he lose his head in the process? Go back to the beginningandre-visit all your favorite characters and the ones you love to hate. Re-live Jaime pushing Bran out the window, Khal Drogo learning how to love, and do you remember when everyone hated Jon Snow and Sansa actually wanted to marry Joffrey? From the creators of Lost: The Musical and the critically acclaimed Once Upon a Time: The Rock Opera, Game of Thrones: The Rock Musical features 13 original songs which will have audiences on their feet with toes tapping and hands clapping... provided they still have both of their hands. Spoiler alert - this show will have heads rolling... with laughter! Game of Thrones: The Musical debuted February 10th, 2017 at the Macha Theatre in West(eros) Hollywood where it did forty performances to rave reviews and excited audiences. Afterwards in July, 2017 the show headed south to San Diego to perform eight shows during Comic Con where it achieved a completely sold out run. This production is independently operated by GOT The Musical, LLC. It is not sponsored, endorsed or affiliated with HBO or anyone associated with Game of Thrones.

The cast of Game of Thrones: The Rock Musical - An Unauthorized Parody features
Peter Berube, Drew Boudreau, Jeff Bratz, Billy Finn, Mandie Hittleman, Zachary Evan Kanner,
Randy Wade Kelley, Delilah Kujala, Allison Lobel, AceMarerro, Meghan Modrovsky, Milo Shearer, Kacey Spivey, Erin Stegeman, and Jay Stephenson.
Steven Christopher Parker (Director/Writer/Producer)
A veteran actor/producer hailing from Colorado, Steven has credits in a slew of hit movies including Juno, Rebound, Blades of Glory, and Little Miss Sunshine. Steven has also had substantial roles on primetime television shows such as ER, Rizzoli and Isles, Fish Hooks, 90210, and most recently PBS's Mercy Street along with countless national commercials. Steven co-wrote and produced the highly successful live theatre show Lost: The Musical, which ran in Hollywood in 2014 to rave audience reactions. Steven Brandon (Writer/Producer)
Hailing from Australia, Steven was a successful theatre producer in Sydney, Australia, producing and directing productions of I Love You, You're Perfect, Now Change, A Funny Thing Happened On The Way To The Forum, and Urinetown: The Musical. With his company Canned Laughter, Steven also produced productions of Rent, Lend Me A Tenor, Closer, and Noises Off. Steven moved to Los Angeles to pursue sitcom writing. He and his writing partner sold a single-camera comedy pilot titled Single Girl Theory to ABC Family and were staffed on the CBS sitcom Friend Me. Steven co-wrote and directed Lost: The Musical. Erin Stegeman (Music Writer, Producer & Director)
This St. Louis native is the creator/director/star/music writer of the Award-Winning Once Upon a Time: The Rock Opera, a fantasy musical comedy, which conquered the convention scene and led to a sold out North American screening tour, internationalfanbase, several film festival awards, guest appearances on Yahoo! Superfan, and live shows at San Diego's Comic-Con two years in a row. Erin continuously works as a genre and comedy filmmaker/actor/songwriter, including the award-winning anthology "Fun Size Horror" (Hulu). Erin was brought on this year to spearhead content development for TAG Network (AppleTV), and is slated to show-run two of their series she co-created. Erin has acted in over 50 films and commercials and currently hosts the Parsec Award-nominated podcast Once Upon A Wine (Crude Humor Studios).

Ace Marrero (Music Producer & Director)
A Jersey Boy through and through, Ace holds a BFA from Stephens College for Women (yeah, you read that right). He's performed in various theatres across the country, and is so grateful to be a part of the GOT Musical team! Thanks Stevens'! Recent credits include Aladdin: A Musical Spectacular as Aladdin, Ride Along 2, Sleepy Hollow on FOX, Murder In The First on TNT, Scorpion on CBS. @NotoriACE
Performance Times and Tickets for Game of Thrones: The Rock Musical - An Unauthorized Parody are $63and available at http://www.ticketmaster.com/Game-of-Thrones-the-Rock-Musical-tickets/artist/2408279?tm_link=edp_Artist_Name
Related Articles