Exclusive: Kristin Chenoweth's BROADWAY BOOTCAMP Returns in Virtual Format This Year
KCBBC will utilize BroadwayWorld's own Stage Mag as the official program for its KRISTI Awards Show.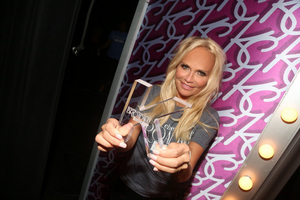 Kristin Chenoweth announced today that her Broadway Bootcamp will happen this year, June 6-13, in a unique virtual edition! The week long annual session will be held for students completing grades 8-12 in the 2020-2021 school year.
This year's camp will be led by Kristin and her camp Co-Directors, Broadway stalwarts Richard Jay-Alexander and John McDaniel. The camp's technical team consists of Bryan Farina, Hannah Truckenbrod and camp veterans, Nellie Beavers and Matt Berman.
The accomplished and starry faculty include the returns of Faith Prince, Baayork Lee, Lara Teeter, Kevin Stites, Michael Orland, Mary-Mitchell Campbell, Joseph Church, Christopher Sieber, Kevin Chamberlin, Celeste Simone, Tyler Hanes, Kyle Garvin, Bruce Glikas, Junie & Jerry Chenoweth (The Parents) and camp co-founders, Mark Frie and Jack Wallace.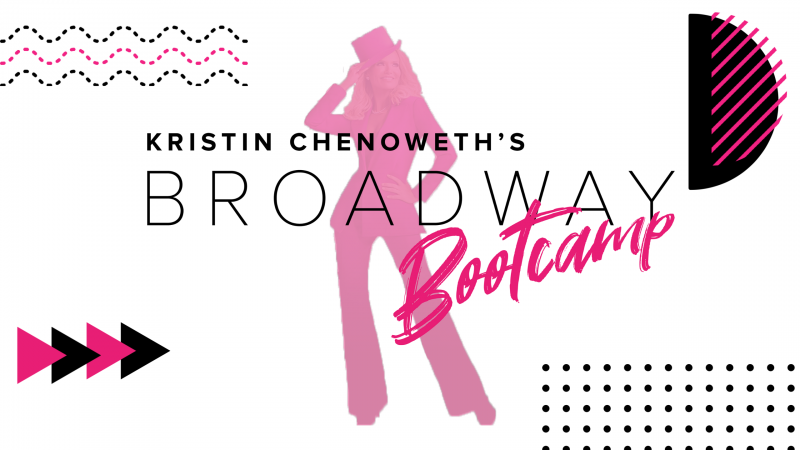 In addition, new faculty and participants will include Young People's Agent Nancy Carson, Casting Director Craig Burns, Manager Jen Namoff, Photographer Joan Marcus, Broadway's Julie James, Kelli O'Hara, Sierra Boggess, Mandy Gonzalez, Norm Lewis, Susan Powell, Elizabeth Teeter, Songwriters Victoria Shaw and Josh Bryant, A&R Executive / Record Producer Jay Landers, Madame Olga V, Girlilla Marketing, Kristin's Broadway FOR THE GIRLS pals MiMi Scardulla, Marissa Rosen & Crystal Monee Hall, Samantha L. Robbins, Jordan Gross and MORE, as schedules permit and once the Camp Team has an idea of the makeup of the students.
BroadwayWorld is providing an exclusive daily dose of news from the camp and the campers, and KCBBC will utilize our Stage Mag as the official program for its KRISTI Awards Show.
"Last year, as the country faced an abundance of caution at the onset of the COVID-19 pandemic, it became clear that we couldn't meet in Broken Arrow, for camp, in a live session," Chenoweth said. "It was particularly heartbreaking because it was the first year we were going to offer national auditions and enrollment. Although things seem to be getting better, we knew we were still facing the same challenges this summer, but I just couldn't imagine skipping another year, so I gathered my team and presented the idea of doing it live and virtual, being able to promise that it would be unique, interactive and as satisfying as meeting up in person. It had to be special, particularly because many of these young people have been facing their computer screens during the school year and have already been confronting hurdles online. I wanted the days to be full of excitement, inspiration, training, growing and enjoyment. Also... interaction. I dare say, I think we have achieved our goal for this year's session."
Every morning, the camp's team, including Kristin, will be broadcasting a live "Good Morning, Campers" show, reviewing the previous day and prepping the upcoming day with special guests, students, footage and any relevant news to prepare for the day's sessions. This will happen from the stage of the Kristin Chenoweth Theatre in the PAC building in Broken Arrow, Oklahoma. Additional classes will be taught from remote locations across the United States, including morning dance class with KCBBC faculty streaming live from New York City's famed Broadway Dance Center.
The week will be full of classes, panels, coachings, music sessions, dance classes, stagings, and rehearsals from coaches and award-winning stars, all operating concurrently from four different online platforms, culminating in a show on Sunday night, June 13th, marking the 2021 Edition of The KRISTI Awards, opening with LIVE Red Carpet coverage of students, performers and presenters, by NY1's Frank DiLella. The camp will also be paying tribute to founding member, John Sawyer and Kristin's beloved voice teacher, Florence Birdwell, both of whom we lost this year.
There will also be nightly events and activities, including "KCBBC Editions" of Jim Caruso's PAJAMA CAST PARTY, Seth Rudetsky and James Wesley's STARS IN THE HOUSE, Julie James SIRIUS XM On Broadway, the now legendary BROADWAY BALL, Dylan Bustamante & Michael Hull's BROADWAY TRIVIA PARTY and a SMULE Karaoke Night. The only time these kids will be free is for lunch and dinner!
KCBBC CAMPERS will consist of a limited number of auditioned students who will be hand selected by our faculty of Broadway Professionals, to participate in Virtual Solo, Combo and Group Ensembles, Exclusive Evening Activities, Masterclasses, Panels and Workshops. KCBBC CAMPERS will meet remotely June 6-13, 2021. The camp will teach various professional techniques, performance skills, and will include coaching and instruction from Broadway, film and stage industry professionals.
KCBBC AUDIT offers students, parents, & educators from across the globe the opportunity to audit KCBBC panels, workshops and classes for three days, June 8-10 only. Sign up to be the first to find out when passes go on sale at the KCBBC website.
KCBBC AUDIENCE - The internet's weekly Broadway adjacent livestreams will also turn to KCBBC during the week, and tickets to the 2021 Edition of The KRISTI Awards start at $10 and support the Kristin Chenoweth Arts & Education Fund*.
KCBBC recognizes that diversity and inclusion make for a brighter camp experience and encourages diverse students from across the globe to apply.
The auditions for KCCBC Campers will begin March 4th and must be received by March 19, 2021, no later than 5PM Central Time. Any student who will be completing grades 8-12 in the 2020-21 school year can audition. A limited number of slots are available and the cost to attend the camp is $500. Visit the website for complete information, www.kcbbc.camp, where you will also find information about available scholarships and opportunities for the public to sponsor a student.
Photo Credit: Bruce Glikas