Click Here for More Articles on INDEPTH INTERVIEWS
Exclusive InDepth InterView: Tammy Blanchard On HOW TO SUCCEED, THE BIG C, GYPSY, Judy Garland & More
Today we are talking to one of the shining stars of the hit revival of HOW TO SUCCEED IN BUSINESS WITHOUT REALLY TRYING - which will be closing this Sunday after running over a year, so catch it while you can - who has also carved out an astonishingly accomplished resume on film and TV since her stunning, Emmy-winning small screen debut in a lead role as the young Judy Garland in LIFE WITH Judy Garland: ME & MY SHADOWS - the enchanting, beautiful and tremendously talented Tammy Blanchard. Touching on many of her most memorable big screen and small screen roles and sharing her experiences of working with many impressive co-stars and creative collaborators - Bernadette Peters, Jessica Lange, Stephen Sondheim, Arthur Laurents, Sam Mendes, Daniel Radcliffe, Darren Criss, Nick Jonas and her co-star on two films, the late Brittany Murphy, included - Blanchard eloquently illustrates her rise to stardom and describes the roles and performances she has given that stand out most of all - GYPSY to BELLA to SYBIL to THE GOOD SHEPHERD, MONEYBALL, OF TWO MINDS and beyond. Additionally, Blanchard clues us in on what we can expect from her multi-episode character arc on Showtime's hit dramedy series THE BIG C and what it was like to play such a unique and unusual character - as well as her feelings on sharing the screen (and the onscreen bedroom) with previous InDepth InterView participants John Benjamin Hickey and Brian d'Arcy James. Plus, Blanchard shares how her new role as a mother has shaped her craft and career in addition to future plans post-HOW TO SUCCEED, observations on GLEE and SMASH, the demands of film versus theatre, Christina Hendricks/MAD MEN comparisons, auditioning for Woody Allen and much, much more!
THE BIG C airs Sundays at 9:30 PM on Showtime.HOW TO SUCCEED IN BUSINESS WITHOUT REALLY TRYING ends its run at the Al Hirschfeld Theatre on Sunday, May 20.
The Girl Next Door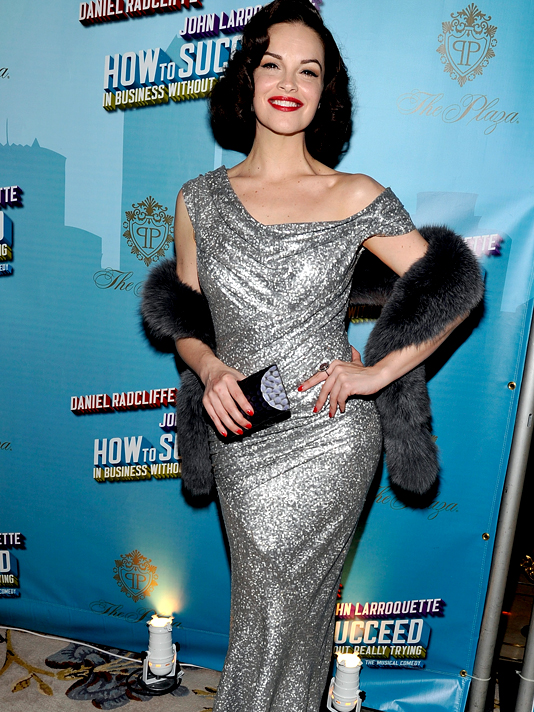 PC: What are your memories of the Sam Mendes revival of GYPSY? It was given quite a hard time by many at the time - undeservedly, I thought. It was a brave take on the material.
TB: Yeah - it was. I mostly remember that I was really insecure and nervous. I had mostly done dramatic roles and that was my first time taking something, you know, sexy and hot. [Laughs.]
PC: And indeed you were!
TB: I was really, really nervous, but, I was working the great
Bernadette Peters
and I learned so much about how to work with an audience and how to keep it fresh everyday. So, that experience just took me to the next level.
PC: Sam Mendes is such a visionary and he was coming off some very high profile projects at that time. What was it like working with a great film and theatre director like him?
TB: It was perfect for me - he was a film director and that's what I knew at the time. So, I got the best of both worlds - having someone be very intimate with the character with you and also teach you about being bigger than you would be.
Sam Mendes
was the perfect director for me for my first show - definitely.
PC: Did you grow up as a Broadway fan or were you removed from it as a soap actor and so on?
TB: Well, I grew up ten minutes away and I still live here in New Jersey - I am just outside the Holland Tunnel. The only show my mother could afford to take me to when I was growing up was CATS, for my birthday.
PC: What did you think of it?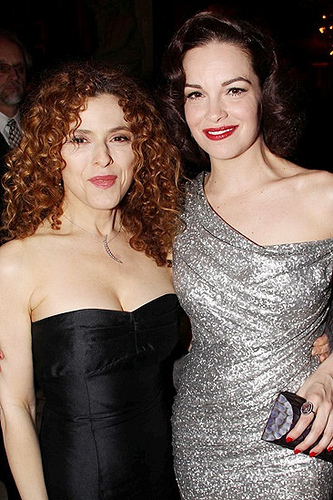 TB: I think I was about thirteen years old and it made a great impression on me, but I never thought that I would do Broadway because, I mean, with the agency, I would go on to do GUIDING LIGHT and mostly television. So, for me to get that part in GYPSY? I never thought that it would happen.
PC: GYPSY is as good as it gets in musical theatre, as well.
TB: It is. It is.
PC: Did you take any of Natalie Wood's iconic portrayal of the character of Gypsy into account or did you want to completely reinvent it?
TB: I think that when someone makes such a great impression with a role - the research that I had done about the real person of
Gypsy Rose Lee
and her family; and, then, there was the impression that
Natalie Wood
made on me when I watched the movie - you have to. So, it was definitely a mixture of my research and what I could personally bring to the role - my own emotions - and Natalie, of course; I had a little bit of her in there, too.
PC: I knew it! Has it happened for you since?
TB: Well, with SYBIL, it was the same thing - you know, you can't outdo
Sally Field
or forget the impression that she made.
PC: It's impossible.
TB: When you are playing that role, it naturally seeps into what you are doing.
PC: You did a total transformation to become
Judy Garland in ME & MY SHADOWS. It's uncanny how much like her you seem in that film.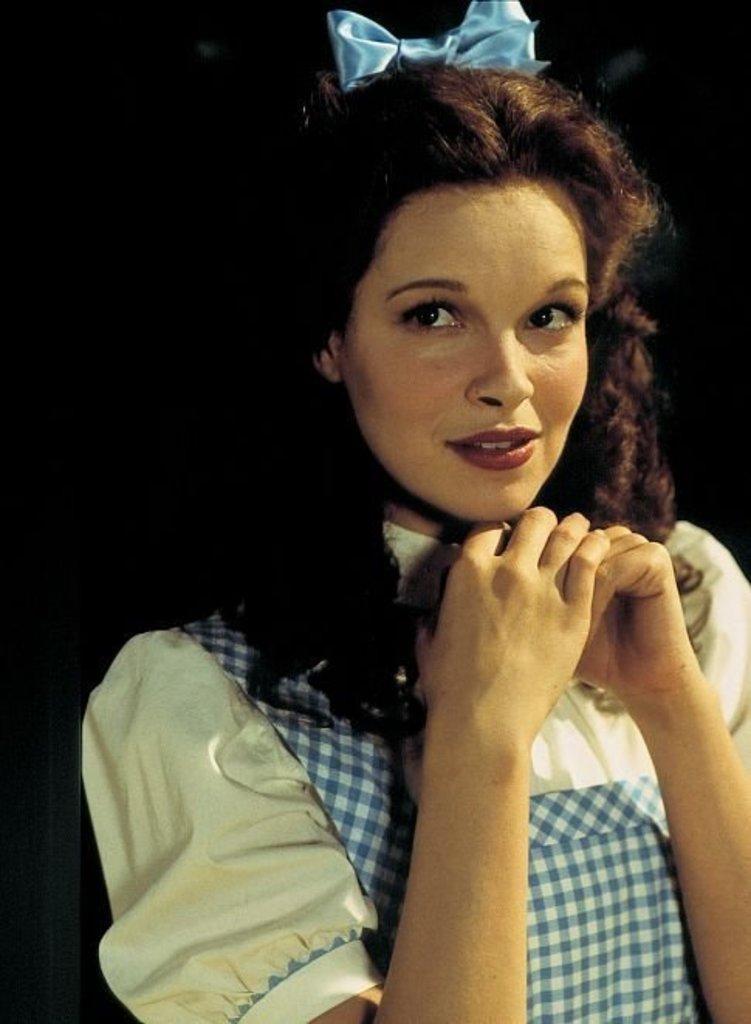 TB: [Laughs.] Even when you are playing someone who is real, you get their mannerisms and you get their little quirks, but, it still has to be something inside of you that connects with the role or else you will not be any good. So, with each of those roles, there was something in my own experience that I was bringing to the table - definitely.
PC: Have you gotten to talk about the film with Liza Minnelli since then? Have you two met?
TB: Oh, yeah - we have met a couple of times at parties. I remember one time I was at an event with her - I can't remember what event it was - but we took a picture together on the red carpet and then she walked me upstairs and sat me down and we talked. Honestly, the only reason I went to the party in the first place was because I knew she was going and I wanted to see her - I just love
Liza Minnelli
.
So, we spent some time together and it was just awesome.
PC: It would be so fantastic for you two to do something together in the future.
TB: Oh, my gosh! It would be such a dream to work with her someday. Can you imagine that? Ugh - incredible. I love her so much.
PC: Speaking of legends: did you get to work with Stephen Sondheim or Arthur Laurents during rehearsals for GYPSY?
TB: Oh, yeah. Before the first preview,
Arthur Laurents
came and gave me a big fat kiss on the lips and said, "Love what you are doing because you are lovely." And, I was just blown away!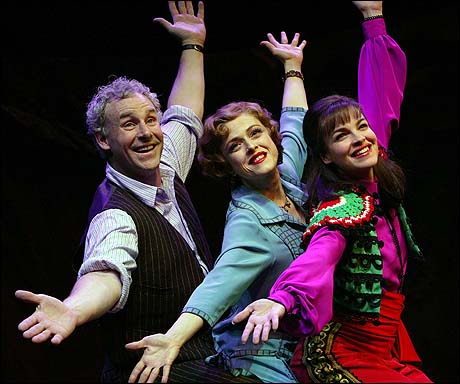 PC: Expectedly so.
TB: That really gave me the confidence to go out there that night.
Stephen Sondheim
was always there, too - with a big smile on his face and so supportive. You know, at the time, I never even knew about the whole saga that happened where people were upset and didn't appreciate the production, as it were. The actors never really knew any of that, as far as I know.
PC: MAINLY ON DIRECTING by Arthur Laurents is vicious in regards to that production. Have you read it?
TB: I still can't bring myself to read it - I think I just don't want to know. [Laughs.] Someone told me one time that in the book he said that I wasn't ready - and he was absolutely right about that. You know, it was my first Broadway show and I was nervous, so to make that butterfly transformation into that sexy person, where inside I still feel vulnerable and insecure, was a great feat for me. But, by the end of the run I think I had it right.
PC: It was phenomenal a few weeks into the run - I saw it. The audience gave a standing ovation twice during the show. Did you have super-receptive audiences like that often?
TB: Yes, we did. A lot of them. You know, I really think that our production should have been filmed. It should have been on the big screen.
PC: It would have been perfect for that medium with the sparse take on it that Sam had.
TB: There was so much going on internally that might not have been able to be read by the whole audience in that theater when it started getting a little hard up there towards the end. I still honestly believe we should have filmed it.
PC: The sparseness was lessened as previews wore on, correct? It was still a very spare production.
TB: Yes. Sam wanted it to be as empty and raw and full of raw emotions as possible and that's what we did. It was fantastic playing that every night - we were really in there emotionally; internally.
PC: It was a true actor's take on the show more than a traditional musical treatment.
TB: It really was.
PC: Speaking of productions being filmed, what do you think of the popularity of live movie theater broadcasts of stage shows?
TB: Oh, I think it's great! I think that kids need to grow up watching what I grew up watching - great entertainment; you know,
Judy Garland
and all these musicals that bring song and dance and acting all together in a polished way.
PC: SMASH and GLEE are so popular, as well.
TB: They are - I think it's definitely mostly thanks to
Neil Meron
and
Craig Zadan
. They have a lot to do with the fact that so many musicals are being made again and I just think it's a great thing for the kids today to have access to.
PC: Would you like to take this production of HOW TO SUCCEED to the screen?
TB: Oh, I would love to do Hedy LaRue on film! You know, the thing that I really love about film is that it is with you forever - it goes to your children and they get to see it again and again and have it forever. So, you know, a lot of people I know can't afford to come to the theatre, so a lot of them have missed this performance. Film lives forever, so I would love to do HOW TO SUCCEED. Playing Hedy LaRue onscreen would be like my ultimate dream come true. [Laughs.]
PC: How has your HOW TO SUCCEED run been, all in all? You have been involved with the show for well over a year now, haven't you?
TB: Yes - I think it's sixteen months now. Our first rehearsal was in January of 2011, so I've been working on this for sixteen months now. Yeah. [Laughs.]
PC: And you're talking to me on a two-show day, no less!
TB: Yes, I am - and I love it!
PC: What is your method for getting through two-show days like this? Do you have a ritual for in between performances?
TB: Well, the
Al Hirschfeld
is just the best set-up for actors - we have this big alleyway to ourselves where we can just come out and enjoy the weather and hang out. I hang out with Michael Bart a lot in between shows -
Nick Jonas
usually comes out and hangs out, too. Right now, today, you know, we just finished dinner and then usually we have a nice nap or lay around and relax - calling friends; calling family; calling Pat! [Laughs.]
PC: Precisely!
TB: There's always stuff to do in between - it's never boring; never a dull moment.
PC: Since you started in soaps, was that baptism by fire - have you memorized a script in an afternoon? What has been your biggest challenge thus far in your career, do you think?
TB: Oh, yeah - oh, yeah. The most taxing thing that I think have done recently was OF TWO MINDS - playing Baby killed me!
PC: I bet. What a performance - you were fearless.
TB: Oh, thank you. It just killed me. I was so bruised up - all over my body. I was completely physically and mentally drained every day for almost a month - three weeks solid. With something like that, where it is really emotional - you just have to go there.
PC: It's the sacrifice.
TB: Yeah, you know, with comedy, it's necessary to get out there and make people laugh everyday; so, I think comedy is so much easier. Although the theatre is taxing on your body, emotionally you just want to get out there and do it everyday. I love doing a comedy like HOW TO SUCCEED.
PC: Are you taking Christina Hendricks similar and quite iconic role on MAD MEN into consideration at all in your portrayal of Hedy?
TB: I have not, but, still, to this day, I have only watched maybe one scene with her on that show because I just haven't watched much TV - especially between having a baby and eight performance of HOW TO SUCCEED - but, I know people keep comparing me to her. So, I can't wait to catch up on all those great TV shows that I've missed - and, of course, I am going to definitely catch up on MAD MEN and see what all these people are talking about.
PC: What was it like having a huge TV star like Darren Criss in the show - especially compared to a movie star like Daniel Radcliffe and a pop idol like Nick Jonas?
TB: It was fabulous! It was so nice to see each of these guys get up there and perform their hearts out for these crowds that just love and adore them - and love and adore us, too. It was so great. With each new person came a new excitement.
PC: Especially since you had settled into the run by the time Darren and Nick came in.
TB: You know, you get comfortable after a while, so when someone new comes in you can give them more support than you could if you were just learning everything like they are - it was so great to see the whole process with each of them. At this point, though, I have to be honest: I feel like a dinosaur sometimes! [Laughs.] So many people have left, but I am still here - but, some of us from the original cast are still here, too; me,
Michael Park
and
Rob Bartlett
. It's been such a great experience.PC:
Christopher J. Hanke and Michael Urie have both done this column, so please tell me about sharing the stage with both of them and your experiences working with them.
TB: Oh, well,
Christopher J. Hanke
was just this spoiled little brat Bud who I just adored, and, then,
Michael Urie
came in and he is this go-getting animal onstage as Bud. You know, I used to come on at about a half-hour into the show, but, ever since
Michael Urie
came in, it's at about forty-five minutes. [Laughs.]
PC: That's hilarious.
TB: He just rocks it! I have enjoyed both of their performances so much for different reasons - so much.
PC: Michael has a big new series on TV coming up and he is such a smart, funny guy. Have you enjoyed being in this show with him?
TB: Oh, he is so smart - and such a wonderful guy. I think he recently directed a film, actually - and I'm not surprised at all that he did; I can see why. He's just the type of person that, when you are feeling something, he can sense it and he will ask you what is going on - he'll look you right in the eyes and listen to you. His response is always perfect. I just think he is a huge star - on and offstage; on and off camera.
PC: Was rehearsing the original company with Daniel Radcliffe an enjoyable experience? What is he like one on one?
TB: Oh, Dan Radcliffe is so charming on and offstage - I really enjoyed spending time with him, personally and professionally. It's a dream of mine to work with him again actually - because of the professionalism and the brilliance that I saw in him, I really hope there is something else we can do together someday.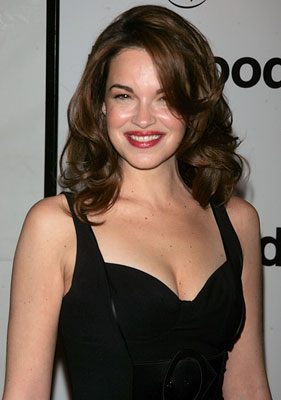 PC: Moving from stage to screen: tell me about your upcoming film premiering soon, UNION SQAURE?
TB: Yes. UNION SQUARE is going to premiere July 13 at the Anjelica Theatre - which is the first theater that I saw movie in in New York, actually; I saw TRAINSPOTTING there.
PC: You've come full-circle.
TB: I have - I am so excited to go back there and see this movie. It's such a great cast -
Mira Sorvino
,
Patti LuPone
,
Daphne Rubin-Vega
,
Mike Vogel
; a great group of actors.
PC: What was the shoot for the film like for you?
TB: Well, it's a low budget film and we spent about three weeks in a small studio apartment in New York, with one camera.
PC: What is it about?
TB: UNION SQUARE is a movie about two sisters who are estranged and have not seen each other in years and we come together over a tragedy that happens in our family - it's about us coming back together and being reunited as a family and making up for lost time. It's funny; it's heartbreaking - and I'm not crazy in this movie, which is a good thing! [Big Laugh.]
PC: You can say that again!
TB: I can't wait for people to see this movie - it's going to be great.
PC: Your performance in SYBIL was exquisite - what was it like getting into that impossibly complex character?
TB: SYBIL was… [Pause. Sighs.] it was a good experience and it was a learning experience, too, for me.
PC: Why so?
TB: Well, at that point in my life, I had always had such great directors and I was so dependant upon what they said - and I would put my own ideas aside because I kind of felt like I shouldn't disagree. But, I learned a lot doing that because I realized sometimes you just have to disagree, and, after that experience, I learned how to speak up and voice my opinions more. The most fabulous part of my experience was working with
Jessica Lange
, though.
PC: What was it like working with one of the greats like Lange?
TB: Oh, she was the most warm, talented woman I have ever worked with - she took me on personally and professionally. I said to her, at one point, "You know, every time they say action your eyes change!" Everything about her changes once they start rolling - everything!
PC: Unreal.
TB: It is - if you just stare into her eyes, you can be anywhere she wants you to be.
PC: Wow.
TB: She is just the best actress - one of the best actresses who has ever lived. I just learned so much from her. That experience, again, propelled me in my career - absolutely.
PC: Your description alone is goosebumps-inducing.
TB: I know! It's true, though - it really is. There was one point where, honestly, I looked at her and as the cameras started rolling I actually saw her eyes change. It was like, "Whoa!" [Laughs.] It was so great.
PC: Another of the greats, Judy Davis, gives one of the finest performances on film in recent memory in ME & MY SHADOWS. What was your experience of her like onset - what interaction did you two share?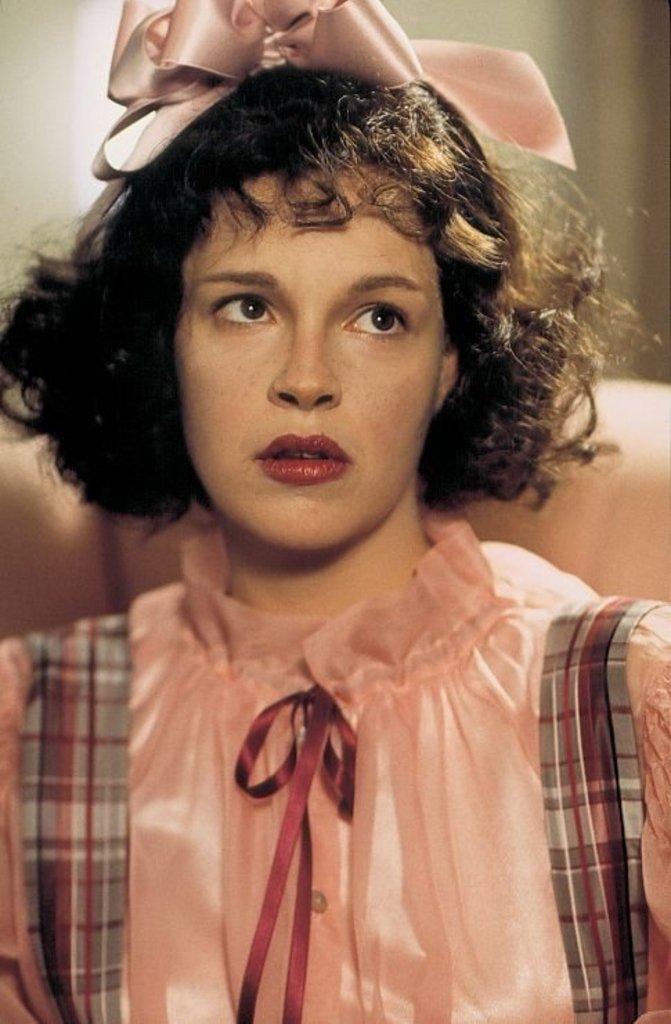 TB: Well, my interaction with Judy Davis by the time I got to meet her was basically meeting
Judy Garland
at the end of her rope - she had just been in the part for so long. There was an anxiety about her and a toughness about her where you could just tell that she was living in this woman's body - she
was
Judy Garland
.
PC: She really was. It came across onscreen, as well - and how.
TB: I remember she handed me this whole stack of pictures of
Judy Garland
- she actually literally dumped them on the table in front of me and pretty much said, "It's your turn!" [Laughs.]
PC: Great, right?
TB: Yeah - I was like, "Oh, no!" But, yeah, I didn't get to spend as much time with her as I would have liked, so I would love to work with her again someday.
PC: She is in the new Woody Allen film, so perhaps you'll get a chance if you continue this comedy streak of yours. Are you a Woody Allen fan?
TB: I am. I actually met with
Woody Allen
about a week ago - I was so surprised I was even on his radar!
PC: What was it like?
TB: Well, the meeting was really short and quick - as all his meetings are. So, I just hope that someday that meeting will lead to one day being able to speak his words - his words are so fluent and so real that it would probably just be one of the greatest experiences, to work with him.
PC: He allows for a lot of free reign.
TB: Ugh - I know. I would love it.
PC: So, you auditioned for the new San Francisco/New York movie, then - set to star Alec Baldwin and Bradley Cooper?
TB: Yes, I believe I met him for the movie with
Cate Blanchett
and all of them, but I haven't heard anything since then, so, as an actor, the actor's mind tells you, "OK, well, maybe he'll want you for the next one, then. Maybe I'll get a call for the next one." You know, honestly, just being on
Woody Allen
's radar is a blessing.
PC: What is the future for OF TWO MINDS now that it has aired?
TB: Since OF TWO MINDS aired, we are just trying to get a press campaign going for the Emmy nominations. We'll see if that happens.
PC: Emmy time is coming up. Tell me about your upcoming arc on THE BIG C.
TB: Yes, my arc on THE BIG C starts this Sunday. I play a character named Giselle.
PC: How did you become involved with THE BIG C?
TB: Well,
Bernie Telsey
came to see HOW TO SUCCEED and the president of Showtime also came to see the show, so I believe it's really through the magic of
Bernie Telsey
that it happened. He said, you know, "This is the girl!" [Laughs.]
PC: So, it was a painless process, then?
TB: Yeah, it was - I went in and auditioned, and, next thing I knew, I got the part. I loved the script and I just thought it was hysterical.
PC: What has working with fellow InDepth InterView participants Brian d'Arcy James and John Benjamin Hickey been like for you?
TB: Oh, well, first of all, Brian d'Arcy James is one of the most amazing comic actors alive today.
PC: High praise, indeed!
TB: And, then, there's
John Benjamin Hickey
- who is so hysterically funny, too. All three of us are involved in a thropple - it's what we call a threesome. And, now, by the way, I know what they both look like naked! [Laughs.]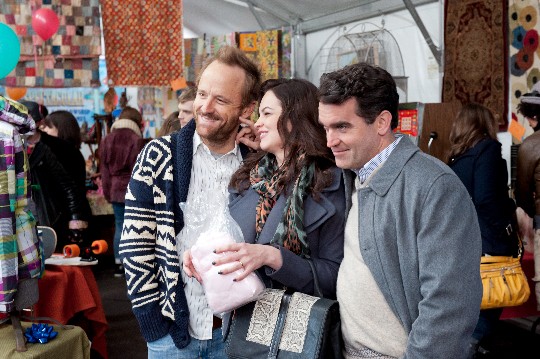 PC: No way!
TB: Yes - and it's absolutely wonderful! But, really, I just had the best time - I was just throwing out lines and they would deliver the jokes, so I was the middle-man/middle-woman; as I should be in a threesome. [Laughs.]
PC: You can say that again.
TB: It's such a great role for me - she's sexy and she's smart and a lot of things I haven't portrayed a lot before in my career. I think people will really enjoy it.
PC: Was the role written already or did you have input into the character?
TB: I auditioned, so I do not really know if it was tailor-made to me - I think it's a storyline that already existed and they wanted a specific kind of girl for the role. But, really,
Bernie Telsey
is someone who, if he supports you, you are in, you know? I am just so lucky. And, for me, it's still something that is so sort of weird - the whole comedy thing.
PC: You are new to those waters somewhat.
TB: Yeah - I mean, I have been doing drama for so long that it's just something I have to learn to own up to. "C'mon, Tammy - you're a little funny, OK?"
PC: You do drama so well - RABBIT HOLE is about as dark as you can get in a lot of ways.
TB: Yes, it is - but, I guess
John Larroquette
has just swung open the door of comedy for me forever. [Laughs.]
PC: And what is his replacement, Beau Bridges, like?
TB: Oh, I love Beau - we did a movie together called WE WERE THE MULVANEYS a very long time ago and he played my dad, so him coming in and stepping into this role and me getting this time to spend with him was such a sweet little blessing for me.
PC: What are your memories of working with Brittany Murphy - you appeared with her in her final film, DEADLINE?
TB: I worked with her the first time on THE RAMEN GIRL, which was directed by my LIFE WITH
Judy Garland
director,
Robert Alan
Ackerman. We had great chemistry on THE RAMEN GIRL - on and off-screen - and we had fun hanging out with each other and we had great conversations. Then, when she was doing DEADLINE a few years later, she had told them that she wanted me to play the part of her best friend in the film. You know, at that point in her life you could see that there was trouble. I had pointed it out to her and she knew - she knew she was in trouble, too… [Pause.] I think I'm going to cry right now. [Pause.]
PC: I can imagine it's incredibly emotional having known her and seeing her going through what she did near the end.
TB: She was such a beautiful girl and fame and the struggle of the business just got to her. [Sighs.] God rest her soul.
PC: She was so multi-talented. She could have done so much.
TB: She was. She was.
PC: Is MONEYBALL the most recent film you were involved with? You have done seven or eight films in just a few years.
TB: Oh, I've been so busy, but, yes, I think MONEYBALL was - I have been doing a lot of different genres and a lot of films over the last few years; you know, that's just what comes to me. I have been going out to casting sessions since I was seventeen-years-old, so I know casting directors in all genres of the industry and I am so grateful to them for keeping bringing me in and bringing me in for all these years because, I mean, for seven years I couldn't even book a commercial!
PC: It's a tough business.
TB: Those people never gave up on me, though. I am so lucky and it is so great to be able to experience film, television and theatre - each one is so unique on its own and in each one you grow as an actor and I think it's really, really sad when you don't try to do every single thing you can do as an actor because you are not getting the full benefit of what this industry has to offer.
PC: What are your future plans now that HOW TO SUCCEED is coming to an end?
TB: As far as the future, I would really love to buckle-down on a series and try to become a household name and get into people's lives and stay on a show for a good amount of years. Then, I'd love to do movies and become a movie star and have people come see me because of their experiences with me on television - that's the longevity in it. It's hard work, but that's what I would like to do. You know, if a theatre gig comes up tomorrow, though, I'll take it - that's how this business is; you never know what is going to happen. I could be in a play in the Fall, who knows?!
PC: It's all an open book.
TB: You never know what will come up, but whatever it is I am willing and open and excited about it - acting is something that I love so much. The only thing I love more than acting is my daughter.
PC: Was it difficult tackling the subject matter of RABBIT HOLE for you, as a mother? How has motherhood shaped your career since having your daughter in general?
TB: Yes. Actually, it was before RABBIT HOLE, on BELLA, where I swore I would never have a baby - and then that movie really changed my life. Before that, I just wanted to be a big star and that's all I wanted to do - I didn't see a purpose in having a child. Then, I did BELLA and I had this experience with the director and the actors I did the movie with who with were very Catholic and religious and I had a lot of conversations with them about the story of the film and what it was about. They brought prayer into the process of making the film, too. BELLA was about this woman who didn't want to have a child and she ends up giving the child up. I still remember being in the moment of the movie when we were on the beach in this certain scene and having this feeling of, "Oh, my gosh! Children are so precious - of course I want to have a baby!" It just changed my whole mind and my whole life. It was right after THE GOOD SHEPHERD had come out and there was all this stuff out there about how I was going to be America's sweetheart and my agents were really happy and everything, but I just felt like I had to stop the career and have a child. And, I happened to be in relationship with someone who I had been with for many, many years and the love was there, so we made the decision to have a child together. So, now, Ava is just the blessing of my life.
PC: After Ava Gardner?
TB:
Ava Gardner
- I read her book right before I had Ava, actually.
PC: Would you like to stay East Coast-based or would you be willing to move to L.A. for a series, should one come up?
TB: Well, I love New York, but I would be happy to move L.A. for a series - right now, that would really be a dream job. I am so happy where I am in New Jersey, but we'll see what happens. You know, if you live in L.A. or New York, I've found that as you get known more in the business and more people are aware of you, you can't really have dinner in a restaurant anymore because you know too many people in the business and if you are with your family they can't even order! [Laughs.]
PC: Do you have any shows on your radar in particular? Pilot season is coming up, as well.
TB: Yes, I am going out to LA and meeting with some really great people and some really great heads of studios. I don't want to play the cop, the lawyer or the doctor, though - I just can't stand thinking about wearing those clothes, but, I would love to do a family drama similar to something I am experiencing now. I'd love to do something people can really relate to - something that can make people laugh and cry every week and I'll take them through my career with me
PC: What about a SMASH appearance someday, given your affiliation with Craig and Neil?
TB: Oh, I would love to - and hopefully soon! But, I definitely know that Craig and Neil would call me if they found anything right for me - and I'd be more than happy to audition for them. They always demand the best. I'd love to do it. I think HOMELAND is what we are looking at right now, though, as far as potential things we are pursuing right now. We will see. I want to do something based in reality, whatever I do.
PC: TV is the home of great entertainment these days - of higher quality than Hollywood or Broadway, in many cases.
TB: Yes - they are revamping the format. They spent way too much time with the procedurals and now they see that people aren't having it any more. They all know they need to change their programming now and go for new material.
PC: This was so wonderful, Tammy. You are a true star to watch for and we all can't wait for what you do next - whether onstage or onscreen!
TB: Thank you so much for this interview, Pat - it was really freaking awesome! Have a great night. Bye bye.