Eden Espinosa Returns to ELENA OF AVALOR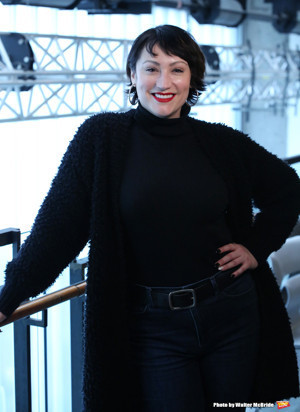 Eden Espinosa and Richard Kind return to ELENA OF AVALOR as Orizaba and Cacahuate, respectively, in the new episode premiering Saturday, November 3 at 11:30 a.m. ET/PT on Disney Junior and Disney Now!
The Emmy® Award-winning "Elena of Avalor" is an animated series that follows the story of Elena, a brave and adventurous teenager who saves her kingdom from an evil sorceress and must now learn to rule as crown princess until she is old enough to be queen. Set in Avalor, an enchanted fairytale kingdom inspired by diverse Latin cultures and folklore, Elena's journey will lead her to understand that her new role requires thoughtfulness, resilience and compassion, the traits of all truly great leaders.
Eden Espinosa is most recognized for her critically acclaimed portrayal of Elphaba in "Wicked" on Broadway and in both Los Angeles and San Francisco. Ms. Espinosa originated the title character in "Brooklyn the Musical", played Flora in "Flora the Red Menace," and Maureen in the closing company of "Rent". Eden also originated the role of Sadie Thompson, "Rain", at The Old Globe Theater. She portrayed Eva Peron in TPAC and Studio Tenn's production of "Evita". Last year she toured Denmark and London playing Emma Borden in "Lizzie". Most recently, she played Mary Flynn to rave reviews in Maria Freidmans productions of "Merrily We Roll Along" at the Huntington Theatre in Boston. Her television appearances include shows such as Law and Order, Ugly Betty, and Elementary. Voiceover credits include Cassandra in the Disney show Tangled the Series, Robot Chicken, MAD TV, Elena of Avalor, and Titan Maximum Eden's debut album, Look Around, is available at all online retail outlets, and her second album will be released in 2018. Twitter @edenespinosa Instagram @edenespinosa.
Related Articles