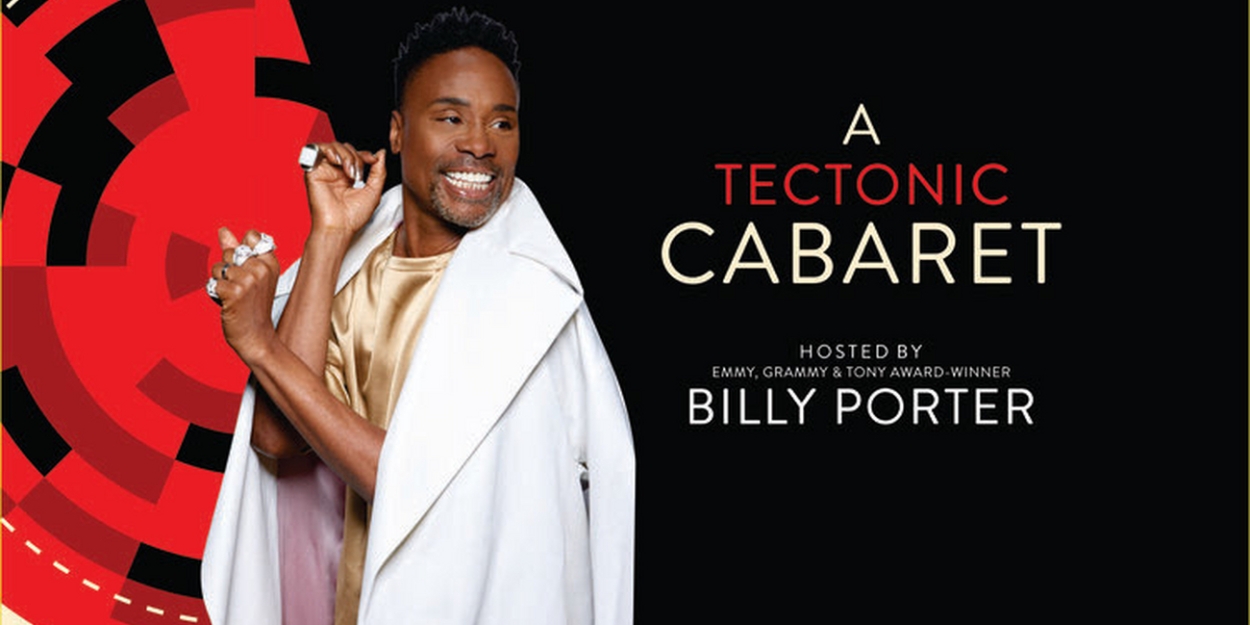 Darren Criss, Jason Robert Brown & More Join Tectonic Theater Project's Benefit Cabaret Hosted by Billy Porter
The cast also includes Michael Urie, "RuPaul's Drag Race" superstar Sasha Velour, Ashley De La Rosa and more.
Emmy, Grammy, and Tony Award-winner Billy Porter will host Tectonic Theater Project's (Moisés Kaufman, Artistic Director; Matt Joslyn, Executive Director) annual benefit cabaret, A Tectonic Cabaret on Monday, October 3, 2022 with a cocktail hour at 6:30 PM and performances at 7:30 PM at Chelsea Factory (547 W 26th Street).

Directed by Timothy Koch, under the artistic direction of Moisés Kaufman, A Tectonic Cabaret will feature performances by an all-star cast, including Tony Award-winner Jason Robert Brown, Darren Criss, Michael Urie, "RuPaul's Drag Race" superstar Sasha Velour, Ashley De La Rosa, Hailee Kaleem White, Colin Barkell, Danielle Lee Greaves, Tasha Michelle, Akira Sky, Jordan White, and ballet sensation Benjamin Freemantle in his NYC solo performance debut on the eve of his appearance in Twyla Tharp's In the Upper Room & Nine Sinatra Songs.

"A Tectonic Cabaret made its debut in 2019 and was one of the most joyous events we've had the pleasure of producing," said Moisés Kaufman. "Thanks to the generosity of our incredible patrons and sponsors and the dedication of our hardworking creative team, this year's event is already the most successful fundraising event in Tectonic Theater Project's history! We are overwhelmed by the outpouring of support and look forward to continuing to develop groundbreaking new plays, and providing the high caliber education at our Institute."

The evening will honor the late James Catherwood Hormel with the Lifetime Achievement Award and Amy Stursberg with the Inaugural James C. Hormel Award. Hormel was the first openly gay U.S. ambassador and a philanthropist who funded organizations to fight AIDS and promote human rights. Stursberg is the CEO of Schwarzman Scholars and the Stephen A. Schwarzman Foundation and the Chair of the Board of the Blackstone Charitable Foundation after 14 years as Executive Director. Both Hormel and Stursberg have been longtime supporters of Tectonic Theater Project.

The sold out event, co-chaired by George Slowik Jr. and Brian Callaway, was made possible in part due to Tectonic Theater Project's generous sponsors, including, Ford Foundation, Blackstone Foundation, Bloomberg Philanthropies, Michael P.N.A. Hormel, Stephen and Christine Schwarzman, Joan Solotar, and Publishers Weekly. Proceeds from the cabaret will benefit Tectonic Theater Project's development of new works and education through the Moment Work Institute.

Based in New York City and guided by founder and artistic director Moisés Kaufman, Tectonic Theater Project develops new plays using the company's trademarked theater-making method, Moment Work, and through a rigorous process of research and collaboration in a laboratory environment. Since its founding in 1991 the company has created and staged over twenty plays and musicals, including Gross Indecency: The Three Trials of Oscar Wilde, The Laramie Project, Doug Wright's Pulitzer Prize-winning I Am My Own Wife, and the Tony Award-winning 33 Variations. Tectonic Theater Project's newest world-premiere play, Here There Are Blueberries, just completed a critically acclaimed run at La Jolla Playhouse.

Related Stories